Striking and fascinating beauty Alicia Keys is an American singer, songwriter, record producer, musician, and actress. Endowed with a perfectly sculpted hourglass figure, the illustrious star has been able to conquer fourteen Grammy awards so far and doesn't seem to stop adding more of them by her side. Married to American hip hop recording artist, Swizz Beatz, the stunner is the mommy of one child, son Egypt Daoude Dean.
Alicia is one of the celebs who are naturally voluptuous in the body make. However, she maintains and tones her figure with the aid of influential workouts and wary diet program. Having very sage and realistic views about fitness, the star doesn't get intrigued by size zero fallacy. She rather aims to acquire a fit body with curvaceous and camera-friendly figure. Although it takes hard work and diligence to swear by right things such as regular exercises and vigilant diet, the rewarding results bestowed by them are captivating enough to keep you motivated.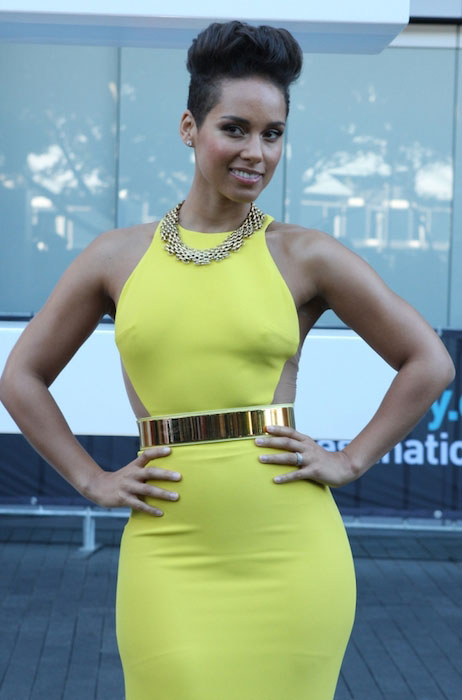 Alicia Keys Diet Plan
The brunette meticulously eats diet being the major contributing factor responsible for optimum well-being and trimmed body shape. Having grasped the significance of wholesome foods right from the age of twelve, the sizzling singer fuels her body with nutrient dense and healthy foods. She inculcates enormous food items having high fiber, high protein, complex carbs, and healthy fats in her diet.
The alluring star doesn't nurture any fad or crash diet plan and strictly stays away from them. However, to meet the nutritional needs of her body and to scorch post-baby pounds in a healthy manner, Alicia embraced five-factor diet plan, which is one of the most wholesome and nutrient dense diet plans. The diet plan is apt for all kind of users can be followed by anyone. The diet plan neither wants you to deprive your body nor does it want you to keep a check on the number of calories. It's magic number five can certainly astound you with its tempting outcomes.
Let's have a look at one of the typical diet regimes of Alicia Keys.
Breakfast – Alicia likes to have egg whites, oatmeal, quinoa, fruit salad, grilled fish etc. in her diet.
Snacks – She loves having aloe vera drink, almond milk, pistachios etc. in her snacks.
Lunch – Her lunch mostly consists of vegetable salad, vegetable soup etc.
Besides adhering to a wholesome diet plan, Alicia forbids junk foods such as pizza, pasta, burger etc. Apart from that, she also steers clear from sugary foods and beverages. To keep her temptations for these foods at bay, she indulges in these foods once in a week and the strategy undeniably works out pretty well for the glam star. She considers bread as her weakness, which often defeats her resolution to abide by healthy eating habits.
Alicia Keys Workout Routine
The sensational star is regular in her workouts. Her genetically chubby arms and legs have her succumb to limb toning exercises such as squats, lunges, strength training etc. Since repetition of workouts torches numerous calories from your body by creating heat, you certainly can rely on them to carve your body parts. She doesn't skip her workouts even when she has an overly busy schedule at work. It is only her dedication to workouts that she could appear in diva shape within months past the birth of her baby.
In comparison to indoor activities, Alicia prefers outdoor activities such as walking, running, biking, hiking, rowing, swimming etc. The award-winning singer being in love with jogging practices it whenever she doesn't feel like doing any other conventional workout. These activities cheer both her body and her mood. She practices her workouts five days in a week while devoting twenty-five minutes on them in a day.
To perform her workouts with correct techniques and procedures, the smashing singer executes her workouts under the supervision of famous celeb trainer, Jeanette Jenkins. Her technique of refraining from the tediousness of workouts is listening to music while doing them. To her, her adored music enhances the adrenaline rush in her body and diverts her attention from exercises to something as recreational as is music.
Healthy Recommendation For Alicia Keys Fans
Acquiring an enviable and curvy figure like Alicia indeed is a matter of proud for any woman. That being said, there are many women who are prepared to do everything possible to shed pounds from their bodies, but still, they are unable to get gratifying results. Well, you can use your body signals to scorch unsolicited pounds from your body.
Should you confront the problem regarding the selection of foods, you can read your body signals and accordingly make your choices. Morbid foods taste good but within hours of their consumption, you begin feeling their cruel impacts on your body. Contrary to that, wholesome foods might not please your taste buds instantly but they undeniably make you feel awesome in terms of energy and health. Use of this secret formula will not only get you a slimmer figure but will also get you haler body.