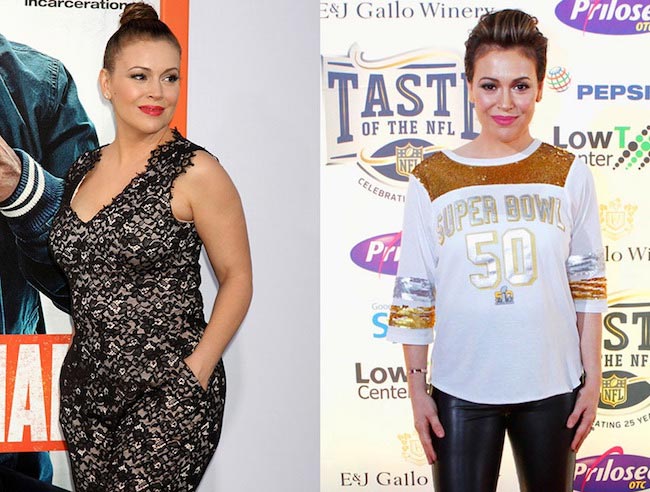 Alyssa Milano is one of those mummies who looks yummy even after having two babies. She is flaunting her weight loss these days and enjoying her happy weight. She recently shared the things that helped her lose all the baby weight she has gained due to her two kids, son Milo and daughter Elizabella. Her weight loss secrets include a strict diet, constant workouts and a determination to succeed. Let's know about her weight loss journey a little better.
The Pressure
The beauty admits that she didn't feel any pressure from the industry to lose weight. The slight pressure she felt was self-inflicted. When she saw celebrity mums losing weight in two weeks time, she was awed by them. She knew that it's not in her body's capabilities so she didn't even try for it, reports Closer Weekly.
Just Getting Through
The former singer admitted that being a mother is an exhausting task. She just had to get through the first two months and they were the toughest. She was also breastfeeding so things were a lot more complicated for her. She gave herself 18 months when she decided that she needed to lose all the excess baby weight off her.
Happy Weight
The diva admits to losing about 55 pounds of weight in just over 18 months. She thinks that breastfeeding helped in her weight loss journey. Alyssa took a lot of time to lose weight because she wanted to be kind to herself and be a good mom. The star has not yet achieved her pre-pregnancy weight but she calls her current weight as her happy weight. She is happy and comfortable with her body. Milano admits that she took assistance in losing the last 20 pounds of those 55 pounds because that weight was very hard to lose.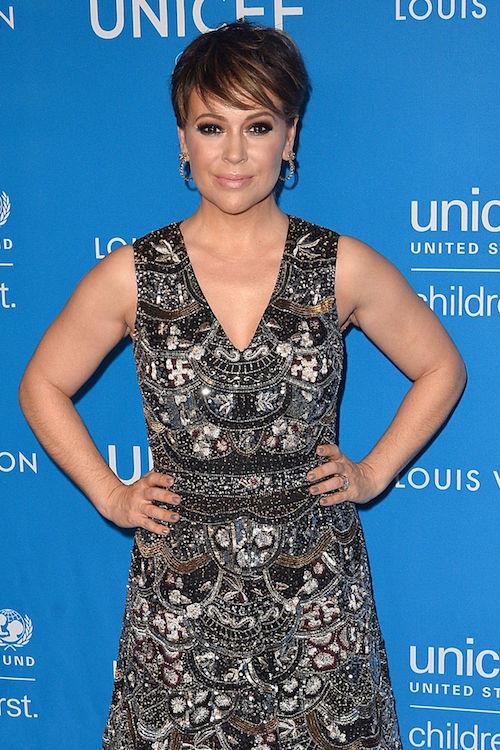 Workout Routine
The workout routine of the lovely lady was recently revealed by Yahoo. She tries to spin at least 4 to 5 times every week, does Zumba classes once every week and also does Pilates 3 times in a week. Alyssa thinks that going to the gym is a great way to spend time with herself. Now, she just goes to the gym to have that precious time rather than aiming for losing weight.
Being Consistent
While talking recently to People, the mother of two shared that when she is being a mum, it's hard for her to stick to a routine but she still tries to eat right and hit the gym regularly.
No Weight Scales
The former child actor likes to judge her weight loss by seeing the way her clothes fit her. She is not dependent on any scales because she knows that one can get obsessed by them.
Workouts are Tiring
The gorgeous looking Charmed (1998-2006) actress also admits that working out is bit tough for her these days because she gets tired easily due to her age. She used to get the results of her exercises quite easily when she was younger but now, she has to work harder to see the same results.
Diet Plan
The diet plan of the Mistresses (2013-Present) actress is very simple. She follows the Atkins diet. Alyssa first started off her weight loss journey by cutting out sugar and carbs, then switched to Atkins diet. She admits that she has some good carbs as a part of the Atkins diet and people mistakenly believe that Atkins diet allows no carb consumption, reports EOnline.
The wife of David Bugliari also says that she doesn't think of Atkins as a diet. She just thinks of it as a part of her lifestyle. It's the way she eats now and she feels good about it.
Diet Indulgence
The only diet indulgences of the producer are the Atkins peanut butter cups. She says it's a treat that's not horrible for her.
The Bond between her Babies
The doting mother says that her kids are her first priority and she loves that they get together just fine. Her son, Milo reads to his little sister, kisses her and they hug and cuddle a lot on the couch. She says that the connection between her babies is incredibly beautiful to watch.
Finding Balance in Life
The ambassador for UNICEF shared some advice for people who wish to bring balance in their lives. She says that you should focus on the task at hand each day. If you try to do too much at once, you will spread yourself thin. So it's smart to take one day at a time and focus on things that really matter.
Want to know Alyssa more? Follow her on Twitter and Instagram.