Phenomenal beauty, Audrina Patridge doesn't fail to imprison our eyes when she appears in tiny and figure revealing outfits. Her perfectly sculpted bikini figure bestows her nerve to flaunt it without being conscious. Audrina contends that she feels really sad when she sees women on beaches trying to hide their body with towel or clothes. She reckons, every woman can look stunning in bikini, they just have to make right selection of bikini and groom themselves with balanced diet and regular workouts. Let's have a look at the diet and workout secrets of Audrina Patridge which keep her in top shape.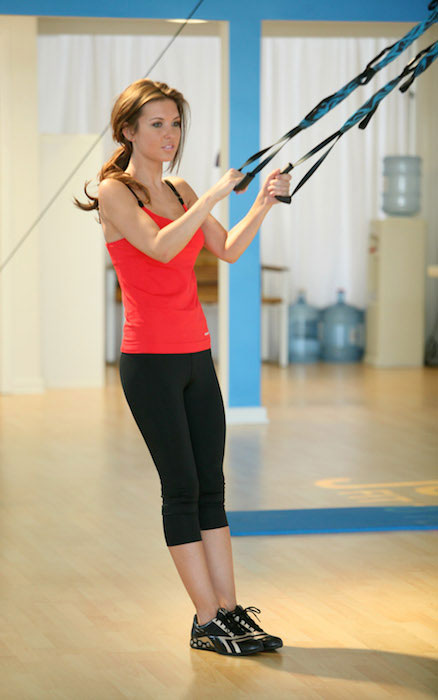 Regular Workouts
Toned arms, legs, and butt of Audrina are the testimony of regular workouts the hot babe performs in routine. Her affection for workouts is so much so that she doesn't even like one single day of her pass without workouts. She being fitness enthusiast hits gym five to six days in a week. Among workouts, she incorporates 40% strength training and 60% cardio workouts. While squats and lunges strengthen her core, crunches with stability ball tone her stomach. Under the supervision of her personal trainer, Jarett DelBene, the brunette bombshell performs diverse workouts such as body box.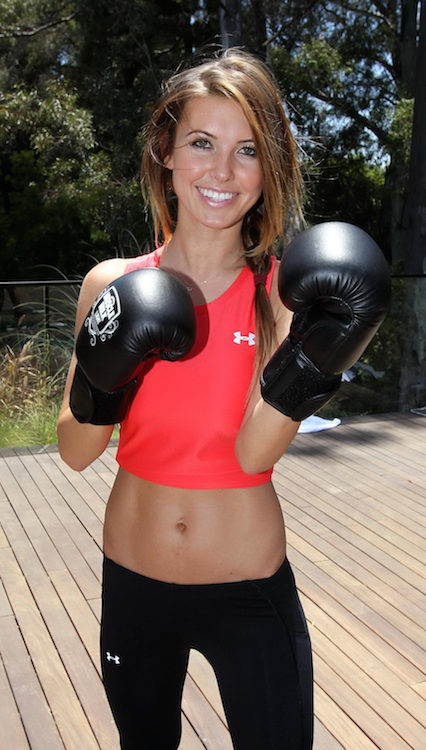 She executes high intensity shadow boxing and other moves of boxing wherein body weight is involved. Best part of these workouts is that you don't have to be reliant on heavy equipment and enormous space to execute them. Her fitness expert has her do boxing followed with weight lifting which indeed scorches bountiful calories from her body. To introduce diversity, she swaps shadowboxing with jumping rope, Pilates, weight training, core workouts etc. She executes these workouts twice in a week.
Fun Workouts
Constant adherence to conventional workouts might make you become victim of boredom. Audrina knows it well, so she engages her in fun workouts such as hiking, dancing, playing volleyball on beaches etc. to de-stress her body and mind and to keep the adrenaline flowing in her body.
Focused Workouts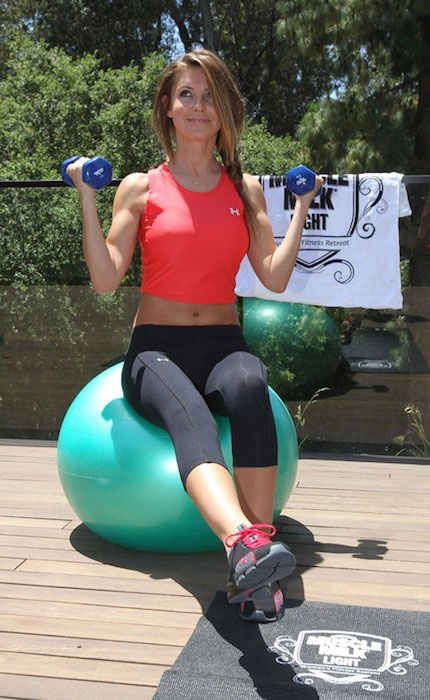 Instead of doing workouts just like that, the sultry babe works out with focused mindset. Her exercises are inclined to supply blood equally to all the major muscles which make them look fresh and toned. She even recommends her fans to contemplate about the wonderful impacts of workouts because doing so enhance their benefits and thus render you contentment both at physiological and psychological levels.
The Sunfare Diet
Since it's not feasible for everyone to embrace healthy eating habits on their own, the pretty celeb relies on "The Sunfare Diet," which is a meal delivery plan. The healthy diet program consists of food items having lean proteins, low GI carbs, and healthy fats in the ratio of 30:40:30. Allowed calorie consumption in a day in the plan is 1200 calories. Let's have a look at one of the samples of typical diet routine of Audrina.
Breakfast – Oatmeal topped with berries, cinnamon, and black tea with low fat milk
Lunch – Turkey wrap with ranch dressing, iced tea, vegetable soup
Snacks – Fresh fruits, string cheese, raw nuts etc.
Dinner – Green and leafy veggies, lean steak etc.
Fresh and Clean Diet
Audrina self proclaims of being a junk food lover. However, she at the same time states that as soon as she got the realization of severe impacts of junk and processed foods on skin, hair, and body, she began maintaining fair distance from them. Now, instead of pleasing her tongue, she spends time in mulling over ways to flatter her body. She eats enormous nutrient packed foods such as fruits, veggies, smoothie, nuts, seeds, lean protein etc.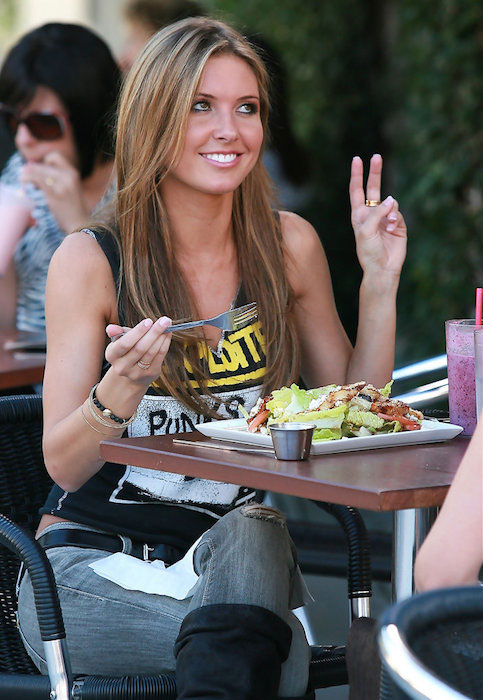 Audrina loves eating apples and refers to them as equivalent to a cup of coffee. She also adores drinking nutrient laden shakes having copious fruits used in them as ingredients. Shake made up of peaches, pineapples, mangoes, berries etc. is her most beloved shake. Aside from that, she also loves having vegan green smoothie too. Audrina adds yogurt in her smoothies which improve their look, taste, and nutrient density.
Small Portion Size
Audrina shares that you don't have to stress much over the quality of foods until you keep their portion size small. Instead of completely eliminating her beloved foods from her diet, the stunner eats them in tiny quantities. Doing so not only relinquish her cravings but also save her from eating mindlessly. Apart from being watchful at her end, the meal delivery plan also helps her to maintain the portion size of foods small.
Exclusive Relaxation Technique
Along with workouts and prudent diet, Audrina doesn't undermine the importance of relaxation. She being sentient of the fact that an exhausted body cannot look healthy and glowing provides adequate rest to her body. She gives herself the benefit of aromatherapy by taking bubble bath with aromatic candles. In addition to that, she also gets full body massage once in a while to perk up blood circulation in her body.