Lunchtime is one of the busiest parts of the day. How many times have you survived on a snack bar and coffee? Probably a lot of times. But you should always make time for your lunch, no matter how busy you are. Otherwise, you will end up craving for unhealthy snacks later in the day.
So, what should you have for lunch? Burger, pizza and French fries? If you are trying to lose weight or planning to live on a healthy diet, then you should avoid eating these unhealthy foods. Here you will get a list of the best foods you can eat at lunchtime.
Nutrients to include in your lunch menu
If you are trying to lose weight, you should eat more whole and unprocessed foods. For maintaining a healthy weight, men should eat 735 calories and women should eat 565 calories for lunch. You should never eat more than 800 calories; otherwise, you will become sluggish.
Your ideal lunch should contain the right amount of carbohydrates, protein, fats, vitamins, and minerals. Be careful not to add too many carbohydrates in your plate during lunch. It will make you feel sleepy and lethargic. Your lunch must include a good quantity of protein and fiber. These two nutrients will fill you up and so you won't crave for snacks afterward.
Best foods to eat at lunchtime
As already mentioned, you should avoid too many carbohydrates and focus on fiber and protein during lunchtime. Here are the best food options for you for having a healthy lunch.
1. Soup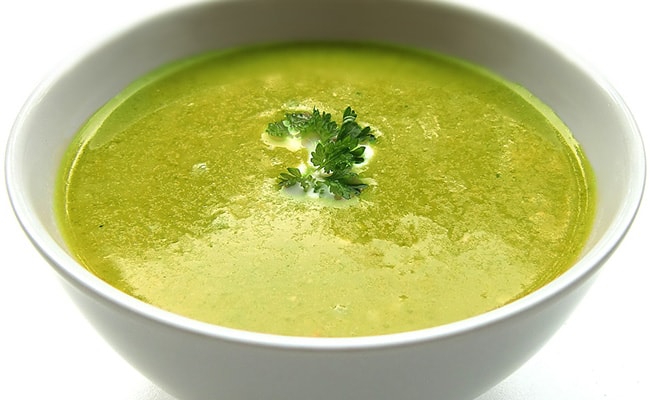 Soup can be considered as an appetizer or a main dish. Soup is very healthy and tastes good as well. You should opt for clear soups with vegetables or protein. Here are the benefits of soup:
Soup is delicious and easy to make; moreover, you only need a few ingredients to make a healthy soup.
It is warming and helps you to stay charged during a cold and busy day.
The soup contains all the important nutrients needed by the body. You can fill up your soup bowl with vegetables as well.
It can help you to lose weight as it has a minimum calorie content. According to a study it is found that, if you eat soup twice a day then you will lose weight faster.
It makes you feel full, so you won't eat much later on.
It is important to choose the right type of soup. You should avoid the cream-based soups as they are high in calories. You should also avoid eating too much canned soup as well as it contains BPA which is rich in sodium and can increase your risk of diabetes and heart attack. Try to have home-made soup most of the time.
2. Salad
A major portion of your lunch plate must contain salad. It is recommended to have about 3 cups of leafy salad every day. You can add almonds or pumpkin seeds in your salad to make it more interesting and tasty. Tomatoes and peppers have more nutritional value, so you should include these in your salad too. A salad is good for a healthy body for the following reasons:
You add only a few calories to your daily intake by eating a plate full of salad.
Salads containing tomatoes and red peppers have lycopene which reduces the risk of cancer and heart disease.
You don't need to cook, just cut all the ingredients and add salt and pepper. You can add chickpeas, tuna or grilled chicken in your salad to make it more protein rich. You can also top your salad with chopped raw vegetables like broccoli. The salads you find in restaurants have toppings like cheese and other dressings which might make it nearly 1,000 calories. So, be careful when you buy salads from restaurants. You can add vinegar-based dressing if necessary.
3. Vegetables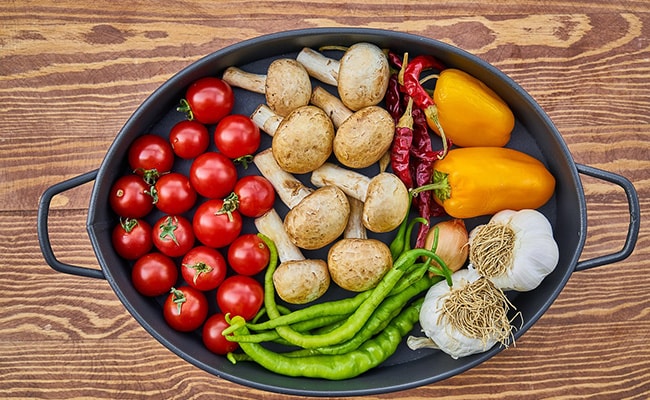 You should have lots of colorful vegetables for lunch. Vegetables are sources of vitamins and minerals and are highly nutritious.
Vegetables can protect you from diseases; they provide fiber that lowers the risk of heart disease.
Potassium in vegetables helps to maintain healthy blood pressure.
Vegetables contain vitamin A that is good for the eye and immune system.
Vitamin C in vegetables promotes healthy gums and teeth.
Vegetables are rich in antioxidants that help to get rid of the free radicals in the body which can cause heart diseases or even cancer.
You can eat your vegetables in different ways. Add toppings or other ingredients to make the vegetables tastier. Here are some options for you:
Boil the vegetables and sprinkle salt and pepper.
Have carrot and celery sticks with hummus.
Add yogurt and dried dill to your vegetables as these are sources of protein and calcium.
Combine your vegetables with salads like cucumber, tomatoes, lettuce, etc. and add some low-fat salad dressing.
Add black beans or corns to your vegetables which are good sources of protein and fiber.
Always buy fresh vegetables to get the best nutrient value. Vegetables are very easy to prepare; so you can take them quickly in a box for lunch at the office.
4. Fish
Several research works have shown that fishes like mackerel, sardines, haddock, salmon, and herring contain omega-3 fatty acids. It can prevent high cholesterol levels and heart diseases. Fish also provides the following benefits:
Oily fishes such as salmon, tuna, herring, etc. are rich in protein and they have anti-inflammatory properties that help to fight arthritis.
Fishes will keep your sugar level balanced.
Fish contains vitamin D, iodine and selenium which are very important for proper thyroid function and a healthy immune system. Also, Vitamin D helps to maintain muscle functions and is good for the teeth and bones.
You can grill salmon or other fish and have it with some rice. You can also cook fish using different recipes to make it enjoyable.
5. Lean Meat
Lean meat has very low-fat content and so you will be consuming lower calories if you have it for lunch. They are also a good source of protein, selenium, vitamins B3 and B6. You can have beef, skinless chicken or turkey in your lunch. Prepare grilled chicken breasts, pork chops, beef skewers, beef stew, roast beef, etc. for a delicious lunch.
6. Sandwich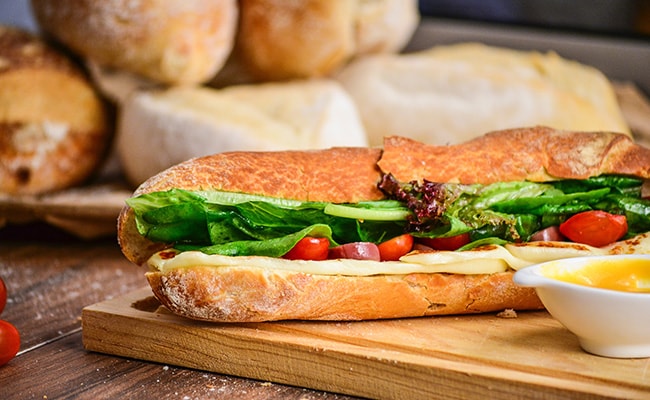 A sandwich is fantastic for lunch. When you are busy at the office, you can quickly grab a sandwich and sustain throughout the afternoon. Try to eat sandwiches made of wholegrain bread which has carbohydrates that will give you energy without adding a significant amount of calories to your diet. These are high in fiber and B vitamins as well and also help in proper bowel function.
You can try wraps instead of a sandwich; because they have more nutritional value than sandwiches. Also try to include avocado in your sandwich along with egg, chicken or tuna that are rich in protein. If you want, you can also experiment with a salad in your sandwich.
7. Pasta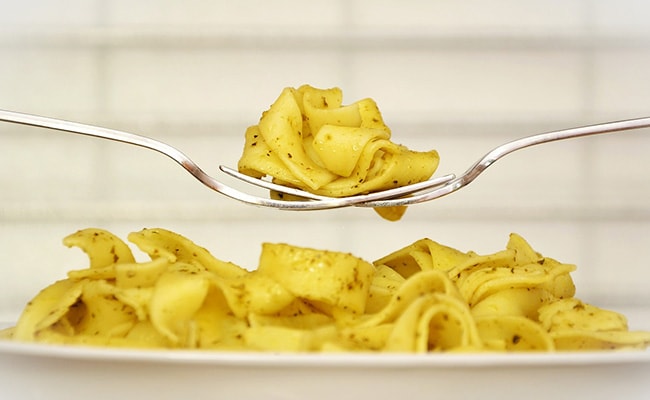 Pasta has carbohydrates that release the energy slowly and so you will be able to eat less. A bowl of pasta at lunch will give you the energy to work. Wholegrain pasta is better than the white flour pasta and it has various health benefits.
It can help you to sleep well, lose weight and overcome fatigue.
Pasta contains folic acid which promotes a healthy nervous system.
Iron is also available in pasta which improves the oxygen circulation in the body.
The fiber in pasta helps with digestion.
Pasta is cholesterol-free, so it's good for the heart.
Pasta is a very healthy lunch option. You can look up recipes online and make a healthy pasta for lunch. You should try to avoid any kind of cheese or other fat-containing ingredients in your pasta to keep it healthy.
8. Brown Rice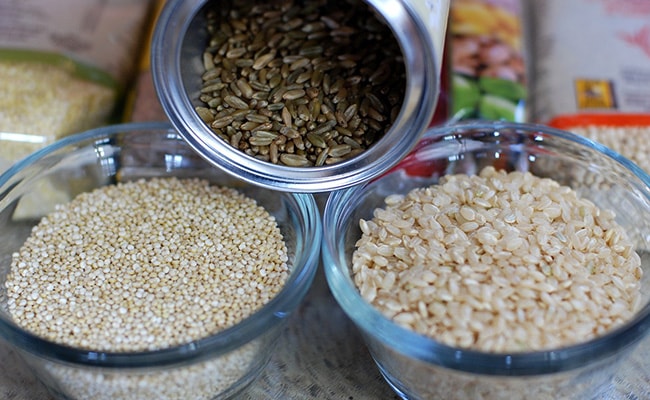 Most people think that when you eat rice for lunch you add more calories and so tend to gain weight. However, brown rice has been proven to be very healthy for its fiber content. So, you can have brown rice for lunch without worrying about the imaginary problems that don't actually exist. You will be alright as long as you keep an eye on the amount of brown rice you intake. Along with brown rice, have some salad, vegetable, fish or lean meat. If you don't like those, have lentils or beans for a healthy lunch.
9. Couscous
If you want to have a light, but nutritious lunch, then you can have couscous. It is a North African delicacy; however, it is now eaten all over the world. It contains selenium and plant-based protein. Selenium in couscous has a lot of benefits like reducing the risk of heart disease and cancer, boosting the immune system, etc.
Preparing couscous is very easy. You will find pre-steamed and dried couscous in the supermarket. All you need to do is, add broth or water and boil before eating. If you don't like to eat it alone, you can add it to vegetables and salads.
10. Greek Yogurt
Greek yogurt is rich in calcium and protein and so it will make you filled for a long time. Yogurt helps to lose stomach fat as well. You can even replace your meal with yogurt and add different fruits to it. You should make Greek yogurt an essential part of your lunch menu.
You usually refuel your body during lunchtime. It is necessary to eat balanced food that consists of whole grains, proteins, and vegetables. A significant portion of your lunch plate should be green and leafy vegetables like spinach and broccoli. One-quarter of the plate should contain whole grains, vegetables or pasta and the other quarter should be filled up with fish or lean meat.
The timing of the lunch is very important as well. You should have your lunch at around 12 to 1 pm. No matter which diet plan you are following, you should never skip lunch. When you have a proper lunch, your blood sugar level will be maintained. If you don't eat lunch, your sugar level will fall. Apart from the foods just discussed, you must drink plenty of water at lunch to keep your body hydrated. So, make sure you include some of these foods in your everyday lunch in order to remain healthy.