When you are an international star, you have to deal with a lot of pressure to look great all the time. But it seems that the queen of a million hearts, Beyonce is not worried about how people think of her. Though she started hitting the gym and started following a sensible diet just a few weeks after giving birth, she is not too eager to lose pregnancy weight or get back to work.
Have a look at her pregnancy weight loss workout routine and diet plan to get inspired. When she can do it after birthing twins, why can't you?
Workout Routine
Almost everyone who knows the singer is aware of the fact that she is a big fan of SoulCycle. So, no one actually felt terribly shocked when she was spotted (multiple times) at SoulCycle with her husband, Jay-Z a few weeks after giving birth. She is being helped by celebrity trainer, Angela Davis as she attends her classes as well.
Her trainer has also designed a high cardio circuit program for her. Fans who saw Queen Bey in a class reported that she likes the classes as she can get totally engrossed in the music. They also said that apart from grooving along and bopping her head, she was also able to use weights as well as last through the entire class without a problem. She is reportedly easing into the workout routine and her preferred post pregnancy workout method is cycling.
The Formation singer is also a big fan of yoga and she does it every day. Sometimes, she even does yoga with her daughter blue. Apart from the positive effects, yoga has on her body, she also loves that it has positive effects on her mind as well. For her, it's the perfect way to start the morning as it helps get in the right mind set for the rest of her day.
Staying Anonymous
Though the couple was spotted at the workout class by a few fans, they both tried to stay anonymous by entering the workout room after lights were off and they also left a bit early as compared to the other participants.
Pregnancy Weight Loss
The singing sensation is trying to get rid of the pregnancy weight in a healthy and natural way. Apart from the post pregnancy weight loss workout and diet plan, breastfeeding is also helping her shed the extra pounds. Running around her daughter Blue also helps her stay fit.
Fitness Partner
Jay-Z also lives a healthy lifestyle. He ensures that she has healthy meals and accompanies her to the SoulCycle classes. Exercising with him is also beneficial for their relationship as they barely keep their hands off each other while working out together.
How She Looks Now?
An eye witness who saw her exercising recently shared that the Grammy Award singer is looking great. It was also shared that she seemed inspired and Jay-Z was very supportive.
Diet Plan
The diet plan of the diva includes having more protein. She is also drinking a lot of green juices and is trying to keep an eye on what she puts in her body. Though she has always had a healthy diet, these days her diet is more inclined towards having meat rather than vegan items because her body is still recovering from the births.
Being in the Public Eye
The dancer isn't afraid of being in the public eye. She was not only seen at the FYF Festival in Los Angeles with her sister Solange Knowles, but she was also seen at the private celebration for Jay-Z's Roc Nation artist Vic Mensa.
Hands-On Father
The Halo songstress' twins are doing good as they are both termed as adorable & healthy. She is also lucky that her husband is a hands-on father. In fact, since the birth of her kids, Sir and Rumi, their marriage has also become stronger than before.
Relaxing a Bit
Jay-Z and Beyoncé are taking some private time for their relationship as they were seen during a night out recently. They visited a long-time favorite restaurant, Sushi Park together and enjoyed some Omakase.
No Work Plans
The record producer has no plans to return to work immediately and is happy being a mom. She is concentrating on having a lot of fun while raising their family together.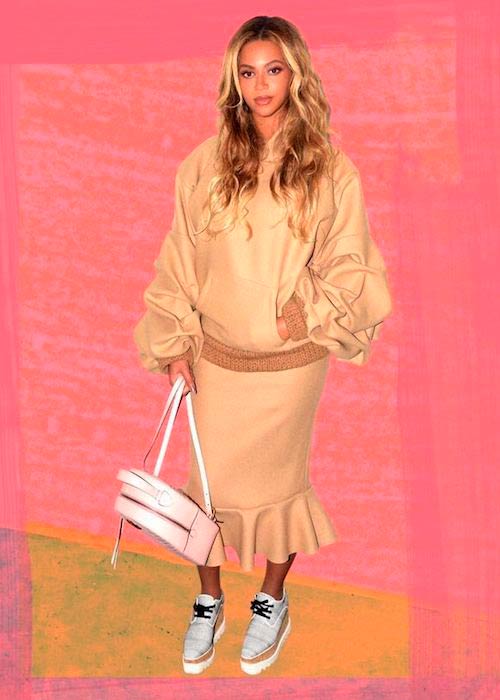 Workout During Pregnancy
One of the things that might have helped the star stay fit during and after the pregnancy is that Queen B attended spinning class at studios almost every day while she was pregnant and also ate in a healthy manner which proves that losing pregnancy weight is not just about trying to get back in shape post-pregnancy but it's also about focusing on health when you are pregnant.