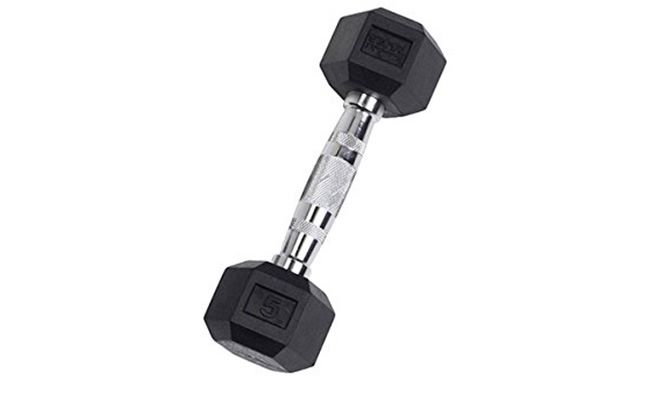 Dumbbells are a great tool for exercising. They not only help to build up muscles but can make you fit as well. These are great to use at home and at the gym. You can also carry it with you wherever you go. This compact exercise tool is easy to store as well. You will be able to do various types of exercises using dumbbells. In fact, they will add a different dimension to your daily workout routine.
There are various kinds of dumbbells available in the market. Among them, rubber dumbbells are one of the best fitness equipments you will find. The rubber layer provides protection and so it won't get damaged. This layer also reduces noise so you won't experience anything uncomfortable when exercising with dumbbells or re-racking them. The rubber coating also protects these dumbbells from rusting and corrosion. They come in attractive designs. They are also waterproof and so will last longer. Here we are going to review the Body-Solid Rubber Coated Hex Dumbbells.
Design
This dumbbell has Secure Dumbbell System construction that combines 1-piece cast heads with steel inserts. The design is compact and it has a short length that makes it easy to handle. It is coated with rubber. It has a classic sleek design and textured handles. They are strong and provides excellent grip. You won't experience fatigue after using these dumbbells. As they are hexagonal in shape, they don't roll away like the round dumbbells and so prevents accidents by tripping. As they are coated with rubber, they won't ruin your floor when you drop them. These hexagonal shaped dumbbells are very effective for pushup exercises. They are also safer to use than the round dumbbells. These dumbbells won't rust or corrode and so you will be able to use them for a long time. They resist fading and cracking as well. They won't peel off or scratch the floor like the other dumbbells. Overall, these dumbbells are stylish and durable.
Build Quality
Most of the hex dumbbells are made of iron and so is this one. But the exception is that these dumbbells have rubber coated balls and rubber plates. These dumbbells are made of solid cast iron having 6-sided anti-roll design. The rubber makes these dumbbells flexible and waterproof. They are safer to use than chrome or other dumbbells. The heads of these dumbbells are fastened properly with a unique pin mechanism and this ensures that you need minimal maintenance to keep it in good condition. There won't be any spinning or loosening. However, you should keep these dumbbells away from the sun; otherwise, the rubber may expand due to the heat from the sun.
Size
These are compact in size and have shorter handles than the typical dumbbells. So, they are easy to carry and store. You can get these in various weights from 3lb to 120 lb. In total, you will find 27 models.
Grip
These dumbbells provide excellent grip. They have a non-slip surface and so your hands won't slip even if you sweat after an extensive workout. The contoured dumbbells will fit your hands comfortably and won't create any pressure. It prevents fatigue after strenuous exercise sessions.
Effectiveness
These dumbbells are great for both the beginners and advanced users. You can add new dimensions to your exercise by using these dumbbells. The rubber coated dumbbells provide outstanding grip. These dumbbells will provide the correct resistance that is needed for total body training. It uses the Secure Dumbbell System that is press-fitted and welded and combines one-piece cast heads with steel inserts. It has a compact design and so is easy to handle. You will not experience any spinning or loosening with these dumbbells. The contoured steel handles are comfortable and can withstand rigorous exercise sessions. These dumbbells are balanced and can be used for physical therapy exercises as well. As the weight is encased in durable urethane, you won't see any fading and cracking even after vigorous use. So, you will be able to work out with these dumbbells for a long time without any problem.
Price
Unlike many other dumbbells, you can buy these dumbbells individually. You may not need a pair and buying a pair of dumbbells may be a waste of your money. So, by buying the dumbbell individually you will be able to save money. The price of the dumbbells varies according to the weight. You will get a pair of 3 lb dumbbells for $18.74 at Amazon.
Pros
It is compact in design and so can be carried and stored easily.
It is made of cast iron and covered by rubber that makes it strong and durable.
It has contoured handles that provide excellent grip.
The texture is anti-slip so your hands won't slip or slide due to sweat.
The hexagonal shape of the dumbbell will prevent it from rolling when dropped on the floor and prevent accidents.
The virgin rubber protects the floor and equipment from damage.
It is perfect for the beginners and advanced users and can be used to do various types of exercises including physical therapy exercises.
It is built in such a way that it won't fade or crack.
You won't notice any rusting or corrosion so it will last for a long time.
It has raised molded lettering for easy identification.
You can buy these dumbbells individually, in pair or in a variety of sets so that it meets your needs and budget.
Cons
You will get a bad smell due to the rubber coating.
Due to the coating, these dumbbells will take more space on the rack.
It may cause staining because of the greasy texture.
Final Verdict
These rubber coated dumbbells are ideal for personal training studios, home gyms, and even commercial use. You will be able to get a fit body using these dumbbells. You will be able to build up your muscles and get the body you have always desired.
These dumbbells are compact in design and they are very stylish as well. As they are made of iron and covered with rubber, they feel very strong and comfortable. The handles will fit your hands perfectly thus providing excellent grip. Your hands won't slip due to sweat. These dumbbells won't corrode, rust, fade or crack. So, you will be able to use them rigorously for a long time. The hexagonal shape of the dumbbells prevents them from rolling and causing accidents when placed on the floor. It won't ruin your floor or equipment due to the protective rubber coating. You will get a 30 days manufacturer's warranty with it so that you feel confident about your purchase decision.
You can choose from various weights which gives you the opportunity to buy the dumbbells according to your need and budget. You also don't need to buy a pair of dumbbell; you can buy them individually. Though the price is a bit expensive than the competitors, you will get great value for money if you buy these dumbbells. You won't be disappointed with the design, build quality and effectiveness of these dumbbells. You will be able to do rigorous exercise with it and get the body you have always desired.