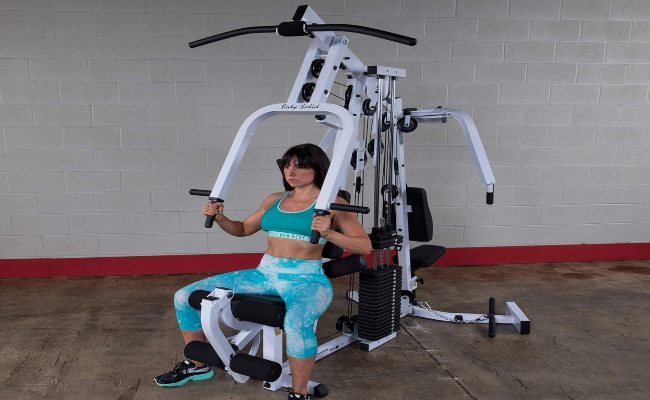 People have now become very health conscious. Many people now go to the gym for staying fit and healthy. However, the gym membership fee is high and not everyone can afford it. Going to a gym can be a hassle too and you may not like the crowded environment. If you are looking for something more convenient, then you should buy a home gym. It can give you the personal space you want for exercising without sharing equipment with others.
Home gyms are very easy to use. You can do various types of exercises using this machine. If you buy a home gym, you won't have to wait in a queue in the gym for your turn to use the exercise equipment. You will be able to maintain a daily workout routine easily if you have a home gym in your house. You will be more motivated to exercise if you buy a home gym. You will find lots of home gyms of different brands in the market. Here, we are going to review the BodySolid StrengthTech EXM25005 Home Gym in detail.
Design
It is designed to provide maximum performance at a reasonable price. The design is simple but attractive. The structure of the machine is solid having 4 side welds and 11 gauge steel beams. It has 210 lb selectorized iron weight stack in 10 lb increments which will let you do various types of strength routines. The weight plates are marked with the amount so that you know which weight you are carrying. There are a number of separate workout stations including the Pec Station, Press Arm, Leg Developer, and the Pulley System. The pulleys are made of nylon which makes them durable and allows smooth operation. They are also designed to be quiet, so you won't disturb others even when you workout with heavy weights.
Build Quality
This home gym is made of heavy-duty steel and has thick pads as well. High-quality materials are used in the construction of this machine. It includes 2'' X 4'' 12-gauge high tensile strength steel, 2,200 lb test cables, oversized hardware, and fiberglass reinforced nylon pulleys ensuring smooth movement. All the components have a lifetime warranty. It has tough powder coat finish that resists scratching and chipping and so makes it durable. It has DuraFirmTM pads that are thick and tear resistant.
It has 210 lb weight stack and the 21 weight plates are made of cast iron which makes them durable. The overall frame is made of steel tubing and coated with corrosion resistant paint. It has 22 fiberglass reinforced pulleys that also integrate sealed ball bearings so that it lasts longer. The pulleys are coated with a thin sheet of PVC material to prevent the pulleys from scratching. The pulleys are so strong that it won't tear or wear even after consistent use for many years. The tubes have heat-injected plastic caps for safety. As it's a heavy machine, you won't have to worry about its stability. However, it is better to place a rubberized mat underneath to prevent floor damage.
Size
It is a medium-sized home gym that will fit your room comfortably. It has dimensions of 83'' X 51'' X 83''. So, it will fit a room with 7' ceiling. However, it is recommended that you place it in a room with a higher ceiling. After assembling, the machine would weigh more than 400 lbs, so it will be difficult to move to another place.
Comfort
The seat and backrests have cushioning and vinyl coverings which makes them very comfortable. It can accommodate people of all sizes. There are two seats available; one for the chest press and one for the pec fly station. There are 7 height adjustment options for the chest press seat and 5 adjustment options for the pec fly seat. However, the backrests are non-adjustable. The seats and backseats are cushioned with thick foam which provides ultimate comfort. The upholstery is made of vinyl which is durable. The leg attachment station has 4'' foam rollers which provide comfort during workouts. The machine includes a triceps and ab strap with two handles, a lat bar and an ankle strap for convenience. All the handles and bars are padded and are slip resistant.
Effectiveness
At a low price range, you will usually find home gyms that are designed with just one fixed work station for performing various exercises. But this is not a good thing as it won't target your different muscle groups properly. This home gym has different stations that are specially designed for particular exercises. It has a station for presses, leg extensions and pulldowns, one for flys and another one for rows. You will be able to develop muscles precisely using the different biomechanically designed stations.
Price
This home gym offers outstanding value for money. It is a very high-quality machine that you get at a reasonable price. You can get this for less than $2,000 at Amazon. You get a lifetime warranty with all the parts.
List of Equipment
Pec fly station
Chest press
High-pulley
Mid pulleys
Low pulley
Leg developer
Pros
It has a sturdy and heavy steel frame that makes it durable.
The upholstery on seat and back support are made of high-quality material and has thick padding for comfort.
The pulleys are made of nylon and have sealed bearings making them long-lasting.
It has 4'' roll-pads for leg exercises and lat pulldowns.
The weight stack has a total weight of 210 lbs and the weight plates are made of cast iron.
The frames are coated with paint that is resistant to scratch and corrosion.
There are various workout stations to perform different exercises.
You get lots of accessories with this machine including a tricep rope and stirrup handle.
You get a lifetime warranty with the product.
Cons
The weight stack cannot be upgraded.
Lower body workout options are limited.
Some exercises may not be appropriate for very tall people.
Final Verdict
With this gym, you can get great value for money. It is very well constructed and you get a lifetime warranty for it. The machine has 3 different workout stations that can give you the best results. It is a great choice for the beginner to intermediate level users. It is versatile equipment that will allow you to do various types of exercises to target the different muscle groups.
The machine is constructed with a steel frame and has non-corrosive paint so that it lasts for many years. It is a heavy machine that makes it stable. You will be able to perform any exercise without any problem. There are two adjustable seats available for performing different exercises. If you consider the different features it offers, you will notice that not many brands offer so many features within such a reasonable price. If you want to improve your fitness within a short time, then you should buy this home gym. By working out regularly using your home gym, you will soon be able to develop good muscles, burn calories and get a fit and healthy body.