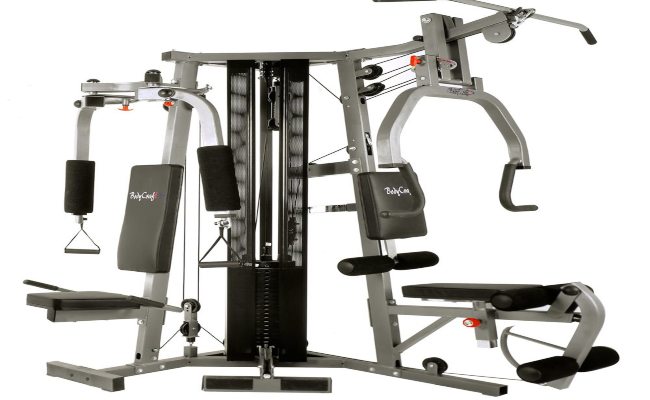 Staying fit should be one of the most important goals in life. If you are not fit, you won't be able to work hard or enjoy what life has to offer. It is increasingly getting difficult to find the time to exercise as our life schedule is quite tight. Still, the awareness for the healthy body has increased and that's why you will find lots of gyms down the street. However, the gym charges are expensive and not everyone likes to workout in a crowded environment. It can be time-consuming to go to a gym as you have to travel a certain distance and then wait in the queue for your turn to use a particular machine. It can be unhygienic as well to use the same machine that others are using.
All these problems will be solved if you buy a home gym. Today, the exercise equipment manufacturers have come up with versatile home gyms that can replace an entire gym. You will be able to do different types of exercises in just one machine. There are many brands of home gyms available in the market with different features. Here we are going to review the Bodycrat Galen Pro Home Gym and find out about its unique features.
Design
It has a compact design which makes it ideal for home use. You can assemble it easily in any room and start using it. It is heavy and so you won't be able to transport it to other places once it is assembled. It is found in platinum gray color and the paint is scratch-resistant and corrosion-resistant. This compact machine is designed to offer different functions like chest press, leg extension, leg curl, dual-function pec deck, lat pull, and more. It has a great pulley system that lets you do various types of exercises. A 200-pound weight stack operates on the pulley system and lets you do more than 50 exercises. The weight stack can be adjusted to 10 lbs increments. It provides 300 pounds of resistance for ultimate comfort. There are two adjustable seats so that users of different sizes can use it.
Build Quality
The frame of this home gym is made with heavy-gauge steel tubing which makes it durable. The frame is constructed with heavy-gauge steel tubing and has two adjustable seats for users of different sizes. It is finished with a multi-stage electrostatic powder coat painting that makes it long-lasting, corrosion-resistant and scratch-resistant. It has 3.5'' diameter of fiberglass reinforced nylon pulleys and these rotate on the sealed ball bearing hubs. The cables have 2,000 lb tensile strength and are internally lubricated for smooth operation. It is equipped with a 200 lbs weight stack that contains 19 weight plates which are made of metallic alloy. The plates are 1'' thick with EZ Glide nylon bushings.
Size
Without the leg press, which must be bought separately, the machine measures 58 X 72 X 81.75 inches. The size is ideal to fit in any corner of the room. If you buy the leg press, then the size of the machine increases to 92 X 72 X 81.75 inches which are also a compact size and will let a full range of motion during a workout.
Comfort
As the machine is heavy, it provides great stability. So, there is a minimum risk of an accident during exercise. There are 2 seats and they feature vinyl, double stitched upholstery that is durable. The seats are also padded with layers of high-density foam which provides the ultimate comfort. The pec fly station's seat has side handlebars that help during leg press exercises. The arms of the pec fly station support of the leg developer and knee-stoppers at the lat pulldown station have  4'' foam rollers so that you can exercise comfortably.
Effectiveness
This home gym comes with a chest press and arm row. There is a low-pulley station, abdominal crunch, leg extension, leg curl, and lat pull as well. With this machine, you will be able to perform both the traditional flys and the dumbbell style flys. You can also do the rear deltoid flys. With the press/pull and low-pulley stations, you will be able to do exercises like a bench, rows, arm curls, shoulder presses, and leg kicks. As you can do so many different exercises with a single machine, it is definitely one of the most effective exercise machines in the market today.
Price
This machine is quite expensive. You can get it for $1,899.00 at Amazon. However, with the unique features and advantages, it is worth buying it. You won't have to think of replacing it for a long time as it is extremely durable and of very high quality.
List of Equipment
Pec Fly Station
Press Station
Mid-pulley Station
Low-pulley Station
Lat Pulldown Station
Leg Developer
Pros
It takes less time to assemble; you can easily assemble it within less than 4 hours. Proper instructions are also given for assembling.
It is constructed with heavy and all steel frame.
It has dual-function pec dec that provides traditional and dumbbell style flys.
It has vinyl upholstery for seat and back support.
It provides various motion adjustments so that the machine can be used by users of different size.
It has cast iron weight plates with a weight of 200 lbs in total.
You can access the low pulley station easily and perform exercises such as arm curls, leg kicks, leg rows, etc. comfortably.
The press/pull station has an adjustable starting point that lets different users perform different kinds of exercises like incline press, bench press, shoulder press, etc.
The seats and back can be adjusted according to your need and preference.
There is an optional adjustable leg press attachment for performing different lower body workouts.
For residential use, you get a lifetime warranty for the frame and parts. If you use it for commercial purpose, you get a 10 years warranty for the frame and 2 years coverage for the parts.
Cons
It is very expensive as it nearly costs $2,000. You can find cheaper home gyms in the market.
The leg press must be bought separately and will cost $500.
As it is heavy, you won't be able to move it to other places after assembling.
The weight stack cannot be upgraded.
Final Verdict
This home gym is specially designed to fit into a corner of your room. So, if you live in a small apartment, then you should pick this one as it will occupy less space than the traditional designs. It has 6 workout stations that let you do nearly 50 different exercises. It helps to target every major muscle groups within a short time.
With sturdy construction, this machine can last for several years. It provides great stability and comfort to carry out various exercises. Lots of free accessories are included with this machine which makes the workouts more flexible and convenient. You get a free DVD as well to guide you through your exercise routines.
Though this machine is a bit expensive than the other home gyms you can find in the market, it's worth buying it because of the versatility and high quality. You will be able to get your desired body without going to the gym by exercising regularly on this home gym. So, if you are looking for durable and effective equipment, you should buy the Bodycraft Galena Pro Home Gym today.