Bridget Malcolm is no doubt one of the most successful and loved models of the world. But she recently shared some insights into how she was pressurized to look good and how it damaged her physically and mentally. She also shared her diet plan and some easy exercises that give fast results.
The Harrowing Experience
The model has recently shared that during the last few years, she was pressured to lose weight and she took the help of a celebrity nutritionist who put her on an 800 calorie a day diet. This person guided her from 2014 to 2017 to keep her BMI in underweight range. When the unnamed person took her fat measurements, the person told her that she was a mess. At that time, she was underweight and should have been guided on how to be a healthy weight.
Instead, she was asked to get all the help possible to lose the extra weight that was keeping her healthy and regulating her hormones. She was asked to have only a few shakes, supplements, and steamed vegetables. The result of this diet was that she lost a lot of weight, her digestion & periods were impacted, and she nearly lost her relationship too.
The Consequences
As soon as she was told to put off that extreme diet, she started having three meals a day (without carbs). She gained all the weight she had lost in a week and had to go back on that extreme diet. At that time, her BMI was normal (first time since the age of 14), but she was still pressurized to lose a lot of weight.
This time when she contacted the nutritionist, the person said that she was fat, which obviously was a first for her. Unfortunately, she did that extreme diet two more times and had to deal with extreme side effects like lethargy, anxiety, and mild depression.
The Smart Move
With the help of her husband, the VS model gave up dieting but this smart move was quite late as her endocrine system and digestive system were already damaged. At that time, she was mentally impacted as well because she had no idea about what to eat, which foods she liked and when she was hungry. But, she got out of that phase one step at a time.
No Dieting Culture
The diva says that she shared this story because she wants models' bodies not to be controlled. She wants models to demand the freedom to be who they are.
Fast Workouts
In another interview, the stunner shared some useful exercises she does to burn calories fast. Her preferred options are HIIT, jumping rope, and sprinting. She says that these workouts are perfect for people who want good results in the least amount of time. Jumping rope is a workout you can do anywhere. She also added that yoga, sprints, and intervals are better than a long run as they burn maximum calories.
Nutrition is Vital
The native of Perth also prefers having a balanced diet, staying away from refined sugars & carbohydrates and focuses on starchy vegetables and whole grains. She also prefers water over soda and has three meals and a snack in a day.
Diet Plan
The exact diet plan of the Aussie just a few months ago was as follows:
Breakfast
She started her mornings by having 2 liters of water and a vegan meal replacement shake. She also had Himalayan sea salt and other foods post a training session to get enough electrolytes. The lovely lady doesn't have breakfast often and practices intermittent fasting by leaving 12-14 hours between her last meal at night and the morning one.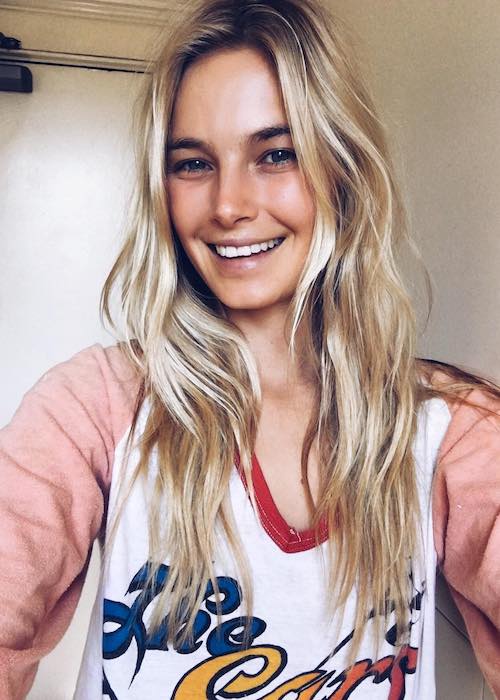 Snacks
The beauty avoids snacking because when she used to snack, she was constantly hungry and obsessive about food. Once she stopped, her hunger and endurance improved. Still, her go-to snack is cherry tomatoes which she takes everywhere with her. Some other snacks she prefers are nuts, vegetables, and hummus.
Lunch and Dinner
During lunch and dinner, she prefers having all natural and organic food and avoids processed food.
Featured Image by Bridget Malcolm / Instagram