Blue eyed, Candace Cameron Bure is an American actress, author, speaker, and philanthropist. Former Full House star seems to be in the best shape of her life, or it would rather be more apt if we say she is growing hotter day by day. The sultry star is not just slender and toned; she also owns a perfectly hale body. The iconic beauty Cameron has not kept the secrets of her bikini-hugging body to herself, she rather has shared them in her book, Reshaping It All: Motivation for Physical and Spiritual Fitness.
The mom of three indeed has a very hectic life, but still, how she manages to uphold her treasure figure without having her family pay the toll for it, is really commendable. Wife of NHL star and Olympic medalist, Valeri Bure seems pretty much inspired by the lifestyle of her athlete hubby. Let's get a scoop of her lifestyle, diet plan, and workout regime.
Candace Cameron Bure Diet Plan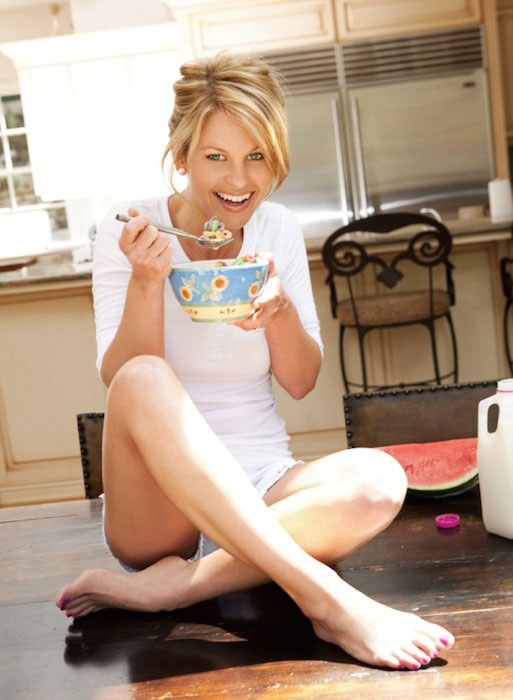 Cameron being very wary about her fitness embraces healthy diet regime. Apart from abiding by healthy eating habits herself, she has also inculcated them in her children. The flawless beauty is in love with veggies such as broccoli, lettuce, squash, zucchini, cauliflower, and numerous other nutrient dense veggies like them. She shares, she not being naturally inclined to them consciously endeavored to develop craving for them. And she succeeded in her efforts so much that now she cannot live without eating them even for one single day. Due to her fondness for sweet foods, she finds herself unable to resist her cravings for ice-creams and chocolates. However, she makes sure that she eats them in moderation.
Who would believe that Cameron who is so particular about her diet was victim of Bulimia (an eating disorder) in her younger days? Cameron herself has spilled out her so far hidden secrets in her book. She admits that after being married to Valeri Bure, the great transformation in life made her become victim of eating disorder. To deal with emotional stress and loneliness, she developed amicability with foods. However, after recovering from it, she has gotten the most precious principle of eating which is – eat until you are contented, not until you are packed. The lesson inevitably is valuable and we all should introduce the same formula in our lives.
Candace Cameron Bure Workout Routine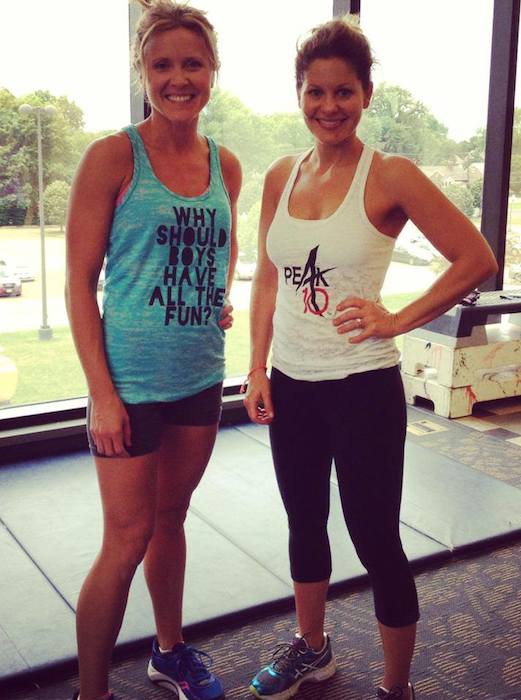 Residing next to the beach side, Cameron has very active workout regime. The fab star generally hits gym three days in a week and executes yoga or Pilates for rest of the two days. She relies heavily on introducing multiplicity in workouts and that's the reason she seldom practices same workout for all the five days of week. Out of fifty minutes spent in gym, Cameron executes intense weight training for twenty minutes and cardio on elliptical or treadmill for another thirty minutes.
The gorgeous star confesses that after she inculcated high intensity weight lifting in her workout regime, she witnessed incredible enhancement in her strength and the shape of her arms and legs. Her body was seldom this toned. Cameron being immensely overwhelmed with the outcomes of weight training has all words of accolades for his husband's personal trainer who introduced her to the miraculous workout.
Apart from them, Cameron also adores mud racing. The glam celeb who is supposed to look adorned and fresh all the while loves to be covered with mud while participating in mud racing. Apart from being an adventurous activity, various stages of mud racing boost her speed, endurance, and strength. Cameron tells that at times when all her family members are together, they play varied kinds of games. Tennis in particular is their most adored game. Besides that, she really enjoys going out for walking with her hubby along the beach side. The couple also does myriad exercises such as push-ups, lunges, etc.
Healthy Recommendation for Candace Cameron Bure Fans
Here comes one healthy recommendation for Candace Cameron Bure fans who wish to acquire enviably sculpted figure like her.
There is one myth very prevalent among women and that is lifting heavy weights will render them macho muscles. However, the fact is – limited reps made with heavy weights are more rewarding than several reps made with light weights. Heavy weights will not only bestow superb shape to your muscles, they will also speed up endorphins, augment bone density, lower blood sugar level, and purge stress.
And if you really wish to strengthen your arms, work towards enhancing the number of reps. As soon as you get comfortable with specific number of reps, add more reps. For example, if you have developed ease with 10-15 reps, gradually add 5 more reps. And if you wish to trim your arms, legs, waist in particular, keep varying the workouts inclined to condition them because after a point of time, your body gets bored of the same workouts and thus stops responding.