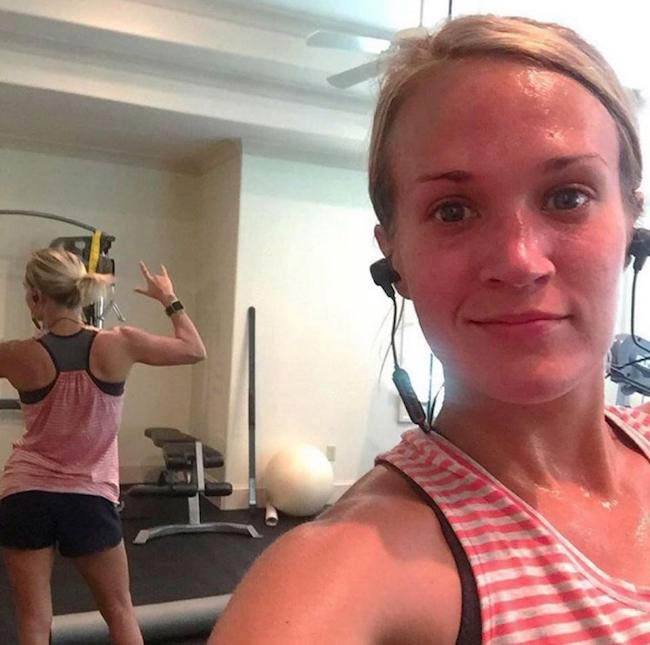 We all know that Carrie Underwood is an amazing singer but all of us don't realize that she is a homemaker too. She takes care of her kid and husband, cooks healthy meals for them and still manages to look so gorgeous due to her workout sessions and healthy food choices. Here we try to explore her workout regime and diet plan that may motivate you to be a beautiful looking mom too.
Diet Plan
What does Carrie Underwood eat to look so stunning? If this question has also popped up in your mind after seeing her on-screen, then you will be delighted to see her specific diet plan we have mentioned here:
Breakfast
The diva starts her day at 7 in the morning and makes breakfast (if she isn't required to go out). The menu of the breakfast consists of
Oatmeal
Cereal like Heart to Heart or Kashi Go Lean
Some fruit
Sometimes, she makes tofu scramble with chopped onions and peppers that are thrown together in a skillet.
She keeps a stock of frozen breakfast burritos with her in case if she doesn't get time to make something for herself. She likes the Burritos from Amy's and loves the vegan chorizo at the moment.
The main reason she cooks for herself is to avoid eating meat and being vegan as much as possible. If she is on tour or outside the home, she has some salad from a restaurant especially if it comes with feta cheese.
After breakfast, she drops her son to a playgroup and goes grocery shopping so that she knows what's in her food. Her cooking skills are limited to roasted veggies and stir fries, so she shops accordingly.
Lunch
After grocery shopping, the songwriter hits the gym (we'll tell you about her exercise routine soon). Post workout, she takes shower and has lunch.
Her lunch usually consists of having a sandwich made with Ezekiel bread with a fourth of an avocado or Tofurky, some mixed greens or sprouts, and mustard (which she loves).
Afternoon Snack
The wife of Canadian professional ice hockey player, Mike Fisher rarely has any morning snack, but she does like to have an afternoon snack. It usually consists of having an English muffin with peanut butter. She has it while doing home chores like making phone calls to sort out her schedule, washing dishes, doing laundry, etc.
When she is out, she keeps snacks such as vegan protein No Cow Bars, a Ziploc bag of cereal and seitan jerky in her purse so that her brain doesn't fog due to low sugar levels. Her son also likes the bag of cereal, so they share it often.
Dinner
In dinner, Carrie usually has vegan protein like a veg burger with loads of veggies or some tofu and beans. As Mike is not vegan, she makes dishes like salmon and mashed potatoes for him as he needs to go heavy on carbs as an athlete. She doesn't like the consistency of potatoes, so she has some rice or whole wheat pasta. Earlier, she didn't like to have carbs, but now, she tries to have balanced meals that include protein, fat, and carbs.
Dessert
During dessert, she likes to have a square of dark chocolate. Some coconut milk ice cream or vegan So Delicious ice cream. If she isn't craving sweets, she sticks to having some toast, English muffin or popcorn. If she doesn't eat something post dinner, she wakes up during the middle of the night and feels hungry, she confessed to Cosmopolitan.
Recording Food
The stunner likes to record what she eats on the MyFitnessPal app. She has always kept a food journal as it helps her to not go overboard and eat everything she sees. She knows that if she doesn't track her diet, she will eat a lot. She also writes down which exercises she will do to burn off the extra calories. (That's smart!!)
Not Eating Out
The beautiful blonde doesn't like to go for takeouts or doesn't eat out much. The logic behind this approach is her belief that she won't know what someone is putting in her food because she likes knowing what's in her food and it becomes hard when someone else is cooking it.
No Deprivation
The brown-eyed woman admits that she does go overboard with food sometimes. For instance, during Christmas, she ate a lot of food and enjoyed the experience. She got on the wagon the next day to ensure that she stays fit. Never depriving herself of some food she really wants is what works for her.
Workout Routine
The country music star typically gets a workout just before lunch. She has a gym at home which includes an elliptical, a cable machine, a treadmill, some free weights and some other equipment Mike uses. She usually begins her exercise session with 10-15 minutes warm-up period. Then, she puts in a solid hour of hardcore workouts.
Making Workouts Fun
There is a deck of playing cards she uses to make the workouts more fun because she really likes to mix things up and she gets bored easily. She assigns one exercise to each unit that includes upper body moves such as pushups or pullups, a lower body move such as weighted squats, a cardio move like jumping rope and abs move that include using an abs wheel. Then, she picks up a card at a time and does as many reps as listed on each of the cards until she is finished with half the deck. Then, she assigns different exercises to each suit and continues until she is through with all the cards.
Working Out with Hubby
When the American Idol (2006-2016) winner is with her husband, they often exercise together. One of them runs on the treadmill or hold a plank until the other one does 50 pushups. In another scenario, one of them does squats while the other one runs a mile.
Both of them like working in the same space. But, they also workout individually too.
Workout on Low Days
There are days in Carrie's life when she doesn't feel like working out at all. On such days, she tries to get something done like being on the elliptical for 30 minutes. Some other workout motivation tricks she uses include wearing cute clothes and listening to rock music. She never hears her own music in the gym.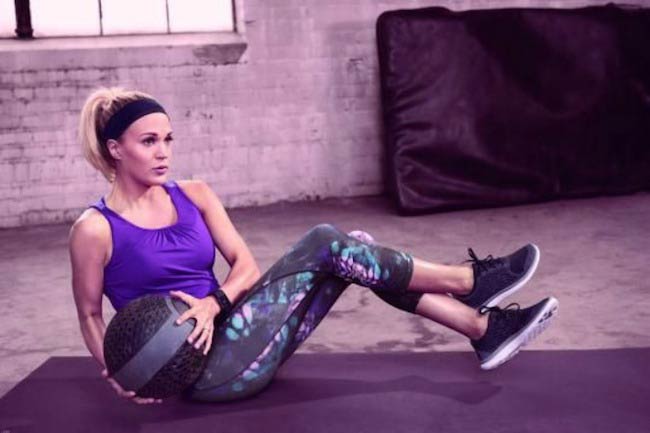 Advice for Working Moms
Underwood wants all the working moms to accept help in raising their kids. She takes the help of a Nanny too. You should never feel guilty about it. She feels it sometimes (especially when the family is traveling), but gets over it too.