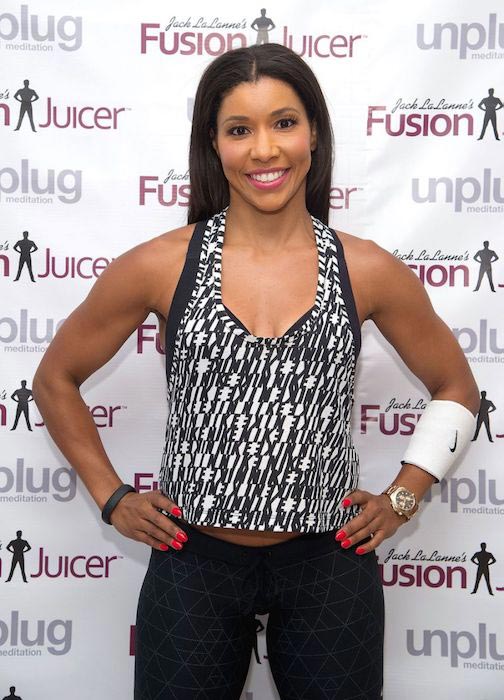 Celebrity trainer Jeanette Jenkins is a very fit woman who likes to take on different fitness challenges. She recently participated in her first ever marathon on behalf of the Keep a Child Alive initiative in New York. She knows what it takes to train for and participate in a 26.2-mile run. Like always, she is sharing some useful running tips for beginners and marathon aspirants so that everyone can learn from her experience. Let's have a look at the tips she has for runners and also have a glance at a 5-minute workout routine idea she has devised.
Take the Decision Early
The trainer of Pink told People that if people need to participate in a marathon, it should not be a spur of the moment decision. They should prepare for it and to do that, they need to decide at least 17 weeks before.
The Running Routine
The ex-partner of Queen Latifah says that during the 17 week training period, you need to dedicate three days a week to running. You can do two short runs of 3 to 6 miles during the week. You should also go for a long run of 6 to 20 miles during the weekend. If you are afraid that how can you begin a 20-mile run, then you shouldn't worry. She suggests that you should go slowly there.
Start with 6 to 10 miles distance and move it up to 12 to 17 miles before eventually reaching the 20-mile landmark. Going too slowly is not advisable, you should be able to reach the 20-mile landmark by at least 6 or 7 weeks before the actual marathon. It would let your body recover so that you are able to do more short runs during the last 6 weeks.
Longer Runs
When you are doing longer runs, you should know that you will need a lot of time for them, says the TV Host. They take anywhere from an hour and a half to three hours. The time span would depend on your pace and speed. Taking these hours regularly is vital if you want to see results. No excuses!!
Running Advice for Beginners
The trainer of Alicia Keys wants every new runner to start by walking for three miles. Then you should switch to a minute of walking and a minute of running. You need to increase the distance of the running portion over time. You can try one minute walk and two-minute run pattern and then walk for a minute along with running for three minutes. Then you can run for four minutes and take one minute for recovery. When you reach the milestone of running for 15 minutes, you can easily jog the whole way.
Invest in the Gear
When you have decided to be a runner, you need to ensure that your feet, ankles or knees don't hurt, believes the partner of Eggology. If they do, you might not want to run ever again. A solution to avoid the pain is to invest in a good pair of shoes that support your joints. It would be a worthy investment that would contribute to making you a great runner.
Strength Training
The trainer of Amber Rose wants you to try other exercises as well. You can choose to cross-train for three days a week. It will strengthen your joints along with preventing them from being overworked. You can also do yoga or Pilates for at least one day a week and try cardio activities like boot camp or kickboxing for one day every week. A day should be dedicated to resting completely.
If you are wondering that why you should do more cardio when running is also a cardio exercise, then you must know that Jeanette wants you to move your joints in a different direction other than the forward motion of running. (And we think it's a good advice)
Warm Up and Stretching
Doing a warm up before exercise and stretching after an exercise is a great idea says the president and founder of The Hollywood Trainer fitness company. Before running, you should do power walking, knee-ups, and heel kicks. Post a run, you need to stretch your hip flexors, calves, and quads. The flexor stretch is most important for runners because the hip flexors always get extremely tight after a run. They can also cause lower back pain.
Don't Eat Anything Before a Run
The trainer of Tia Mowry suggests that you should not eat anything before a run because your bloodstream would be used to the limit, so you won't be able to digest the food. If you have just eaten, wait for an hour before you go for a run. In case you need to run in the mornings, you must restrict yourself to a cup of tea or coffee. If you really need to eat something, you should just stick to a piece of fruit or some juice as it will get the sugar into the bloodstream. The last option is preferable for people who are anemic or have diabetes.
Keep Motivated
The nutritionist wants you to remain motivated to workout by keeping a track of how much you have done till now. You can use a fitness tracker that would help you to stay encouraged by knowing how much you have already done. She calls it immediate gratification.
5 Minute Exercise Idea
The trainer with 25 years of experience has devised a 5-minute workout routine that can be done anywhere. It's mentioned as follows –
Start with 15 to 25 reps of burpees
Move on to 25 to 30 reps of squat jumps
Do 25 to 40 reps of push-ups
Try 25-50 reps of bicycle crunches
Finally, do an ab plank for 60 seconds
Jenkins believes that they deliver amazing results. (And we think she is right!!)
Did you like the running tips and 5-minute workout regime shared by Jeanette? If so, you can follow her on Facebook, Twitter, and Instagram to get some more cool advice. You can also check this interesting article on her workout and diet plan suggestions.