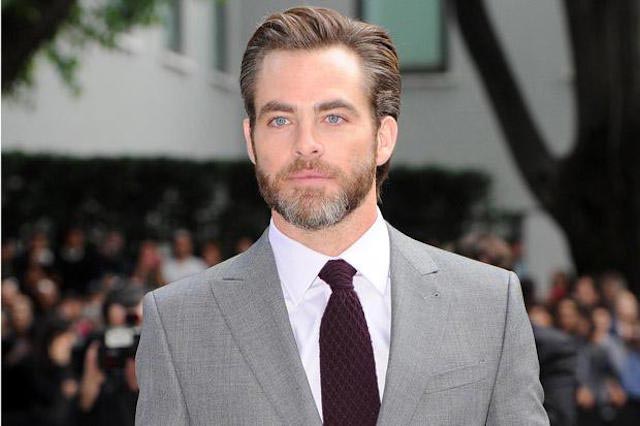 How Chris Pine Built an Indestructible Mind-Body Connection!
'Pine-nuts' – that is what Chris Pine's fans affectionately call themselves. Coming from a family of actors, he never even thought of ever getting a regular job. However, despite being aware of the demands and uncertainties of the acting profession, Chris was not spared from putting in serious hard work. He went through the same long, grueling route of struggle that seasoned him into the fine actor he is widely considered to be today.
Upcoming Movies
In 2016, particularly, Chris gets to showcase his versatility in three highly anticipated movie releases. He plays a daring coast guard on a terrifying rescue mission in The Finest Hours. Will be seen alongside Ben Foster and Jeff Bridges in the neo-western, Hell or High Water and of course, returns as Captain Kirk in the much awaited Star Trek Beyond, the biggest franchise of his career. Come 2017, he will appear as Steve Trevor in Wonder Woman.
Self-secure, self-aware and extremely humble, Chris Pine offers inspirational words of wisdom to tackle life in the face, cope with the disturbing whirlwind of emotions our thoughts often create to find zen that will enable you to enjoy life at your own pace.
Change your view point, to change your circumstances.
A huge portion of Chris Pine's success comes from his conscious ability to improve himself. He insists it all starts first, from perspective. He often revisits what he was like back in college, obsessing over school work. Even during his twenties, he often let his anxiety and perfectionist attitude get the better of him. He claims regretfully that he smothered himself with self-created pressure and still sometimes struggles between what he thinks he 'should' be doing and what he wants to do.
Putting too much pressure on oneself only creates blockages to living a satisfying reality, unique to each individual. Chris advises that as helpless as you might feel in some situations, the one thing you will always have authority over is how you view yourself in that condition. Staying positive will help you to wriggle out of an unwanted situation much faster than simply writhing in misery.
Life can change pace at any time, but never when you want it to.
Chris Pine admits that life rarely moves along in a linear, upward succession of events. Rather, it ebbs and flows in waves and things rarely ever happen according to what you might have planned for yourself when you were younger.
He finally feels comfortable revisiting his past failures as moments in time when he was not prepared enough to tackle the challenge of that moment. This offers feedback for how he can make himself better in the present. But Chris warns; it is okay to revisit your past to understand it. But, thereafter, let it go. 
Being in control is an illusion!
Chris nearly gave up on the role of playing Captain Kirk because he was so fixated on playing another character that he had worked really hard on preparing himself for. While, totally unprepared for Star Trek, Chris personally thought his audition or that movie was disastrous!
Despite the unexpected call-back, he was reluctant to take up a role formerly dominated by William Shatner and part of the franchise which was unlike any other movie project he had taken up before. Once Chris decided to own the challenge, not only did he successfully renew the character of Captain Kirk to find box office success but also took his career to a whole new level, initiating access to a greater diversity of roles.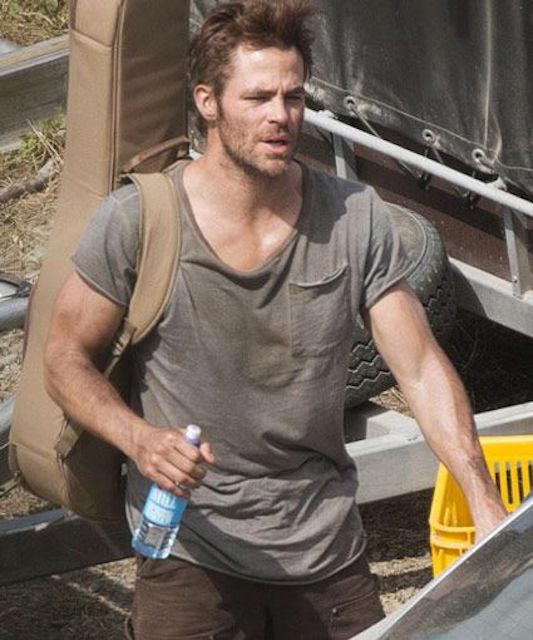 Life lessons Chris follows closely
While shooting for the cover of July 2016 Men's Fitness magazine, Chris claims that the best advice he got in his life was to stop trying too hard. The greatest lesson he got from acting is that you can't really depend upon what people think of you, you can only depend upon your own experience.
Quotable quote
Four years ago Chris Pine proclaimed in an interview to Men's Health that he intends to live his life as boldly as he could. In his own words –
"Mediocrity scares me. It's the fear of not being as good as you want to be. If you give over to that fear, it will sabotage you. As much as I can, I try to use that fear to guide me."
Self-improvement becomes a genuine source of pleasure once you stop beating yourself up with what you could have done in the past or comparing yourself to others.
To ensure continuous progress, that transcends the unexpected stream of obstacles and opportunities – Chris claims, all you need to do is just be consistent. This applies as much to your craft and professional skills as much as fitness.
Revisiting and redefining caveman fitness!
When it comes to physical fitness, Chris Pine did start his fitness regime with old school bodybuilding. Somehow, he struggled to sustain long term interest in it. The movements on the machines, felt too one dimensional and rigid and his gait felt the same. Stiff.
While preparing for his first appearance in the Star Trek reboot back in 2009, Chris started training holistically under trainer Paul Vincent of Altus Sports institute.
The focus shifted from gaining big muscle to developing ideal postural alignment. From lifting big numbers to the range of skills his body could perform through Yoga and Boxing. He maintained lean muscles by targeting his aerobic fitness with high intensity metabolic circuits that simultaneously fired all the muscles in his body. Using old school bodyweight exercises, Chris would perform them in circuits of brutally high repetitions done for the fastest time possible for max-intensity.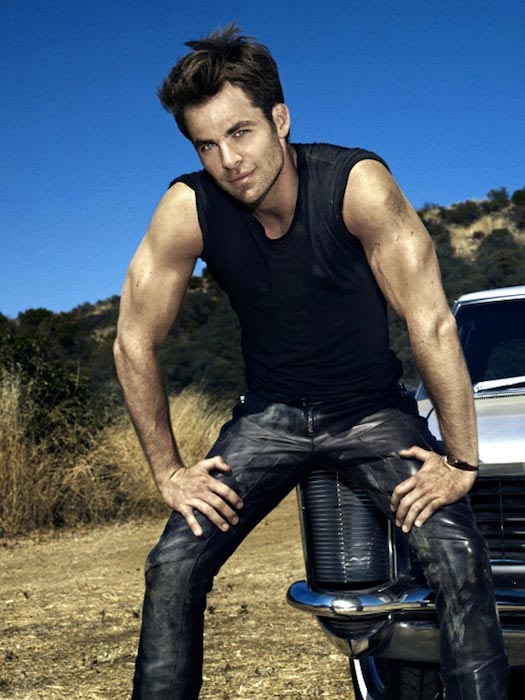 NOT interested in gaining big muscles ever!
Unfazed by the current string of superhero bodies, Chris Pine claims to have taken his functional fitness to a whole new level with personal training sessions with Mark Wildman. Unlike other actors, who consume 5000 to 7000 calories a day and quickly gain and lose weight for different movie projects; Chris considers that extremely taxing for the liver and continues to stay dedicated to being lean and ensures his musculature remains strong, dense yet compact.
Nowadays he trains at Wildman's studio, which is visibly bare and has no conventional exercise machines found in most gyms. Heavy weight lifting is done using kettlebells and clubbells which allow natural, free-flowing movements compared to the constricted motions on a machine typically found in a commercial gym.
Meet Chris Pine's trainer
Mark Wildman who has a degree in biochemical engineering and is a published research scientist holds a multitude of fitness certifications and creates a complex workout pattern for Chris Pine using tactical fitness, aerial fabric, physical combat, and sword fighting.
A fresh take on working out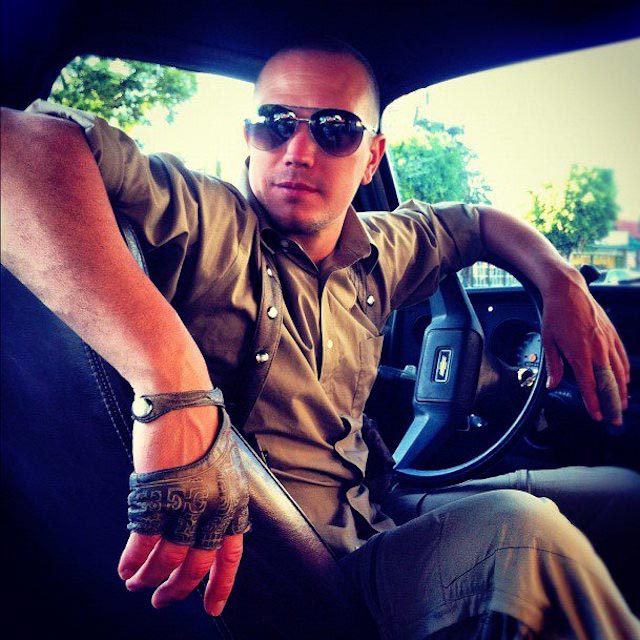 Mark Wildman creates workouts to unlock people's potential. By awakening and channelizing their primal instinct to become violent when threatened as an act of self-defense. He helps them feel more self-confident in their innate ability to protect themselves.
Mark often uses aerial arts as a creative way to engage in intense physical and mental training.
He observes that most people start exercises because they want to change their appearance. By teaching people a new skill, Mark claims to change them mentally, emotionally and by default physically into the person they want to become.
He predominantly prefers to teach one on one, so he can scale the workouts according to the person's individual abilities.
Mark often incorporates the element of danger in his workouts, for instance, by including the use of a machete in combat training. He explains that this element is really a practice of getting bolder by the day. Doing something that terrifies you just a little bit will change you over time into a much stronger person. He gives his own example of being terrified by heights, yet he makes it a point to train aerial every day because exposure to what scares you every day a little bit will eventually change the way you view the world.
Chris Pine and Mark Wildman both mutually agree that if a person can listen to an iPod or talk on the phone while training, he is not actually training. The kind of workouts that have any genuine long term benefits are the ones that require you to be mentally present for the entire duration it is performed.
Thanks to functional training, Chris Pine admits that his body feels a lot more liberated. He intends to live his life at the current pace till he is 70 and a big part of that is being able to move well.
While shooting for Men's Fitness cover, 2016; Chris Pine explains that if success is defined by being happy in life, you really have to listen to yourself well. So pay close attention to what your heart wants.