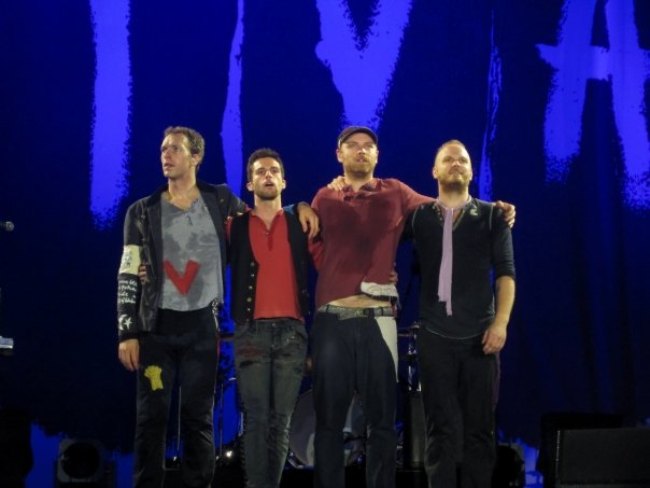 Members
Chris Martin (Lead Singer) – Vocals, Bass Guitar, Guitar, Clarinet, Piano, Keyboards, Harmonica, Mandolin, Glockenspiel, Organ, Percussion, Trumpet
Jonny Buckland (Guitarist) – Guitar, Vocals, Keyboards, Synthesizers, Bass, Sitar, Mandolin
Guy Berryman (Bassist) – Vocals, Bass, Keyboards, Guitar, Mandolin, Drums, Trumpet, Percussion, Yangqin
Will Champion (Drummer) – Drums, Percussion, Vocals, Guitar, Piano, Keyboards
Phil Harvey (Former manager of the ban who is referred to as the 5th member of the band)
Origin
London, England, United Kingdom
Genres
Alternative Rock, Pop Rock, Post-Britpop, Pop
Labels
Parlophone Records
Capitol Records
Atlantic Records
Formation Date
1996
Singing Portfolio
Coldplay released their first studio album titled Parachutes in July 2000. The album peaked at the number 1 spot on the UK Official Albums Chart and at number 2 on Australian and Irish music charts.
Some of their famous tracks include A Sky Full of Stars, True Love, Adventure of a Lifetime, Hymn for the Weekend, Up & Up, A Head Full of Dreams, Magic, Paradise, and many more.
Coldplay Facts
The band was co-founded by the frontman Chris Martin and guitarist Jonny Buckland.
All the members met each other while they were students at the University College London.
When the band only consisted of Chris and Jonny, they named it Pectoralz.
After the bassist Guy Berryman joined them, they changed their name to Starfish.
The final member to join the band was drummer Will Champion.
It was after they had recorded 3 songs of the 4 track EP, they realized that they need a drummer for the 4th song. They went to Will Champion's house who at the time was living with a drummer who owned a drum kit but was not home at the point. Will gave it a try and they recorded the 4th song.
In 1998, the band was named Coldplay.
In July 2021, Coldplay released a 10-minute song titled Coloratura from their 9th studio album, Music of the Spheres.
In September 2021, Coldplay teamed up with the K-Pop group, BTS for the release of a new song titled My Universe.
In October 2021, the band announced its collaboration with Selena Gomez for the song, Let Somebody Go, from their 9th studio album, Music of the Spheres. The music video of the song was released in February 2022.
In October 2021, they released their 9th studio album titled Music of the Spheres.
In December 2021, during an interview, Chris Martin hinted towards the end of Coldplay and revealed that the band will release their final album in 2025.
In August 2022, the band released the music video of their new single, Humankind.
Featured Image by Nababan / Wikimedia / CC BY-3.0