Earn Success on your Own Terms: Conor McGregor, 'the notorious' gives away open secrets to being the best at your game
"Doubt is only removed by action. If you are not working then that is where doubt comes in."
Rowdy, philosophical, funny and engaging, UFC's undisputed Featherweight champion, Conor McGregor, 'the notorious,' is one smooth talking fighter who leaves his audience dazed with his big claims and loud behavior. Yet, they never get enough and always come back craving to witness more. His blatant self-confidence and ability to accurately predict the outcome of his fights never ceases to amaze people. What some reckon as rare psychic abilities is more of insight that comes from an absolute commitment to his craft.
Stand out from the crowd
In part, Conor justifies his uninterrupted 15 win streak to a constant and curious fascination with self-defense. He claims to have fighting on his mind 24/7 decoding different ways to refine his movement. When confronted with the possibility of having an unhealthy obsession, he retorts that unhealthy is going through the same 9 to 5 routine every day. Since he intends to make a lot of money doing what he loves, he need not suffer through a day's unwanted grind in his life ever again.
Success becomes inevitable when your motivation is rooted deep in the unshakeable ground of what can only be defined as a true sense of self. McGregor's personality might be unique, but some of the traits that define him are worth emulating because they enrich his life to the point where he is not distracted by anything or anyone to want to be anywhere else but live in the moment.
Take the time to find your passion
Some people are lucky enough to figure out very early on what they want to do for the rest of their lives. But, many of us find ourselves wavering between many unsure interests. However, it is definitely worth the effort to continue speculating until we arrive upon something that can keep us engrossed to the point of losing track of time. Separating our thoughts from the load of expectations and recommendations, building a life around what captivates us is likely to provide a firm foundation for a life path that is not only unique but guarantees success.
As a child, McGregor started playing soccer. But, as much as he liked to play, he could not take the sport seriously enough to give it the kind of time and effort that some of the other young boys in Britain put into it. Growing up in the suburbs of Dublin where young boys often got into fights, Conor became obsessed with ensuring that his ability to physically protect himself always stayed on point. By the time he turned sixteen, all his free time was spent grappling and wrestling with, now fellow UFC fighter Tom Egan, on the concrete floor.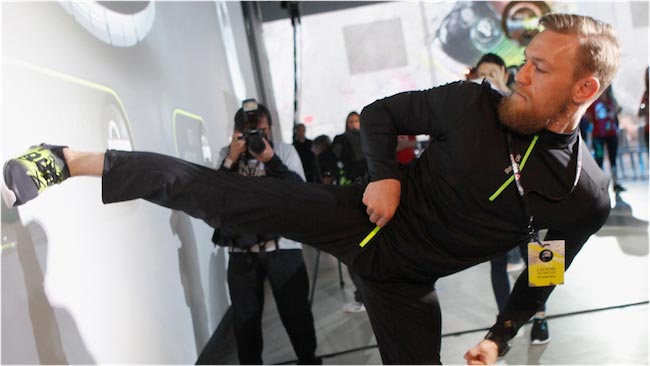 It takes dire misery to understand absolute elation!
Right after school, Conor's father made him take up a plumbing apprenticeship for a "secure" future. After eighteen months of fourteen-hour workdays and lengthy commute, Conor decided to give it all up to learn kickboxing. With the sole motive that fighting was all he wanted to learn and still no clarity to justify a potential career, an amateur fight win in Dublin in 2007 clinched his intention to become a full-time cage fighter starting 2008. As Conor persisted with broadening his skill range through boxing, jiu-jitsu and other forms of martial arts, it was only a matter of time that his reputation reached within the earshot of UFC president Dana White to offer him a contract.
The many benefits of engaging your body in a demanding physical regimen
McGregor insists that learning mixed martial arts will sharpen your instincts to conquer just about any professional discipline. In the present time of hyper-connectivity constantly spurring thoughts of comparison with the rest of the world, withdrawing the mind's attention to train one's body is just what everybody needs to regain high impact focus and productivity.
In fact, Conor McGregor himself claims he was born with no talent. His obsession with mixed martial arts made him put in the necessary hard work required to emerge victorious. Insisting that movement is the best form of medication, the following are just some of the ways which reflect how staying in prime physical condition has refined his life.
He has razor-sharp instincts that ensure continuous progress
Wake up, drink water, stretch and loosen up. Conor's daily habits end just about there. From there on, his impulses take over to decide whether it is time for Yoga, lifting weights or a class of Taekwondo, Jiu-jitsu, Capoeira or Boxing. He sticks to no timetable.
Similar inclinations guide his eating habits, where in terms of performance, he feels his best-consuming plenty of greens, quality meats like salmon, chicken, and steak and restricts himself to vegetable carbs like butternut squash and sweet potato.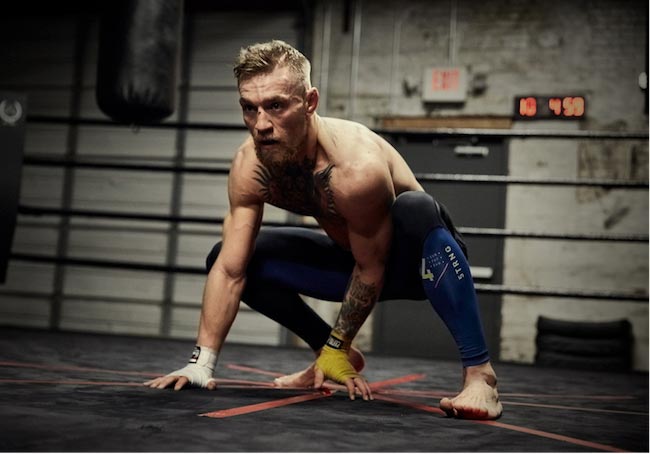 He feels secure even in the face of unnerving situations because of his willingness to adapt
Isolated game plans and strategies can fail. Thorough knowledge built with discipline regularly upgraded by facing diverse challenges cannot.
Conor often suffers injuries but has never used them to back out of a scheduled fight. He tore his anterior cruciate ligament during a fight with Max Holloway and Chad Mendes, yet he simply readjusted his offense to continue fighting from a stronger position and still managed to win!
He claims to possess 'bulletproof' mental toughness
Secure in the knowledge that Conor has gathered so far by challenging the status quo and confidence of the hard work he puts into his preparation, McGregor feels no fear in the octagon. Adulation and criticism alike, he likes to soak it all in without letting them affect his mindset.
His curiosity and repeated re-evaluation of efficient movement by dabbling in new disciplines not only improves his versatility as a fighter but also gives him the insight to read and predict the body language of all his challengers accurately.
Rather than resort to a high intensity bootcamp leading up to his fight for Featherweight championship opposite Jose Aldo in UFC 194, he hired movement specialist Ida Portal to work on agility and balance.
His newfangled contortions in the octagon are weird enough to confound his opponents giving him just enough time to land a winning knockout.
Come 2016, Conor McGregor, "The Notorious" is not done. He intends to conquer the next 'lightweight' division in the higher weight category. Catch a glimpse of McGregor's personality in the following video which sums up how he intimidated the reigning featherweight champion, Jose Aldo, right up till the fight to land the fastest UFC title finish in 13 seconds.