Regular exercise keeps your body and mind healthy. You can do different types of exercises in the gym and your home. Yoga has recently gained popularity as one of the best exercises for the body and mind. Yoga also improves posture and balance. With so many benefits, many people now prefer doing yoga to other exercises. Yoga requires a lot of stretching and bending, so if you don't wear the right pant, you will feel uncomfortable and won't be able to perform well. There are many types of yoga pants available in the market. You should consider the material, stretchability, breathability, and other important factors before buying a yoga pant. Among the top quality yoga pant brands, DRSKIN is one worth mentioning. Here, we are going to review this yoga pant in detail.
Design
These compression pants are designed for comfort. The pants are sold in a pack of one, two, or three pants. The price of these varies according to which pack you choose. So, if you want to buy 2 pairs of pants, for example, buying the pack of 2 will be more cost-effective than buying 2 single pants separately. It is lightweight and you will feel comfortable wearing it any time. You can wear these pants in all seasons for yoga and other exercises and sports like soccer, baseball, weight training, and more. It has moisture sensing ability which allows it to dry quickly and keep you cool even when you are sweating. It provides two-way air circulation, making you feel comfortable all the time.
Build Quality
These pants are made of 92% polyester and 8% spandex which makes the fabric ultra-soft and smooth. The fabric is lightweight and doesn't cause any restriction in your movement. It is super comfortable to wear and you will be able to stretch and bend comfortably wearing it. The pant is made from non-abrasion fabric which doesn't cause any rashes or skin irritation. It has a mesh fabrication that provides breathability and proper ventilation. The pant also blocks most of the harmful UV rays, making it perfect for wearing outdoors. It has two-way air circulation which will keep you cool in summer and warm in winter. It repels unpleasant smell due to dirt or sweat, so you will feel fresh all the time.
Size
You can find it in 8 different sizes from XXS to XXXL which means there is a size for almost everyone. So, whether you have a slim waist or a wide one, you can get hold of this stylish and high-quality pant. The pant will fit you perfectly without making you feel too tight or too loose. It will give you enough flexibility to help you do your yoga poses.
Comfort
The pant is made of high-quality materials which makes it soft and comfortable to wear. It provides good ventilation and breathability so that you don't sweat too much after a workout. It is comfortable to wear both indoors and outdoors. You can wear them when doing yoga or other exercises or even when playing soccer, basketball or other games.
Ease of Use
You can easily wear the pants as the waistband is elastic. It is not too tight, so it won't make you feel uncomfortable. You can bend, stretch, and do the other yoga poses easily wearing the pants. These pants are easy to wash, so you can keep them in good condition. As the pant repels unpleasant smell and dries out sweat fast, you won't need to wash it too frequently as well.
Effectiveness
This pant is great to wear in all seasons. In summer, it will keep you dry and cool even when you sweat as it has a two-way air circulation system to dry off the sweat quickly. The mesh fabrication also offers ventilation and breathability to make you feel comfortable during hot weather. In winter, it will keep you warm by retaining the body heat. It is made of non-abrasion fabric that provides great elasticity and durability. It is very comfortable pants to wear in yoga classes. However, you can wear it for other exercises like weightlifting and jogging as well. You can wear it to play games like soccer, basketball, and more. This pant will promote recovery after workouts and helps in controlling blood flow. Wearing these pants will prevent soreness.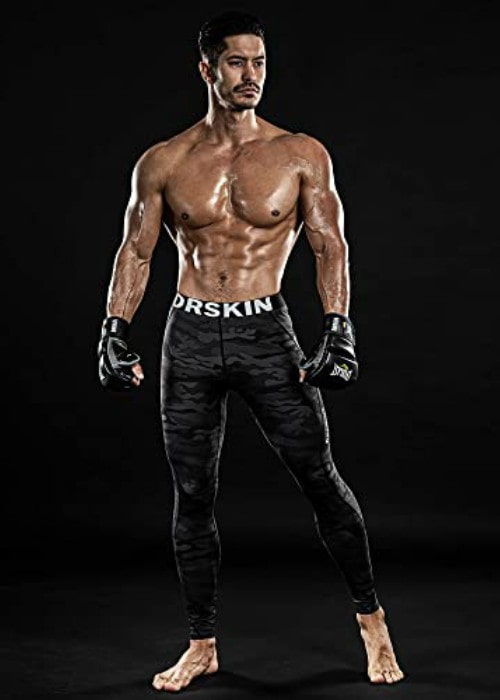 Pros
You can get these pants in different colors.
You can choose to buy a pack of one, two or three which will give you more value for money.
You can get it in different sizes.
It is made up of high-quality fabric that makes it soft and comfortable.
It is stretchable, so it allows movement in all directions.
It wicks away sweat fast to keep you dry and cool.
It has good ventilation and offers breathability to make you feel comfortable during hot weather.
It can retain heat in winter to keep you warm.
It protects from harmful UV rays.
It will fit you perfectly and you won't feel uncomfortable working out.
It is versatile and you can wear it for different activities as well other than doing yoga.
Its fabric is non-abrasion which doesn't cause any skin problems.
Cons
The choice of colors is limited.
The color may fade after washing a couple of times.
Final Verdict
This yoga pant for men has received a lot of positive reviews from the customers for its quality and functionality. The pant is also stylish, so you can wear it anywhere. It is stretchable, breathable, and protects from UV rays when you go outdoors. You won't have any skin problem wearing the pant for a long time. If you want to improve your performance in yoga or other exercises, then you must buy these pants.