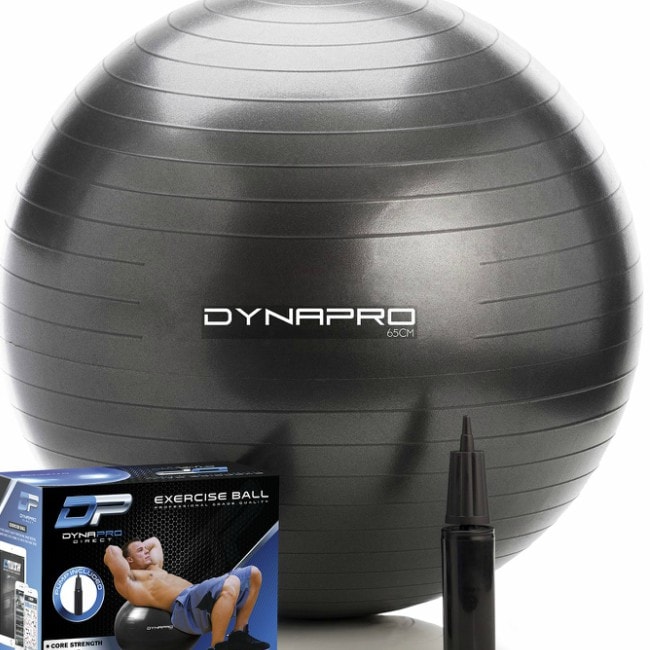 Many people today are looking for ways to keep themselves fit and healthy. As people are now more inclined to electronic gadgets, their physical activities are decreasing; as a result, they are gaining weight. To maintain proper weight, you need to exercise daily. One of the most effective exercise tools is the exercise ball. You may wonder what this giant ball may do. Well, it can help you to improve your workout in many ways and get better results. You can improve your balance and posture, strengthen core muscles, and develop flexibility as well.
You can get this exercise ball in any fitness store. However, you need to do some research before buying it. There are various brands available and not all are good. So, you need to consider the different features and your budget before choosing one. DynaPro is a popular fitness brand and their products are known for high quality and durability. We expect the same thing in case of their exercise ball. Here, we are going to review the DynaPro Exercise Ball in detail.
Design
This ball is designed to be used in the gym, office, and at home. You will also find it in the therapist's clinics. You will find the ball in 4 different colors which include pink, black, grey, and blue. So, you can choose one according to your preference. It is available in 4 different sizes starting from 45 cm to 75 cm. It has anti-burst technology which means that it doesn't have any hole. So, it won't burst and deflate slowly, making it very safe for use. It is portable and so you can carry it anywhere. It doesn't take up much space when in the deflated state, so you can easily put it in your bag.
It has a non-slip ribbed surface which helps to keep balance and you won't slip off during exercise due to sweat or other reasons. You get a free handy pump with it so that you can inflate the ball easily. So, you can have the ball ready in seconds for any type of exercises such as yoga or Pilates. You can use the ball as a desk chair at home or in the office to support your back and improve your posture.
Build Quality
Usually, when the exercise ball is thicker, it is more durable and this is true in case of this exercise ball. The DynaPro Exercise Ball is 1,877 micrometers thick and it has 2000 pounds burst resistance tolerance. If you exceed this capacity, then the ball will deflate slowly and won't burst and so it is safe to use. You can be sure that this ball will be able to withstand any type of exercise no matter how intense they are. This ball is made with gym quality standards.
It is made of non-toxic thick PVC casing for optimum puncture resistance. So, even if sharp objects are lying on the floor, the ball won't burst. Its non-slip ribbed body makes it easy to hold the ball. So, the ball won't slip off while bouncing or tossing. This exercise ball can handle even very tough and stressful situations.
Size
You can choose from 4 different size options of 45 cm, 55 cm, 65 cm, and 75 cm. If you are not sure which size will be right for you, there is a size guide that will help you determine the size. If you intend to use the exercise ball for exercise, then the size should match your body height. But, if you intend to use it as a chair then it should be based on the desk height.
Comfort
The exercise ball is sturdy, so you can do intense exercises comfortably. You get it in different sizes which make it ideal for people of all weights and heights. It is a very comfortable ball for weight training. Its non-slip ribbed body reduces the chance of slipping during exercise. You can use the ball for various types of exercises. You can use it as an office chair also. Once the ball is inflated, it maintains it's shaped for many days. So, you won't need to pump air constantly, which makes exercise hassle-free.
Effectiveness
The DynaPro Exercise Ball has a thick construction. Its lining is thicker than those of the competitors'. So, it won't puncture or wear out easily. It is made up of environmentally friendly material which maintains its shape for a long time and is durable.
It is perfect for use in both homes and at the gym. This exercise ball is so durable that you can use it for intense workouts regularly. The ball is versatile and you can use it for doing yoga and other exercises. You get an exercise guide with it to help you with your fitness goal. It is burst-proof and slip-proof.
You get a kit with the ball to repair it in case it gets punctured or the air volume inside gets low. You get one year warranty for any defects. It is the perfect choice for home and gym. This exercise ball has earned a good reputation from different fitness magazines. The manufacturer tests the product for durability and quality, so you can trust this brand. Besides being versatile, this ball is also portable; so you can use it take it anywhere you travel.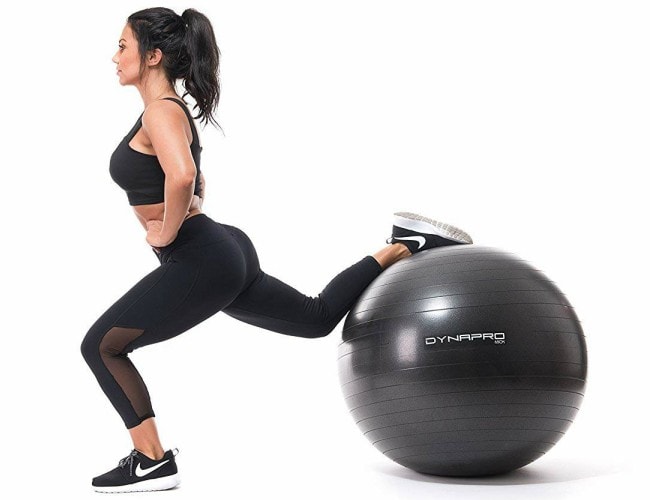 Price
If you buy this exercise ball you will get a balanced value for money and performance. It will cost only $14.99 to $29.99 at Amazon. The price will vary according to the size of the ball. You get a free hand pump with it. You also get access to lots of free workout resources and can join a private community.
Pros
It has 2000 pounds tolerance level.
It has anti-burst slow deflate technology, so you won't have to worry about injuries while using it.
It is made of high-quality material which makes it extremely durable.
You can get the ball in different colors and sizes.
It is portable and so perfect for traveling.
It inflates and deflates easily.
It can hold its shape for a long time.
It doesn't have any synthetic smell.
The brand has a good reputation in the fitness industry.
It is affordable.
Cons
Proper instructions are not provided.
It takes 24 hours to expand to the full capacity.
The size of the ball is small to be used as a desk chair.
Final Verdict
You will now see that many people have exercise ball in their home. You will also find them in the gym and the physical therapy clinics. This exercise ball is highly recommended by fitness and health professionals. Even pregnant women are recommended to use this as 'birthing balls' during labor. Some people also choose to sit on this ball rather than on a chair in the office or even at home. So, you can see that you can use this exercise ball in many ways and get lots of benefits from it.
When you use this exercise ball, you need to use different muscles to maintain balance. That way the muscles become stronger. Besides reducing weight, improving posture, and maintaining balance, the exercise ball also helps to lower back pain. So, you will get lots of health benefits by purchasing this exercise ball.