5 ft 5 in, blue eyed, The Hunger Games star, Elizabeth Banks indeed is the epitome of beauty. Her naturally slender body has got flesh at right places. She is one of the stars who have thoroughly been able to maintain the iconic figure, which they got in treasure.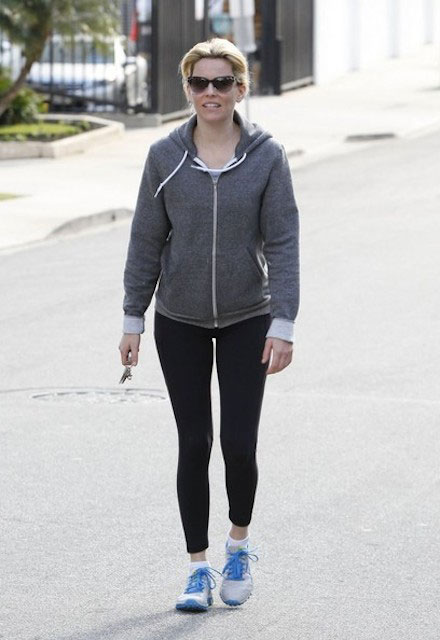 The blonde stunner not only has jaw-dropping figure, but her talent too is beyond description. Her famous roles in the movies such as Seabiscuit (2003), Definitely, Maybe (2008), The Next Three Days (2010), People Like Us (2012), Pitch Perfect (2012) etc. testify the ingrained talent, the sultry actress is equipped with. However, it's not just matter of noble genes that the flawless beauty has been able to reach the soaring heights of name and fame. In-fact, she spends great deal of time in keeping her body in best shape.
Elizabeth Banks Diet Plan
The ravishing beauty is very cautious about her diet and the tribute certainly can be rendered to her, brought up in the catholic family, where she fell in love with fresh and field grown fruits and veggies. Her upbringing immensely aided in developing her taste buds and making her naturally resistant to junk food such as chips, cookies, pizza etc. Even processed foods such as rice, pasta, bread etc. are out of the preferred food list of health conscious Banks. She mostly dwells on gluten free diet and inculcates plenty of unprocessed, fresh, and low carb foods in her diet. Among beverages, Banks consumes only water and tea. She steers clear from alcoholic, sugary, and other beverages, for they foster accumulation of calories in her body.
Besides that, she practices portion control and refrains from the consumption of large portion size of meals at one stretch. She rather shares the extra food in her plate with her hubby while having meals with him in restaurants. One more secret, which assists her in adhering to healthy eating habits is, she stores fresh fruits and veggies in her refrigerator and keeps her kitchen immune from junk and processed foods.
Elizabeth Banks Workout Routine
The glamorous star is aware of the enviable figure she owns and that's the reason she does not give even the slightest chance to her body to gain pounds. When it comes to workouts, Banks certainly looks greatly enthusiastic and full of beans. The sassy actress has got her training from the personal trainer, Joselynne Boschen for around five years. Since workouts are the most credible way to keeping your body in great shape, she heavily banks on them. However, unlike fitness freaks, she doesn't point up spending numerous hours in the gym. In-fact, the burden of going to gym bugs the star as much as it bugs most of us.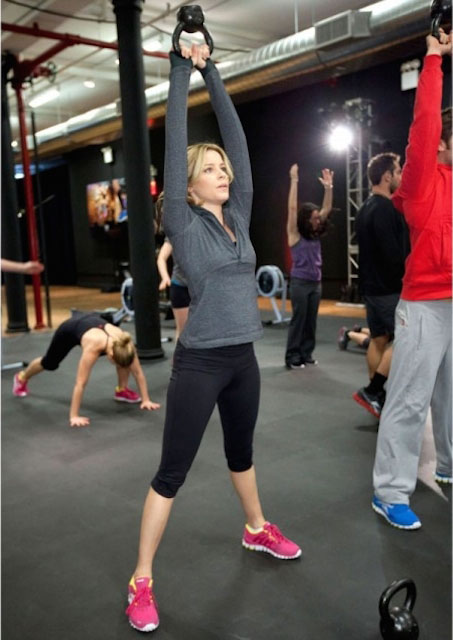 Her workouts are amalgamation of cardio, medicine balls, free weights, plyometrics, TRX training etc. The most peculiar feature of her workouts is that they seldom remain same. She keeps altering them with new workouts on daily basis. Doing so not only save her from the weariness of workouts, but also keep the fat burning process active in her body. Apart from gym workouts, the actress provides required recreation to her body and mind by opting for outdoor activities such as hiking, swimming, playing tennis, walking, and by doing yoga.
And instead of executing her workouts in group, she rather prefers doing them in personal while being observed by her personal trainer, for she acts really weird in group and finds herself unable to cope with the pace of group. Pilates is something Banks despises. She tried doing Pilates once on Pilates machine but became victim of pain in stomach muscles. Since then, she has been maintaining proper distance from Pilates.
Healthy Recommendation For Elizabeth Banks Fans
Are you one of the fans of Elizabeth Banks and aspires to have lean and trimmed figure like her? Here comes one recommendation for you.
Since cardio workouts are the most effective form of workouts, stick to them to shedding pounds. Most people stay baffled regarding the timing of workouts, for the popular myth that morning and fasting workouts provide the greatest benefits. It actually deludes them. But, you don't have to fall in the trap of timing because unless you are not overfed, you can choose your time according to your convenience. Keeping a gap of two to three hours between your meals and workouts are sufficient enough for your body to be ready for intense workouts.
Fasting workouts might shed few more pounds from your body, but if for doing so you have to make radical changes in your schedule, it's not worth doing. Moreover, since nausea is one of the most common problems faced by numerous people doing morning workouts, guaranteed weight loss is still dubious. So, don't stress about the perfect timing of your workouts. Rather pick the one, which suits you the best, for perfect time itself is nothing but a gimmick.