First, she won our hearts with her role of Erin Hannon in the NBC series "The Office" and now, she is entertaining us with "Unbreakable Kimmy Schmidt" by playing the main lead flawlessly. Yes, we are talking about the pretty and talented Ellie Kemper. She is not only a good actress but also has a fit body that inspires women to achieve their fitness goals and makes men fall in love with her. How she manages it? Here's the answer.
Working Out Regularly
The stunning actress has revealed to Shape that she works out for five to six days in a week and it helps her to stay in form as well as have a good mood. If she doesn't work out any day, she gets in a terrible mood. And, when she exercises or works out, she turns into a happy mood. Well, that's unique, we must say.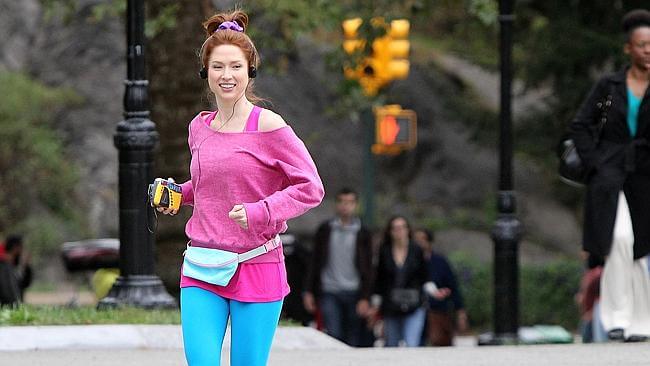 Workout Routine
Like several celebrities, Ellie doesn't like to follow a similar workout routine. She mixes it up by indulging in various exercises that include but are not limited to running, indoor cycling and barre classes.
Workout Motivations
The brilliant actress has said that the factors motivating her to workout have changed a lot. When she was young, she used to exercise just to maintain her weight and get great looks but now she works out to maintain her overall good health as she values it a lot.
SoulCycle Fan
The comedian is crazy about SoulCycle and considers working out there as the best part of her day. She terms it as the best cardio workout for her and accepts that it also acts as a motivator to achieve her fitness goals.
On Being Full of Energy
The Webby Award winner has stated that she is full of energy and doing any physical activity helps her to keep it in check.
She Pushes Her Own Limits
The new host of Today also acknowledges that there are some days when she doesn't feel like even putting on her running shoes. But, she motivates herself by making herself remember the end goals. Though the first few minutes are sometimes awful, but things do improve when she puts in some effort into it.
Not a Masochist
As she enjoys her workouts so much (which are sometimes painful), some people speculated about her being a masochist. But, Ellie rubbished the perception by saying that she enjoys working out hard to keep herself fit and when the workout gets harder, it means that it's about to end. She loves it when it reaches to the end and never feels delighted with the pain.
Her Earlier Weight Woes
Kemper wasn't always so fit. She has divulged that when she was in college, she had put on a lot of extra pounds due to her love for frozen yogurt, Cap n' Crunch and Cracklin' Oat Bran. Because she had dealt with a few extra pounds in the past, it will not worry her in the future as well.
Her Diet Addiction
The gifted actress has an addiction to ice-cream. She can't do without having a bowl full of ice-cream in her freezer and always craves second helpings of it. Even, when the ice-cream causes her to feel too full and bloated, she can't control her urge to eat some more.
Her Advice to Young Women
As Ellie is getting so famous these days, she is becoming an idol for many young girls. When asked by Glamour to leave a message for her young fans, the actress urged all her fans to have confidence in themselves. She further advised her fans to never let themselves demeaned. Great advice, we must say.