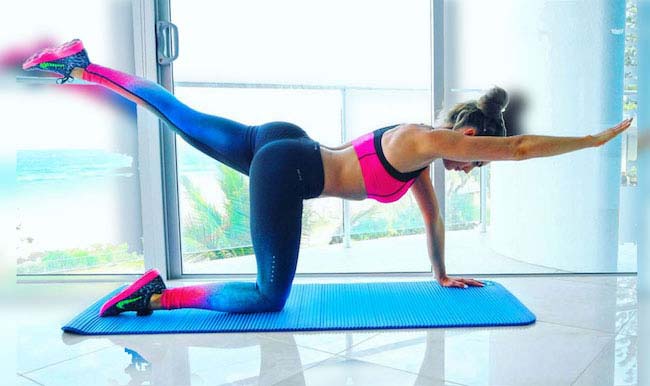 Many of the famous trainers and workout experts focus on ensuring that the clients have a healthy and strong body. But social media icon, Emily Skye is a bit different. She considers emotional and mental health to be of utmost importance. She also supports promoting those exercise and diet rules that ensure the overall well-being of people. Have a look at her own workout routine, fitness journey and some amazing advice that's worth your time.
Morning Routine
The diva wakes up at 8 every morning and starts her day with some herbal tea (that includes lemon, coconut oil, ginger and essential oils) and then, she enjoys some coffee. After that, she goes for a 30-40 minute walk with her boyfriend. The walk includes no cell phones and she even removes her shoes to enjoy the experience.
Breakfast Routine
After the walk, the fitness enthusiast makes a smoothie with vegan protein powder, blueberries, strawberries and unsweetened pure coconut water. She adds some cinnamon to it as well. She usually has a salad with fish for breakfast as she is allergic to eggs and doesn't like toast or cereals.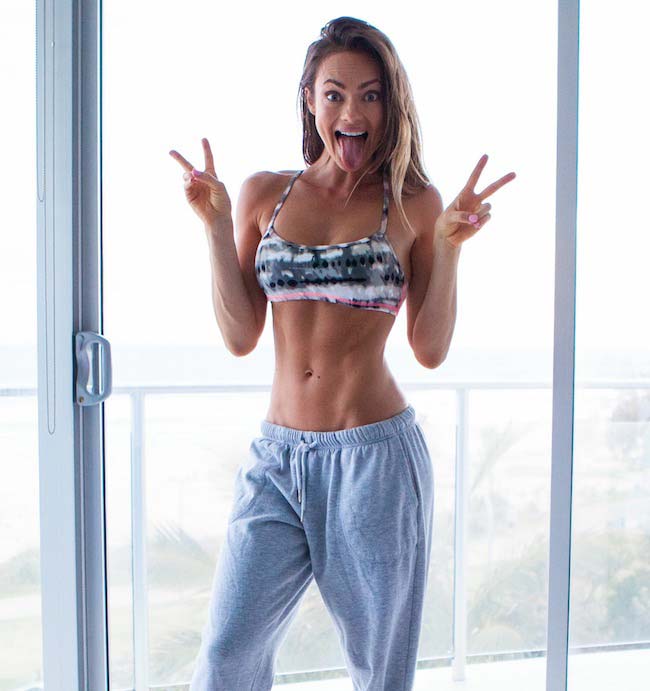 Workout Routine
The workout routine of the stunner is not similar, reports Today. She begins the workout a few hours after having the smoothie, so it can be digested. Her workouts usually last for an hour. She tries to lift as heavy weights as she can. Her ideal workout routine is to do some outdoor sprints which are followed by exercises that include lifting a weighted bar. She recommends everyone to keep changing workouts so that you can avoid hitting an area of stability where your body is no longer challenged.
How it Started?
The social media star admits that she was more into sharing free meal plans and workout videos as part of a blog. She built the fan following instantly and so, she continued down that path. Emily says that she provide the clients with consistent and good quality content. People can actually do the exercises she shares, so they love it. Her focus on healthy minds also gained her a lot of fans.
Her Struggles
Independent reports that the fitness model has struggled with real issues like depression and anxiety in the past. She had a bad childhood because her dad left the family and she became a part of two abusive relationships when she was young. Body image issues were also a part of her life as she was bullied at school for it. She was living in a negative state back then.
The Changes
During her mid-twenties, the gorgeous woman put her foot down and made some key changes. She used being physically and mentally fit as a key part of her fight against depression. Emily believes that she has succeeded in managing it now because it can never be really eliminated from your life.
Side Effects of Cardio
The qualified personal trainer recently shared a before and after photo of herself. In the before picture, she was about 104 lbs. and in the after picture, she is about 132 lbs. The before picture was snapped in 2008 while the after picture was taken in 2016, reports Yahoo. By comparing the pictures, the lovely lady wanted to send out a very important message. She says that during the time when the before picture was taken, she was obsessed with being skinny. She was only doing cardio, starving herself and was very unhappy as well as unhealthy. It led to her being a victim of depression and she had a terrible body image.
Gaining Weight for Better Health
Since then, she has gained about 28 lbs. and she is much happier now. She has started to love weightlifting and does a lot of high-intensity interval training. She is eating more now and rarely does any cardio. The result of these changes is that she is feeling happier, fitter and healthier than ever. She is no longer obsessed with how she looks. She just trains and eat right to become her best and attain overall health and longevity. Having muscle and feeling more confident than ever are a few other positives in her life.
Advice for Fans
Skye wants all her fans to focus on eating clean and working out for better overall health and be the best version of themselves. Do not focus on being skinny, but focus on being physically and mentally healthy. Do not over think about weight loss. Eat right and exercise to demonstrate that you love yourself. (And we agree with her!!)
Being Real
The Aussie thinks that she is so successful because she is real. She takes good and bad pictures to show people that she doesn't walk around looking perfect at all times. She has bloating, stretch marks, pimples and bad days like normal people. That is the reason why people relate to her. When she was struggling with depression and anxiety, she realized that she needed someone to relate to. So now, when she does something that people with issues relate to in order to feel better, she feels great about it.
Not Perfect
The fitness guru thinks that people who influence the minds of other people should be honest about their own flaws. The audience should not feel like that their idol is perfect all the times. She thinks that perfection does not exist and when people are led to believe that perfection can be achieved, it creates very unhealthy mind frames.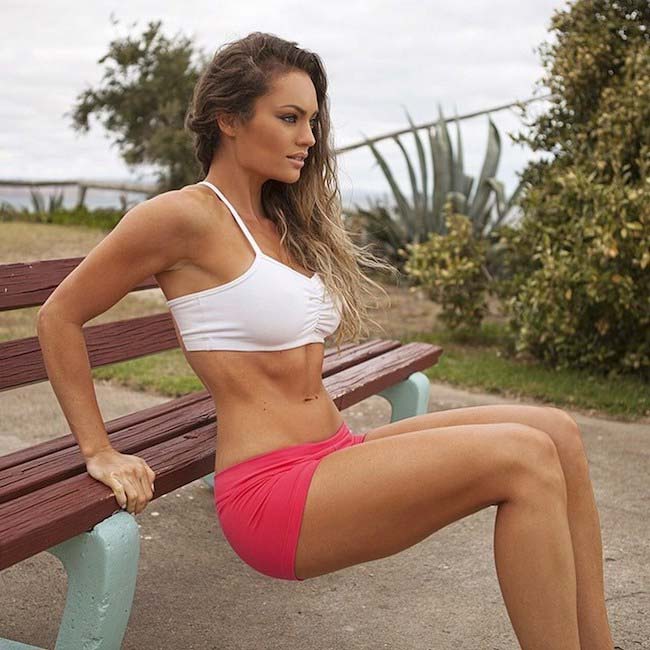 Even she was dazzled with the idea of being perfect at all times. But now, she has realized that being real matters most. Whenever she shares a picture of being bloated, women out there who wish to get rid of it feel better because they realize that they are not the only one, even popular personalities deal with such problems.
Helping Others
The social celebrity is proud of the fact that many of her followers have battled depression and social anxiety, thanks to her. When they see that she is not perfect either, they feel better about themselves. It often increases their self-confidence.
Did you like the ideas shared by Emily? If so, you can follow her on Twitter, Facebook, Instagram and YouTube. She also has an official website that's worth a look.