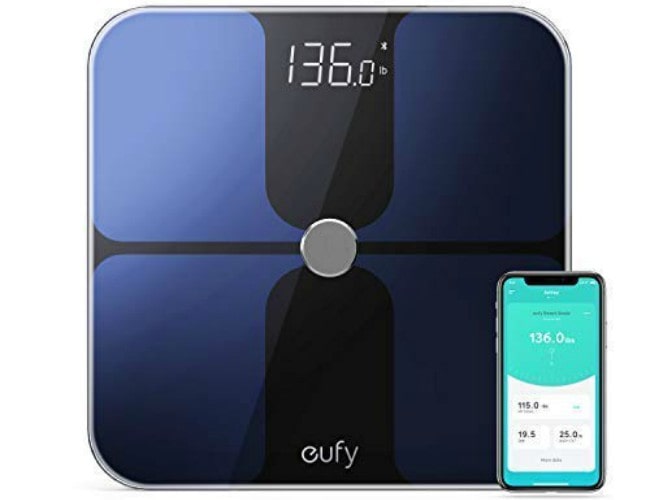 If you are trying to reach your fitness goal, you will have to measure your weight regularly. Weight measurement is an important indication of the condition of your body. If you are overweight, for example, you may be at risk of heart disease, obesity, high blood pressure, and other diseases. The modern weight machine can give you more than just your weight. You will be able to get your body fat composition, water composition, and other important statistics. You can now connect the weight machine to your smartphone and get access to several fitness apps. Eufy Smart Scale is one of the best weight machines you will find in the market today. With this machine, you will be able to get 12 different measurements and will be able to get a complete body composition analysis.
Design
You can get this machine in black or white. It has a stylish and sleek design. There are elegant curves that indicate foot placement. The black-colored machine has a bluish shade that looks attractive. It provides excellent display and you will be able to see the measurements clearly and instantly. You can pair this machine with other devices as well. Its app EufyLife syncs with Google Fit, Apple Health, and other popular health apps. You will be able to store the data in one centralized location that will make it easy to view the readings.
Build Quality
The top of the machine is made of high-quality tempered glass that will give you a premium feel. On the top, you will find a monochrome LED display. A circular sensor is located in the center of the machine. The Eufy logo lies at the bottom. It is water-resistant, so you can use it in the bathroom with confidence as splashes of water won't cause any damage to the machine. This weight machine is long-lasting; you can use it every day without ruining its condition. As it can withstand 180 kgs of weight, it is appropriate for the heavy users as well.
Size
It has dimensions 11.8 inches by 11.8 inches by 1 inch and weighs only 3.53 pounds. The machine is very light and you will be able to carry it from one place to another easily. This machine is too very bulky, so you can store it on a shelf of the bathroom cupboard. It is better to use it on a flat surface to get accurate results.
Ease Of Use
This machine is very easy to use. You will need to turn on the Bluetooth to open the EufyLife app and pair it with the machine. To get accurate readings, you must take the weight in the right manner. You should take off your shoes and socks and step on barefoot. You must place the scale on a flat and hard surface so that the readings are accurate. Avoid standing on the center of the scale; place both legs on either side of the metallic circle.
Effectiveness
It pairs well the EufyLife app for Android and iOS. It can be synchronized with MyFitnessPal, so you will be able to keep track of your fitness progress. The app is easy to navigate; you can choose between a list of devices. You will be able to view your data by tapping on the scale icon.
Along with weight, it can measure the percentage of your body fat that is made of water, what percentage of your weight is the muscle mass, body fat mass, visceral fat, basal metabolic rate, and bone mass. So, you will know exactly how much pounds you need to lose to have a perfect weight. It will highlight trends and will tell you whether the measurements you get are appropriate for your age, weight, and height. It can support 20 different users.
With this machine, you will be able to measure weight accurately in pounds, kgs, and stones. It can measure weight up to 180 kg or 397 lbs. This machine will help you to understand your body. You will be able to compare different readings and get a comprehensive health insight.
Pros
It has a sleek and stylish design.
It is affordable compared to the other smart weight machines in the market.
You can get 12 measurements of your body like weight, BMI, body fat, bone mass, muscle mass, etc.
The EufyLife app will automatically record different health data.
You will be able to see your progress over time automatically.
There are 2 pairs of sensitive sensors that provide accurate measurements.
It is durable and reliable.
It is water-resistant.
It can be used by the whole family as it supports 20 user accounts.
The measurements are displayed in large 1.25'' numbers which are easy to read.
It supports multiple device pairings.
The EufyLife app syncs with Google Fit and Apple Health, so you will be able to store all your data in a centralized location.
You get 4 AAA batteries and a welcome guide for free.
Cons
It doesn't have any pregnancy mode like the other smart scales.
It doesn't provide any Wi-Fi connectivity.
This machine finds out body composition by sending an electric signal through the feet. So, it is not appropriate for pregnant women and those who have implanted medical devices like a pacemaker.
Final Verdict
If you are looking for a budget scale, then this is the one for you. It can provide a detailed analysis of your body and help you know in which area you need to give the effort to get the perfect body. At such a reasonable price, you will not get a better weight machine. It has lots of features that will help you to focus on your weight goals at a deeper level. As you can pair it with different fitness tracking apps, it is suitable for the gym-goers, runners, and cyclists as well. This machine offers great features at a reasonable price and is a great investment for your home.