"I need to keep moving. I need to keep moving."
This is Cobie Smulders frequent reminder to self that has always kept her moving forward in life regardless of cancer, long distance relationship or unplanned pregnancies! Keeping herself busy by taking acting classes or doing a play, she has never let herself stay inactive long enough, to stagnate.
Canadian model turned actor, Cobie Smulders is famous for playing Robin Scherbatsky in the hit CBS sitcom, How I Met Your Mother and S.H.I.E.L.D agent, Maria Hill, recently reprised in Avengers: Age of Ultron, as a part of Marvel Cinematic Universe. Other than that, Cobie has the release of two independent films, Results and Unexpected to look forward to in 2015. They premiered at the Sundance Film Festival.
With two kids, a comedian husband who makes her laugh and a career that only seems to be getting better with each passing year, Cobie has traveled, battled, prepped herself solid and overcome obstacles in life to arrive at a happy work-life balance at the age of 33. Yet, as you get to know more, her resilience will astound you.
The following life lessons from Smulders emphasize how the ultimate happiness in life comes from constantly striving for balance, associating yourself with work you enjoy and never letting go of yourself with inactivity!
Listen to your gut, go with the flow and dabble with variety while you can!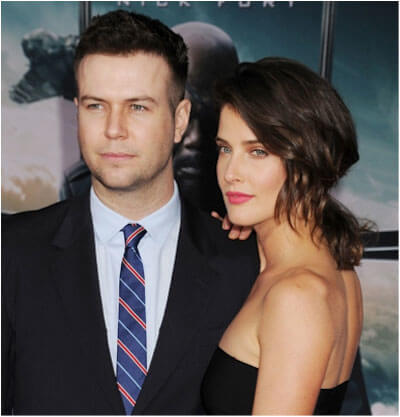 As a teenager, Cobie was into both sports and sciences. She was into soccer, tennis, swimming and is a certified SCUBA (Self-Contained Underwater Breathing Apparatus) diver. Right before returning to the University for a Degree in Marine Biology, Smulders happened to take a theatre class in the summer. Acting resonated with her senses so strongly that it completely altered her career plans for the rest of her life. She took up modeling and continued to work on her craft as an actor before making it big in How I Met Your Mother.
Not in the least bit apologetic for giving up the academic route, Cobie admits that career aspirations are bound to evolve and shift in unexpected directions if you fearlessly consider every opportunity that comes your way. It all works out as long as you stick with what you find yourself enjoying the most in the moment. Keep life interesting by taking the initiative to generate varying interests when you can. 
Between fight and flight, breed the fight instinct.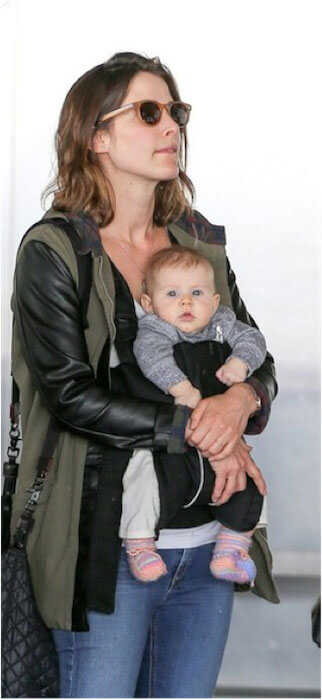 Horrible things can happen to you unexpectedly. How you react to them can either defeat you completely or empower you. While shooting season 3 of How I Met Your Mother, at the age of 25, Cobie found she had ovarian cancer. The tumors in both ovaries were fast spreading to surrounding tissues, hence, chemotherapy was not an option. Smulders underwent multiple surgeries over a course of two years to remove the cancerous tissue until she had only a third of her ovary left. Doctors predicted that she may never conceive naturally, but she got pregnant with her first child soon after!
These sudden, sweeping moments in her life armed her with even more gumption to just go ahead and take chances. Being cancer-free for over five years, Cobie finally feels relieved enough to talk openly about her health scare. In an interview to Women's Health, she admitted that her current mentality is to just go out and do things.
In her own words –
"I am just going to take advantage of life and enjoy myself and not get so stressed out."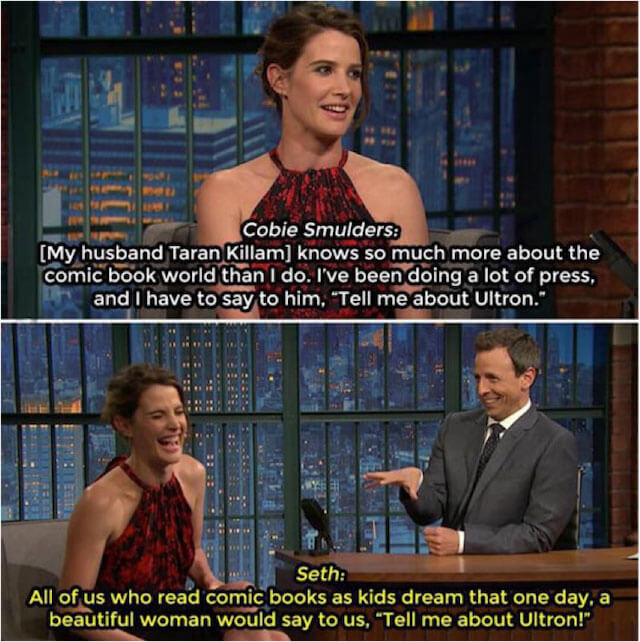 Get comfortable with being uncomfortable!
Making a habit of daring to do things that scare her explains her enormous self-confidence. With a choice between HIMYM and a couple of other shows, she chose HIMYM to conquer her fear of acting in front of a live audience.
Cobie was pregnant with her second child while filming for both the independent movies, Results and Unexpected! Although Unexpected called for playing a pregnant woman and her own pregnancy only added to the realism, in Results she played a lean, super fit personal trainer at five months pregnant! What? How?
She obviously could not train or flaunt her abs in the movie, but she lifted weights with Guy Pierce (her co-star) for an hour everyday to add some muscle on her arms and shoulders. Most of her shots in the movie required running. She played safe by not letting her heart rate go beyond a certain level by restricting herself to a deliberate jog and never let her body feel overheated.
To top it all, Cobie posed topless for Women's Health magazine barely six weeks after giving birth to her second child! As stressful as that was for her, she reckoned she might as well do it at an age while she can still reveal herself at her leanest. One would continue to marvel at the 'miracle,' but she claims to sustain a lean frame with the usual route of diet and adequate exercise. 
What keeps her so lean?
When asked during an interview at the Sundance Film Festival that how did Smulders managed to look so thin three weeks after giving birth. She admitted that it could be the stress of working a lot and chasing a six year old apart from nursing a three week old. It helped that she was already lean before expecting her second child and continued to lift weights and exercise a lot during her pregnancy.
When it comes to exercise regime, Cobie reaches out for group classes. She is not a huge fan of intensity because she hates being a "sweaty mess." She quit Bikram Yoga, spinning and running for the same reason. Slow and controlled is her way to go and prefers exercise classes like 'the bar method' and Pilates. The only time she made an exception to her distaste for intensity was when she discovered, 'Soulcycle' and fell in love with it like the rest of America.
'Soulcycle,' is an upgraded twist on spinning that uses custom-made sturdy stationary cycles to put up with their signature style complex choreography. With the additional use of hand weights, this exercise class guarantees a full body-fat torching workout in 45 minutes. Smulders explains that the super loud music blaring in semi-darkness makes the time fly by very quickly. 
At the end of the day, healthy is more than, about how slim you look.
As much as Cobie would like to get as fit as Madonna, she is no addict and does not go beyond five exercise classes a week. However, she always makes time for Pilates no matter what. In her defense, she explains,
"I do Pilates because it is important for me to have a healthy back when I am 70 so I am not hunched over and in pain."
You could be very busy, but still have a great relationship with food.
Smulders summed up her entire diet, literally, in three sentences in an interview to SELF magazine.
"My usual day: a green smoothie for breakfast — if I want to get fancy, it's eggs on arugula — fruit for a snack, a salad with protein for lunch, and fish and quinoa for dinner," she said. "I'll have pasta two out of seven meals. And if I have 3 bites of my husband's Mac & cheese, I don't kill myself! I just slow down and enjoy it, instead of shoveling it in my face." So learn to savor every little indulgence and savor life!