There are hundreds of options that can be used to improve overall health and build lean muscle mass. For all those who want to increase their fitness levels, we have come up with a few beneficial and nutritional diet options that can be incorporated in the daily life. Regular consumption of these food items can help in maintaining a strong and solid body.
These products will provide the body with sufficient nutrients for building lean muscle mass. For regular muscle growth, you need to consume food products that ensure sufficient quantity of the following nutrients:
Protein – Protein is essential for building muscle mass and enables faster muscle recovery.
Healthy fat – Eating healthy fat will allow the proper functioning of the immune system and increase production of testosterone that maintains the body in an anabolic state for a longer period. Healthy fats are also vital for proper absorption of vitamins in the body.
Vitamins and minerals to maintain a healthy body.
A sufficient number of calories to provide energy throughout the day.
Here's the list:
EGGS
Eggs (egg whites) are the most commonly used food items as they contain 100% pure protein. There are many different ways of eating eggs and this food provides the body with sufficient amount of proteins, vitamins and minerals. Some studies recommend avoiding frequent consumption of egg yolk because it contains all the fat (yolk of one large egg contains 4.5 – 5 grams fat and 184 mg of cholesterol).
SWEET POTATOES
Of all the carbohydrates that contain starch, sweet potato is the best option. A 200 grams sweet potato contains 180 calories or 41 grams of carbohydrates of which 13 grams is sugar, 6 grams is fiber and 4 grams is protein. Sweet potato is rich in Vitamins B 6, C and D. It is also an excellent source of magnesium and potassium. The Glycogenic index of sweet potatoes is 72 and therefore it is an excellent choice for a before training, after training or any other meal.
FISH
Fish is a healthy protein food that provides easily absorbing Amino Acids, Omega-3 fatty acids that contribute to a faster metabolism and a number of nutrients such as Selenium and Vitamin E. Salmon is the best source of protein for proper muscle growth. It contains a large amount of protein and Omega-3 fatty acids, which are two key nutrients that help in building muscle mass and increase muscle recovery.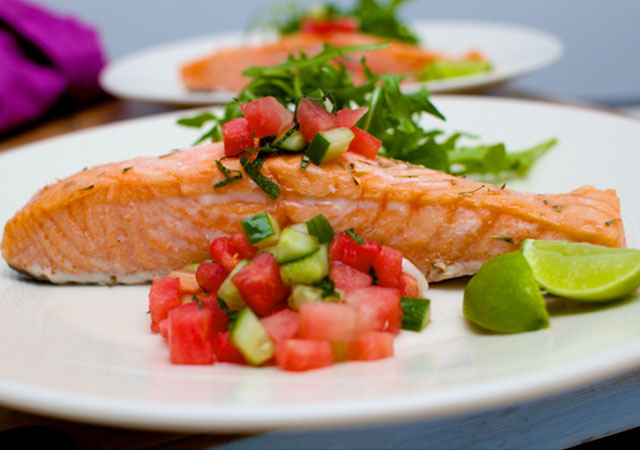 APPLE
A common saying that 'an apple a day keeps the doctor away,' is actually true.
Apple is a fantastic source of carbohydrates, electrolytes and fiber. Regular consumption of this fruit will help strengthen the immune system (red apples contain an antioxidant known as Quercetin, which helps strengthen the immune system when the person is under stress), detoxify the liver and helps get whiter and healthier teeth.
ALMONDS
Of all nuts, almonds provide the best range of nutrients and have the highest protein content. They contain monounsaturated fats that help in balancing the level of cholesterol in our bodies. Almonds contain a great amount of fiber, along with healthy fats and provide a feeling of satiety. Almonds also contain a great amount of minerals, magnesium, potassium and calcium.
But only moderate consumption is best as these nuts contain a higher amount of calories. 100 grams almonds contain 580 calories of which 49 grams is fat, 12 grams is fiber and 21 grams is protein.
RICE
Rice is the most commonly used food when it comes to consumption of carbohydrates. Many nutritionists suggest eating brown rice instead of white, as brown rice is a healthier option. It is rich in antioxidants, aids weight loss and stabilizes the sugar in your blood. It also has a great amount of selenium that is helpful for defending the immune system against illness, cancer, and heart disease.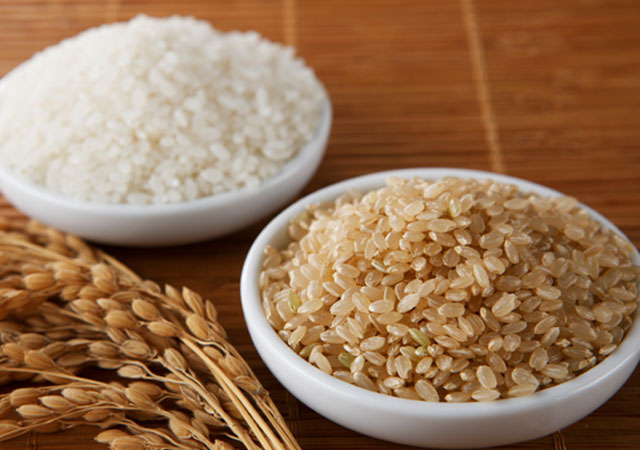 By eating rice, you will be able to intake great amounts of carbohydrates. 100 grams of cooked rice contains 45 grams carbohydrates, 5 grams proteins, very low amounts of fat and only 150 calories.
You should always consume different products to allow entry of all necessary nutrients that are essential for maintaining a healthy and solid body. All the listed products provide a number of proteins, healthy fats and vitamins that are needed for proper muscle growth and should be consumed at least once a week.