When the list of dramatic makeovers shows up, no one can forget the name of Gemma Collins. The celeb was immensely applauded by her fans when she turned from size 20 to size 14. Overwhelmed with her new weight, Gemma could often be noticed uploading her slimmer images on Twitter.
Gemma shares, she never took her size as a burden, in fact, she had developed peace with her weight because with her bulky weight, she was not much bothered to stick to healthy foods only. She could eat and booze as per her comfort. However, after shedding weight, she certainly cannot eat anything and everything coming in front of her because only she knows how much constant efforts are involved behind her slender figure. Let's have a look at the weight loss journey of Gemma Collins, the struggles she encountered, how she overcame them, and what are the problem areas which she is still fighting with.
Processed Foods Forbidden
It's said, deeper and longer the stubborn fat gets settled in your body, tougher it becomes for you to get rid of that fat. So was the case of Gemma who had been living with a ballooned body from quite a lot of time. Gemma shares, there is no such diet plan which she didn't try to lose weight. Right from cabbage soup diet, to maple syrup diet, to egg diet, to grapefruit diet, to shake diet etc. she tried almost all of them. But none of them could render her satisfying and long-lasting results. Finally, she eliminated all the processed foods such as pizza, pasta, burger, along with sugar, salt etc. from her diet and to her astonishment, weight started coming off of her body. In a matter of six weeks, she shed 1 stone 8 lb just by being on a discreet diet. That said, she admits how hard it is to stay tuned with balanced and restrained diet. She pricks; it doesn't take her long to splurge on her temptations. She forgets her vow to eat healthy as and when she witnesses her beloved foods such as hot chocolate with whipped cream on the top, marshmallow, and flake on the side etc. served in front of her.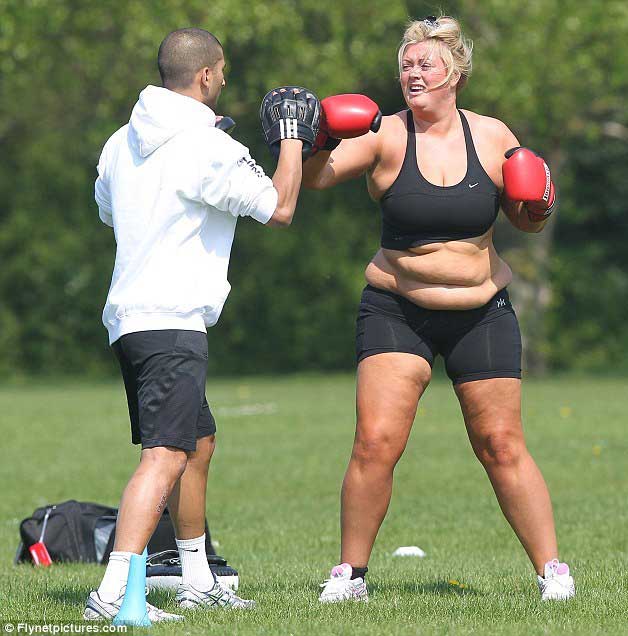 Reliance on Slimming Pills
The relentless TOWIE star who was determined to free her body from surplus pounds also consumed slimming pills namely Proactol. The pills being prepared with natural ingredients do not let fats hailing from fatty foods stay in your body. Gemma dropped two stones with the consumption of these pills but alas, before long, all the lost weight snapped back. Although the manufacturer of the pills claim that the pills shall scorch 295 calories in a day, but their consumption without doctors' prescription is not recommendable.
Being Confident is the Key
No matter what weight she has or had in gone years, one thing remained same and that is her confidence. Gemma doesn't stop being positive about her personality. She shares that when she grows bigger, people assume that she is indulging herself in cakes and other fatty foods, while their assumptions are actually baseless. The reality is that she doesn't eat anything of that sort in routine, specifically when she is larger in size. The poised star has recently opened a boutique wherein she has made available plus size dresses for overweight women.
Experience With Workouts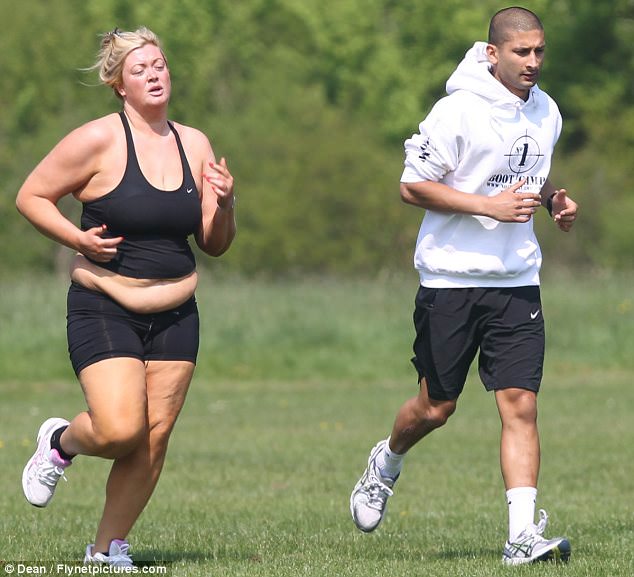 The voluptuous and curvy babe relies on workouts and keeps executing exercises every now and then. To strip off pounds, she executes cardio workouts such as running, power-walking, swimming etc. three to four times in a week.
Healthy Tips for Fans
Gemma indeed gave in to varied weight loss plans to drop weight but she couldn't achieve much success. While following diverse weight loss strategies, the most imperative requirement which she probably missed was being consistent. She did embrace myriad apt ways to losing weight, but since she could not revere consistency, she could not cherish the lean figure for long. Here are some easy tips which you shall inculcate in your daily routine. Not only will these tips drop surplus pounds from your body, they will also uphold you in great shape.
Perform Morning Workouts
Aside from saving you plenty of time for rest of the day, early morning workouts also boost your metabolism and keep the adrenaline flowing in your body. Doing workouts first thing in the morning also keep you away from the stress. So, you can sole heartedly focus on your professional life.
Perk up the Intensity of Workouts
Instead of concentrating on the time spent on workouts, if you rather divert your heed to the intensity of workouts, you shall be amazed with its impacts. Research shows that grueling 2.5 minutes of workouts set your body in calorie burning mode and you scorch 200 calories as an influence of afterburn.