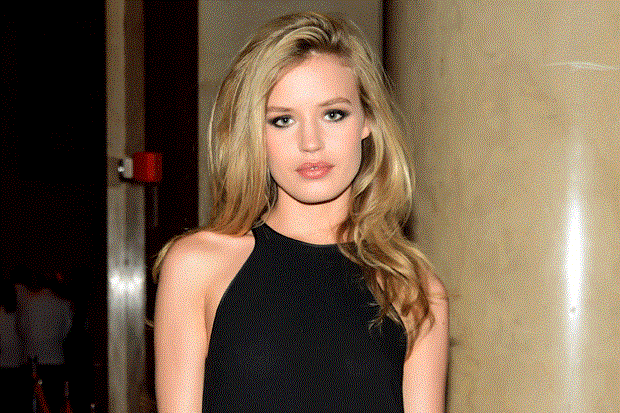 The pretty daughter of Jerry Hall and Mick Jagger, Georgia May Jagger is genetically programmed to do modeling. Her father being the founder member of "The Rolling stone", and mom being the popular model and actress of seventies inevitably have left their impression on their daughter.
After having started her modeling career in 2010, the iconic model was seen doing catwalk in the "Olympic 2012 Closing Ceremony" along-with numerous other super models. 5 ft 7 in Georgia feels that her height is not up to mark for fashion shows, for she is not as tall as other models are. However, she is really passionate about modeling and enjoys it to the fullest.
Full of youthful enthusiasm, Georgia is very pesky and cheery in her personal life. The girl with smoky eyes is blessed with a gap in her front teeth, which has given special recognition to Georgia. And it nevertheless has become a style statement among young people.
Georgia May Jagger Workout Routine
The young beauty maintains her slim body through swimming, horse riding, and long walks on the sea beaches, which as a matter of fact are her favorite pastimes also. Georgia doesn't rely on typical workouts practiced in gym; she rather prefers to live in a euphoric way. Unlike other celebs, she has her own way of exhausting her body, and that is by living a busy day. Being prudent about her lifestyle, she takes proper sleep after spending an agile day.
Georgia May Jagger Diet Plan
Georgia inculcates copious fresh fruits and vegetables in her diet. She simply adores fruits, and takes protein rich foods such as fish and meat in her diet. To keep her diet balanced, she eats plenty of green vegetables, which are rich in iron. Kale, a kind of cabbage and raspberries are parts of her meals.
She drinks ample water to keep her hydrated. Despite having an immense contempt for blue-green algae, she drinks the bitter drink with the sole objective of revitalizing her body and mind. The amazing benefits of blue-green algae keep the young star remain stick to it.
Benefits of Blue-Green Algae
Blue-green algae being an organic food consist of enzymes, 65 types of vitamins, minerals, eight types of essential amino acids, and ten types of non-essential amino acids. Its property of being highly absorbent has miraculous effects on your body. Spirulina and AFA are the two forms of blue-green algae. Blue-green algae has numerous benefits, some of them are –
It's antioxidant properties speed up the proper functioning of immune system.
Owning to its magnificent capacity of regenerating the impaired stem cells, it keeps a check on aging. Besides that, its impacts on hair and skin are mind blowing.
Being easily absorbed by body, it works as a powerful remedy to combat against body pain and headache.
Its detoxifying nature helps in removing all the harmful toxins from body, which make the body dysfunctional. It also improves digestion.
Its impacts on mind are inexplicable. Besides keeping the mind stable, it keeps a check on depression and effectively rids stress.
Georgia May Jagger Beauty Secrets
Born and brought up in England, the British beauty is extremely sensitive against sun and doesn't expose her delicate and flawless skin to harmful sun rays. While sharing her childhood experiences, Georgia tells that she used to get really burnt in sun and had to be treated with aloe-vera to alleviate the effects of sun burn.
The kickass beauty uses Invisible Zinc Tinted Daywear SPF30+, to protect her skin. She feels that most of the young girls of her age don't take proper care of their skin. However, the kind of care she gives to her skin will keep her skin glowing even when she will be 50.
Having learnt the importance of body, skin and hair care from her mother, she nourishes her beautiful hair with olive oil and covers them with a towel, which acts like a hair pack. To open the closed pores of her face skin, she gives steam to her face and then to close the pores, washes her face with cold water. Steam rejuvenates the skin cells by removing all the dead cells. Georgia refrains from skin cleaners due to their harmful effects on skin and she always washes her face before going to bed.