Gibi ASMR Quick Info
Height
5 ft 10 in
Weight
60 kg
Date of Birth
December 19, 1994
Zodiac Sign
Sagittarius
Boyfriend
Ben
Gibi ASMR is an American social media star, singer, actress, and pianist, best known for her YouTube channel of the same name, which has amassed more than 2.5 million subscribers and more than 610 million views. She created it on June 18, 2016, after she found that ASMR done by others helped her feel "blissfully relaxed" and she wanted to support the community and try it out herself. Over time, her channel expanded to include cosplay and roleplay and her original characters such as Lydia, Daisy, Lorelei Mermaid, Mistletole "Missy" The Elf. All of those characters had their own unique vocals, clothing style, food preference, habits and personality, and a carefully planned backstory that at some point includes Gibi's audience. In addition, she has also cosplayed or impersonated well-known female characters from movies, games, and TV shows.
Gibi ASMR also has a secondary YouTube channel dedicated to gaming and non-ASMR activities such as life updates, behind-the-scenes vlogs, and anything else that isn't fitting for the main one. She has played video games such as Fortnite Battle Royale, Life is Strange, Detroit: Become Human, The Sims 4, Undertale, Outlast, Kingdom Hearts, and others. She also uploads shorter versions of her live streams from Twitch there, hosts an annual 'Gibi Cup' where her audience competes in the video game Overwatch. Gibi also streams anything regarding her passion for singing and playing the piano, and fulfills her audience's requests. Gibi has also amassed a large fanbase online with more than 300k followers on Instagram and more than 100k followers on Twitter.
Born Name
Gibi Klein
Nick Name
Gibi ASMR, Gigi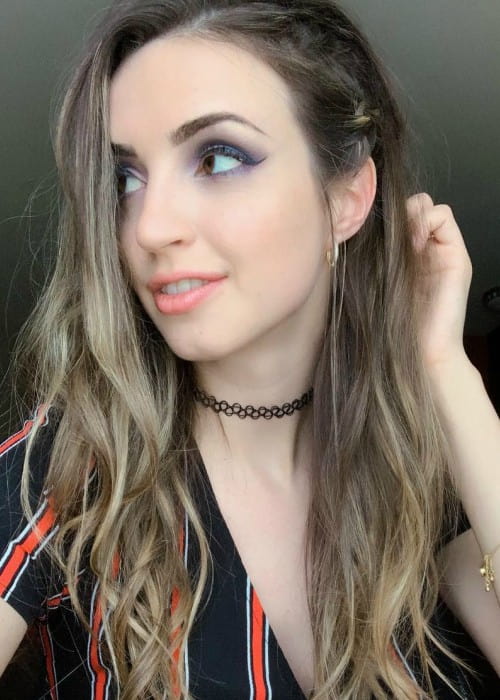 Sun Sign
Sagittarius
Born Place
New York City, New York, United States
Nationality
Education
Gibi ASMR attended Northwestern University in Evanston, Illinois, United States, and got her Bachelor of Science degree in film in 2017.
Occupation
Social Media Star, Singer, Pianist, Actress
Family
Siblings – She has an older brother.
Manager
Gibi ASMR's business affairs are managed by Ben.
Genre
Alternative/Indie
Instruments
Vocals, Piano
Labels
Repost Network
Build
Slim
Height
5 ft 10 in or 178 cm
Weight
60 kg or 132 lbs
Boyfriend / Spouse
Gibi ASMR has dated –
Ben (2013-Present) – In 2013, she began dating Ben, who was also a student of Northwestern University in Evanston, Illinois, United States. She was in her late freshman year, while he was a junior. When she 1st saw him, he reminded her of Jason Sudeikis, an actor that she loved. Just like Jason, Ben fit the type of guys she likes – "friendly but manly" which meant he had a friendly, innocent face, but a manly, tall, athletic appearance. However, she was very nervous to approach him, and watched him from afar, thinking about how he's fun but intimidating. Luckily, her friend organized a group dinner at a Naf Naf restaurant and apparently told him that Gibi had a huge crush on him because he wanted to sit closer to her. Unfortunately, as she never tried that type of food before, she didn't realize she was allergic to sesame inside and had to sprint out to buy anti-allergy medicine, Benadryl. He was concerned with her when she came back, and they quickly bonded over a mutual passion for the Call of Duty video game. Additionally, the 1st thing Ben ever noticed about Gibi, as he later admitted, was her skeleton t-shirt and her skills in beer pong. However, they didn't end up together immediately because Gibi had a high school boyfriend who went off to college. When she told Ben that she couldn't date him, he just got up and left. This made her contemplate, and she knew she had to work hard to correct that mistake. She broke up with her boyfriend because she realized Ben was a "gem of a person" and she had to get very persistent in winning him back. They didn't see each other the whole summer but texted constantly, and when they finally saw each other, he was with other girls, so Gibi had to sit him down, and give him facts on why they were meant to be together, and they finally began dating. Ben also graduated college 2 years earlier than her, in 2015, so she had to drive to the city and visit him often. Finally, during one of her visits, in August 2018, Ben took her to the roof of his house, and his roommates were all suddenly gone. He asked her to marry him while they were both in pajamas/sweatpants, and Gibi genuinely thought he was kidding before she accepted. One detail she couldn't forget was that the ring box had a light that shone when opened, which impressed her greatly. He later told her that she "ruined" his initial plan, because she had a problem with polycystic ovaries, and had to get an emergency surgery after a cyst burst and created internal bleeding. Luckily, he saved the deposit and rebooked what he had in mind, but was too nervous and didn't propose. While he was sitting in the car, he realized he couldn't wake up tomorrow having not proposed, and spontaneously made plans to go with the balcony scenario. Ben also became her manager because she was studying for the Master's degree in business, and she would already use his name to sign her business e-mails to sound more serious for quite a while. One day, she just thought she'd ask him to accept, as it was his dream job anyway. They also began living together and began fostering an old dog together named Luigi who was 10 years old, partially blind and fully deaf. Gibi also had her bridal shower on June 22, 2019.
Race / Ethnicity
White
She is primarily of Italian descent but also has German, French, British, and Irish ancestry.
Hair Color
Dark Brown
She has also dyed her hair 'Ombre' with 'Blonde' hair ends in the past.
Eye Color
Hazel
Sexual Orientation
Straight
Distinctive Features
Brand Endorsements
Gibi ASMR has endorsed brands such as –
UniWigs
Blue Apron
Dollar Shave Club
Lovebook
Displate
Audible
Crunchyroll
Tiny Home
NordVPN
GFuel
Honey
SONIC Drive-In
Zebit
Sun Basket
TikTok
Wyrmwood
VRV Premium
Gibi ASMR also donates regularly to The Brain and Behavior Research Foundation.
Best Known For
Being one of the best-known YouTubers in the ASMR community with a following of more than 2.5 million subscribers
Her social media fanbase with more than 300k followers on Instagram and more than 100k followers on Twitter
As a Singer
Despite not releasing any original music, Gibi regularly streams herself singing and playing the piano on Twitch. A vast majority of the songs were requested or suggested by her audience. She also began a series on her channel called 'Singing Tributes', which started with her covering the entire album named When We All Fall Asleep, Where Do We Go? by Billie Eilish in ASMR on April 6, 2019.
Gibi has also released the most sought after triggers in form of individual songs on Apple Music and Spotify, compiled into EPs such as One Hour ASMR Trigger Test, Slow Tapping ASMR 4, Echo ASMR, The Best ASMR for Your Zodiac Sign, and many others.
First Film
Gibi ASMR made her feature film debut as 'Herself' in the drama movie REESE The Movie: A Movie About REESE in 2019.
Gibi ASMR Fa
vorite Things
Bands – My Chemical Romance, Muse, Blue October, Red Velvet
Blue October Albums – Foiled (2006), Any Man in America (2011)
Movies – The Shining (1980), Moulin Rouge! (2001)
TV Show – The Office (2005-2013)
Anime – Death Note, Boku No Hero, Avatar: The Last Airbender
Avatar: The Last Airbender Season – 3rd
Video Games – The Sims 4, Overwatch, Rhythm Heaven, Kingdom Hearts, Dance Dance Revolution
Food – Seasoned Fries With Dips and Sauces
Vegetables – Carrots, Brussel Sprouts, Broccoli, Asparagus
Pokemon – Gengar, Bulbasaur, Persian
Overwatch Heroes – Reaper, Reinhardt
Drink – Wine
Animals – Dog, Cat
Dog Breed – Swiss Shepherd
Hobby – Playing Board Games
Board Game – Charades
Rappers – Chance the Rapper, Kendrick Lamar, Drake, Childish Gambino
Rapper Duo – Run the Jewels
Directors – Quentin Tarantino, Stanley Kubrick
Sport – Basketball
Phrase – "Food's here!"
Source – Twitch About, Reddit, Reddit, Reddit, Reddit, Reddit, Reddit, Reddit, Reddit, Reddit, Reddit, YouTube
Gibi ASMR Facts
Her name is pronounced as "JEEbee".
Gibi began watching ASMR videos in 2010 as they helped her relax and fall asleep.
She got the nickname Gigi from her dad, who doesn't call her Gibi because according to her guess, it's just too intricate for him.
Gibi wanted to be a veterinarian, a writer, an actress, or a zoo owner growing up.
Gibi ASMR has been mentioned in magazines such as the Los Angeles Times, the Houston Press, and Bustle.
As a teenager, Gibi listened to a lot more of alternative rock and sad songs.
After she was sponsored by the food delivery company Blue Apron in 2017, she started a series called 'Cooking With Gibi' where she prepares meals using the food and recipes sent directly to her doorstep.
Her favorite ASMR trigger is "finger flutters" that she does, as well as brushing and touching. The least favorite trigger to do is whispering because she feels she doesn't do them right.
The most annoying question people ask her is: "How long does it take you to make a video?" It annoys her because she has no answer to that as it can take her a few hours to nearly a year if she has to create a costume for a character.
She made an ASMR video entirely in Spanish in June 2019, which is not her 1st language. Gibi spent around 8 years speaking Spanish but later lost most of her knowledge in it. She also took German, French, and Japanese, but doesn't know French, a few words and phrases in German, and quite a bit of Japanese.
Gibi uses a pre-built computer with 3 monitors as she feels she's not good enough at technology to custom build her own.
She used to have a huge crush on Krillin, one of the characters from the Dragon Ball Z anime.
Gibi is a 'Potterhead' and loves Harry Potter movie and book series.
The least favorite phrase she likes to hear is "time to go to bed."
She cannot drive a car with manual transmission.
Gibi has a Darth Vader tattoo on her left forearm. She got it because she lost a bet in the past but secretly likes it.
Gibi would rather go 200 years in the future and talk to her descendants than go 200 years back into the past and talk to her ancestors.
She has all of her video ideas planned out at least 1 month in advance.
Gibi had surpassed the number of 2 million subscribers on YouTube on June 2, 2019.
Visit her official website @ gibiofficial.com.
Follow her on Instagram, Facebook, Twitter, YouTube, 2nd YouTube, Twitch, Spotify, TikTok, and Apple Music.
Featured Image by Gibi ASMR / Instagram