Highest paid model of the world and the first billionaire of modeling industry, Gisele Bundchen is a legendary Brazilian model. Aspiring to become an athlete in her childhood, the gorgeous model had never ever imagined her as a model.
Having set a benchmark in the modeling industry, she is one of Victoria's Secret angels. Tall and gorgeous Gisele not only has a fab body, but also has immense vibrant energy and an electrifying attitude. Credited with the sexiest legs in the industry, Gisele didn't get her perfectly toned legs and curved figure in two days from some magic spell. Her persistent dedication and sacrifice actually talks volume behind it.
Who would believe, the wife of England famous Football player, Tom Brady, is mum of two kids!!
Gisele Bundchen – Mum of Two Kids
The highest paid model gave birth to her son, Benjamin in 2010 and a daughter, Vivian in 2012, and within couple of months of their births; she was in the same sculpted figure.
She executed workouts even two weeks before her kids were born. The relentless model practiced Kung fu and never left yoga, which she practiced three days in a week.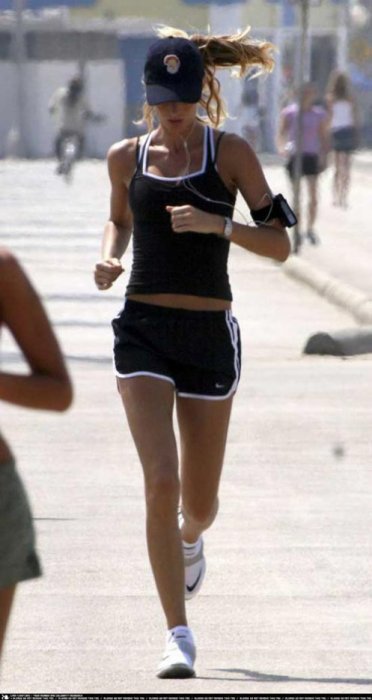 She always kept an eye on her diet even in her pregnancies and seldom filled her stomach with anything and everything that came across her like most of the pregnant women do. It was all due to her prudent diet and dedication to workouts that she gained just 30 pounds in her pregnancies.
Gisele Bundchen Key Secrets
Owning to her skill of keeping balance in all the domains of life, Gisele never undermines the importance of proper sleep along-with workouts and diet.
Gisele follows three key principles in her life, which are –
Don't deprive your body from something it desires. Eat, what you crave for, but keep a check on that and don't do overeating.
Don't expel carbs from your diet. Being the sole source of energy for your body, it's very vital for your body.
Make workouts an indispensable part of your life, and make sure that your workouts justify your diet.
Gisele Bundchen Workout Routine
Highly dedicated towards her workouts, Gisele performs variety of exercises to maintain her trim figure. While she dedicates five days in a week to cadio-workouts, two days of her week are reserved for yoga. Without fail, she devotes one hour in a day to workouts. Anusara yoga, which is free-style yoga and is comparatively easier than other yoga postures, is her all-time favorite yoga.
Apart from making your body supple, yoga also brings all the organs of your body in perfect harmony with each other. It also provides great tranquility and stability to mind.
To add fun and exhilaration in her workouts, Gisele plays Brazilian body surfing and water polo water aerobics, which includes swimming and underwater running. And to enhance the resistance power and endurance of her body, she runs for 45 minutes in a day. Swimming being a great cardio workout is used by the celeb to render mobility to her joints.
She practices all her workouts in the supervision of personal trainers. While Tracy Anderson is her personal trainer for aerobics, Amy Lombardo gives her yoga instructions.
And under the guidance of Yao Li, Gisele practices Kung fu for three days in a week for 90 minutes. Apart from kicking and stretching, she loves punching in Kung fu, since it keeps her full of beans throughout the day.
Gisele Bundchen Diet Plan
Although Gisele doesn't follow very strict diet regime, she loves to eat real meat. Besides being yummy, it's very healthy as well. She prefers including raw foods in her diet and maintains distance from canned or preserved food.
While consuming 1600 calories in a day, the model takes a lot of coco juice and fresh fruits in her diet. She begins her day with breakfast, which includes toasted bread. Her lunch is generally comprised of two slices of skimmed chicken, one fruit, rice, lettuce, fruits, and chicken thighs. Her healthy snacks consist of cookies, skimmed cheese, one slice of Turkey, and fruits.
In dinner, she takes one fresh fruit, fish fillet, and salad having majority of tomatoes in it. She always keeps a gap of at least three hours between her dinner and her going to bed, which actually is a healthy routine, for it gives sufficient time to her body to digest all the food.