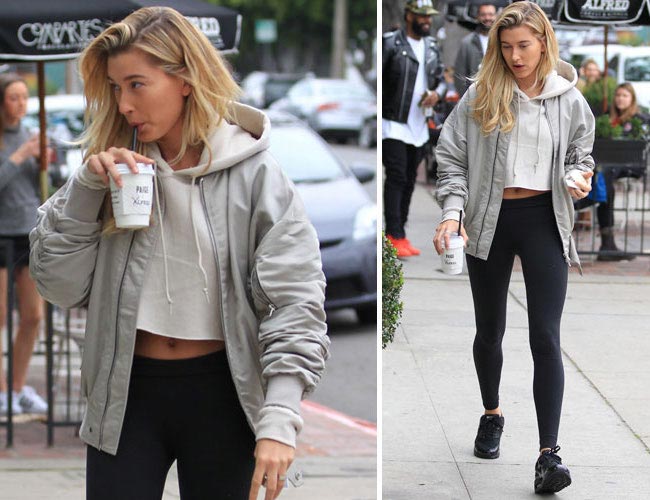 She graced the runways of Tommy Hilfiger, Prabal Gurung, and Jeremy Scott during the latest New York Fashion Week. All the while she looked amazing. We are talking about none other than the young and gorgeous model, Hailey Baldwin. If you want to know how she looks so great, then keep on reading. Here are all the details of her usual diet plan, her detox diet for 2016 New York Fashion Week, some of her amazing beauty tips and her suggestions on donning a bikini.
The Metabolic Detox
The hottie recently admitted that she tried the Metabolic Detox before the 2016 New York Fashion Week. It was done to cleanse or reset her body before she had to run around and travel a lot. In this cleanse, she had to eat a certain way and used a protein powder to cleanse her body. Hailey said that she eats healthily at all times, but it was more than just eating healthy foods.
Sleeping Right
The diva also credits good sleep as it helps her prepare for the fashion shows. Her body feels a bit off when she is running around or traveling a lot, so she compensates by getting ample amount of sleep.
Does the Detox Method Works?
If you are wondering what the Metabolism Detox method is and whether it would work for you or not, then you need to read on. Here, the co-founder of TheHealthClinic.com.au, Pip Reed is explaining it all. She says that it's a more in-depth method of detox which focuses on the metabolic pathway of a person. It includes kidneys, gut, and liver. In the detox, a person would depend mostly on veggies and fruits that are organic. It is a very alkaline diet in which a person has no dairy. It also involves having loads of nuts, seeds, and fish too.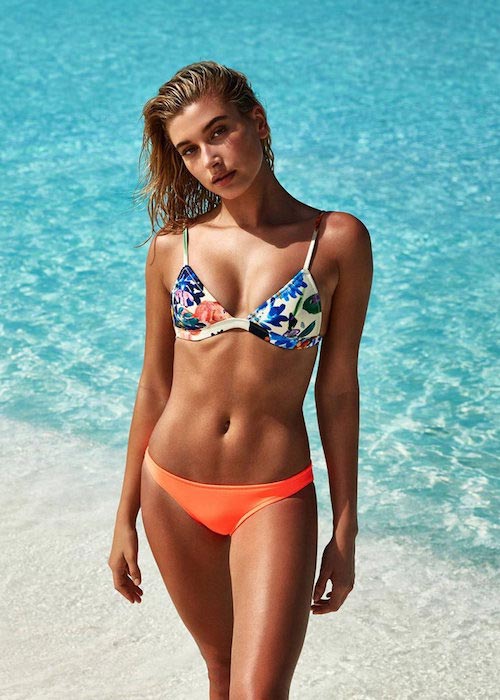 The Side Effects
The nutritionist told Yahoo that though, this detox can be beneficial, it also has a few side effects. The first thing to remember is to do it under expert supervision and as per a specialized plan. Even then, a person may have to deal with side effects such as nausea, skin breakouts, fatigue, lethargy, etc. The detoxes can also be harmful when a person's immune system is low.
Decent Payout
If you do everything right, you will enjoy a lot of benefits from the process. It will help you to look good, lean out, lose fluids and sleep better. In case you had fluid retention or puffiness issues, they would be gone too.
Diet Plan
After knowing the detox method, you are probably wondering what Hailey eats in a day when she is not on any detox to look great. Here's a basic excerpt of her diet plan that was revealed by Elle sometime back.
Breakfast
The breakfast includes having some eggs or oatmeal or a smoothie. The focus is on having a lot of healthy protein.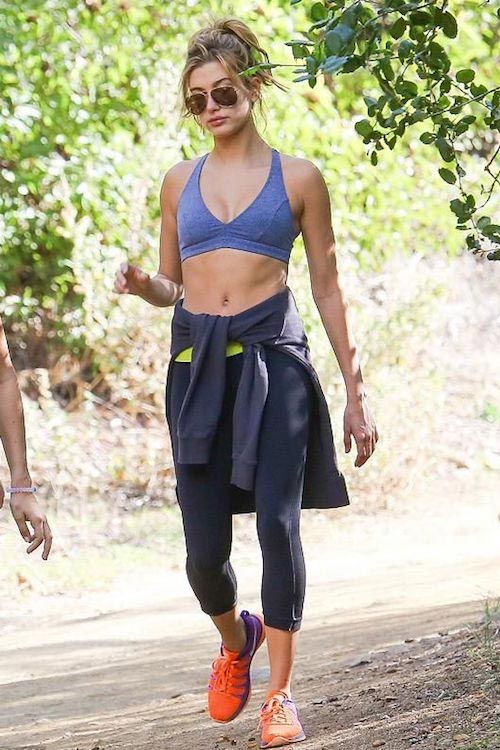 Lunch
In lunch, she has a salad, grilled veggies, fish or a sandwich. She loves having kale Caesar salad with no croutons in her afternoon meal. She avoids having gluten in her meals.
Dinner
During dinner time, she likes to have similar foods like lunch. It includes a lot of vegetables. It also includes gluten free pasta at times or even chicken. Sometimes, she has a dessert of magnum bars.
Fluids
The daughter of Stephen Baldwin largely depends on water. She admits to drinking a couple of bottles every day. She never measured the glasses but she makes sure that it's plenty.
Being Strict
The stunner also says that she tries to be very strict about her diet and eating for her skin and body only. She is also particular about avoiding sugars as much as she can.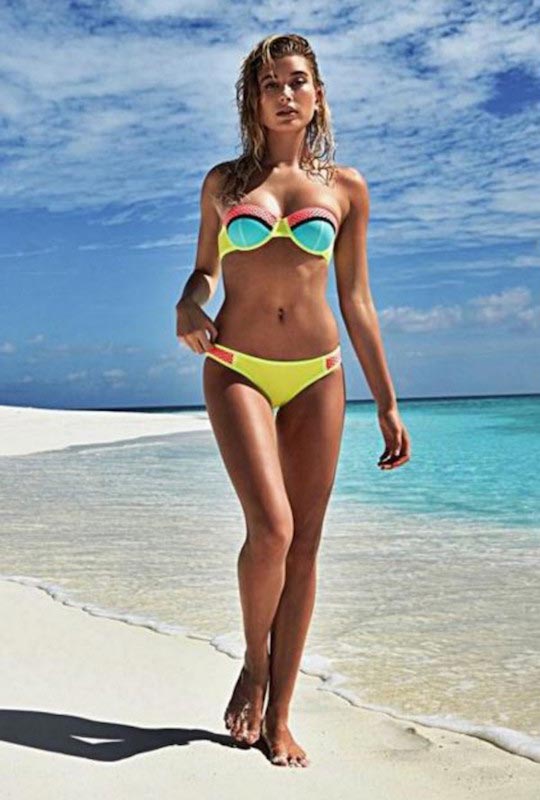 Cheat Days
The Love To Love You Baby (2016) music video star has a cheat day every once in a while. On that day, she eats whatever she feels like having after waking up. It can be anything from pancakes to French fries. Her favorite treat is a burger from J.G. Melon.
Recent Indulgence
Recently, the hazel-eyed beauty went to Maldives and indulged in whatever foods she wanted. She said that she did that because sometimes, a person has to take advantage of those moments. (And we agree with her!!)
Bikini Advice
We all know that the pretty woman looks astonishingly sexy in a bikini. While talking to Instyle, she shared some valuable bikini advice with all her fans. She says that you should always wear something that's never too small on you. You should wear that's a good fit for your body.
Hailey says her own preference is to avoid bikinis that are too small and she likes bright colors. Bright colors make her look tanner when she is already tanned and she likes it. Talking about colors, she showed a preference for a white bikini and an olive colored one.
Beauty Tips
The American model has shared some vital beauty tips with her fans. They are mentioned as follows (and elaborated a bit by us):
Drink a lot of water: Water will make your skin look and feel good as all the toxins would be removed from your body.
Stick to a healthy diet: A healthy diet is a key to having a healthier skin. Whatever you put in your body shows on your skin.
Use only simple things on your face: Try every product before you buy a bunch of it and don't get influenced by all the marketing.
Don't overdo it: Do not put on a lot of beauty products as excess of any product can be bad for you.
See a Dermatologist every once in a while: Seeing a good skin doctor would help you stay aware of and prevent any skin issues. After all, prevention is better than cure, isn't it?
If you liked the tips and diet ideas of Baldwin, then you might want to keep up with her lifestyle by following her on Facebook, Twitter or Instagram.