Almost all of us wish to lose the excess weight we carry around but barely any of us succeeds to the level Eve Guzman has achieved in losing extra weight. She went from 277 lbs. to 138 lbs. and this amazing transformation helped her to become somewhat of a celebrity. She was the star of PEOPLE's 2015 Half Their Size Issue and she has been helping people lose extra weight too (she has helped people lose a combined total of 2,950 lbs). The popular personality recently spoke about her efforts to lose weight, workout regime, diet secrets, and her fitness motivation. She also accepted that she is not yet perfect but is content with who she is now.
Heart and Soul
The mom of two shared that she has always put her 120 percent in whatever she did but the same amount of dedication was lacking as far as fitness and nutrition are concerned. She poured her heart and soul into the weight loss journey.
Workout Routine
The workout routine of the fitness fanatic changes constantly. In February, her fitness routine was something like this:
Monday – The week began with back, abs exercises, and hamstrings.
Tuesday – Tuesdays were focused on HIIT and abs training.
Wednesday – Shoulder and chest exercises were the focus.
Thursday – On Thursday, various exercises were done to strengthen abs, glutes, and hamstrings.
Friday – Friday's routine was same as Tuesday. It included HIIT and abs training.
Saturday – The focus concentrated on doing biceps and triceps.
Sunday was the rest day.
Workout Aims
It seems that the fitness enthusiast is focused on hardening and defining her upper body while simultaneously getting rid of the fat from her lower body so that the muscles underneath can be revealed. She is close to 10 percent body fat.
Preferred Workouts
People.com blogger likes to do shoulder presses, lat pulldowns, Romanian deadlifts, weighted donkey kicks and sumo deadlifts. Her preferred HIIT exercises are sprinting on the treadmill and StairMaster.
The Results
The online trainer still can't believe the results she has achieved and often has to pinch herself when people call her an athlete or a competitor. Her new levels of endurance and strength have even surprised her.
Latest
The current workout routine of the trainer involves lifting heavier weights. She has cut down on cardio and lifts 5 to 6 days every week.  She now has more energy to teach fit camps. Coaching other people makes her happy and reminds her of where she has come from in terms of fitness and where she is aiming to go in the future.
Motivation
Like normal people, there are times when Guzman wishes to give up as she feels completely exhausted. On such days, she remembers the quote from Eric Thomas:
"You have to want to succeed as bad as you want to breathe."
It motivates her to get back to her hard workouts over and over again.
Diet Secrets
The genetic toxicology research assistant has devised a reverse diet for herself with the aim of putting on more muscle mass while leaving the caloric deficit behind. She is following a macro-based plan and consistently making use of the Herbalife. She is eating more and has included carbs in her diet. She also has a treat about one or two meals every week.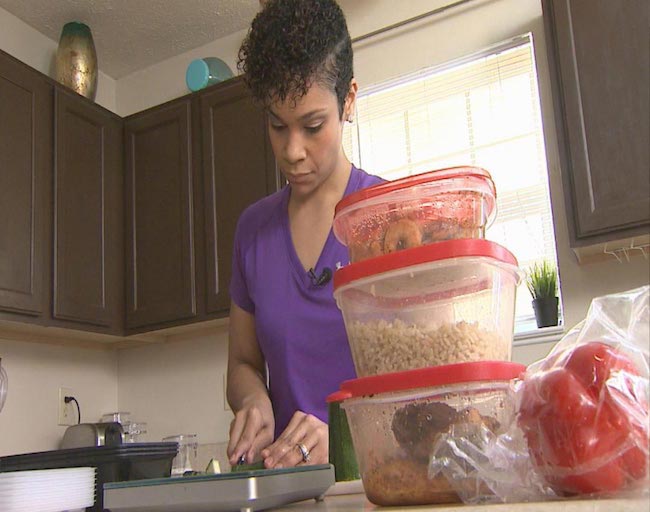 Diet Changes
Eve has added some things back to her diet now. She has larger amounts of bread, coffee creamer, rice, and potatoes more often these days. These diet changes have helped her to achieve her mental focus.
Diet Indulgences
Donuts are a weakness of the lovely woman. She is mad over donuts and calls them her preferred carbs.
Diet Plan
The fitness lover shared her exact diet plan in another chat with People in January. Her meals usually consist of having egg whites, whole eggs, protein shakes, complex vegetables, oatmeal, whole grains, lean-to moderate-fat meats, some dairy products, and carbs.
The exact diet plan involved having:
Whole eggs, rice, and egg whites in meal one.
Meal two included a protein shake.
Meal three focused on filling options like chicken breast, rice, and green beans.
Meal four included steak with potatoes and broccoli.
Meal five was Ground turkey zucchini noodle-free lasagna.
Meal six was blueberry protein pancakes.
Not Perfect
The Herbalife Coach believes that losing half of the body weight does not mean that you will become perfect. She still has stretch marks, cellulite on her thighs and butt as well as a scar from the abdominoplasty. She adds that she still has some excess skin on the thighs and things still jiggle which happens if you lose too much weight. Flaws are a part of who you are and you should feel confident while knowing they are there.
Liked Eve's ideas, you can see more such ideas on her official Instagram page.