Jersey Shore star, Jenni Farley or JWoww has a flawless and captivating figure. After having lost twenty pounds in three months for the show, the stunner has adeptly been maintaining her slim and trimmed body. Here are some of the diet and workout secrets of Jennifer Farley, which are accountable for her camera ready figure.
Grueling Workouts in Gym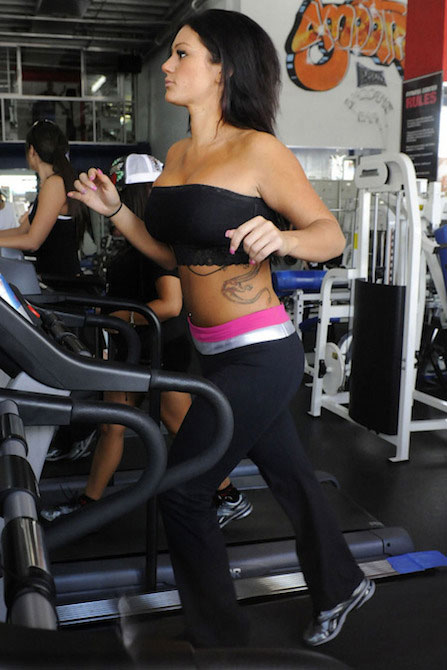 Jenni being very conscious about her health hits gym five times in a week for thirty to sixty minutes per day. She executes grueling workouts such as running, biking, rope jumping, boxing, strength training etc. to render exercise to her body. Instead of solely relying on strength training or cardio workouts, she prefers doing interval training. Weight training with bosu ball, kettlebell, dumbbell etc. amplifies and conditions her muscles. And rather than focusing on specific muscles, Jenni performs full body workouts which tone all the major muscles in her body.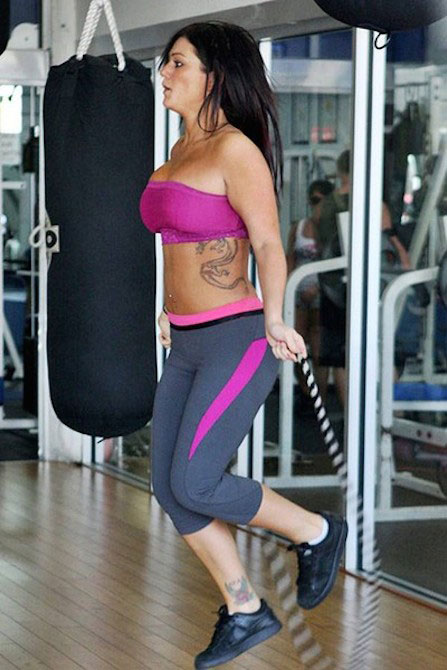 Workouts with Partner
Along with working out with her personal trainer, Jenni also executes exercises in the company of her bodybuilder beau, Roger Mathews. She works out twice in a week with him. Aside from supporting her in workouts, he also educates her about correct and influential ways to perform workouts. Exercises with a partner actually is an excellent idea to perform workouts. Since on weekends, you are very likely to go to a restaurant and relish your beloved sin foods, you can utilize the same time in each other's company to perform exercises and burn calories.
Endorsement of Ab Cuts (Natural Dietary Supplement)
The pretty star endorses Ab Cuts, which is a natural dietary supplement. There are diverse supplements such as pre-workout, sleep supplements etc. She shares since she undergoes intense workout sessions, these supplements make her recovery faster. She loves drinking Ab Cuts shakes, which have opulent content of dark chocolate. Self-proclaimed target areas of Ab Cuts are stomach, hips, and thighs, where most stubborn fat is piled up. Though the supplement is dense in healthy and beneficial ingredients such as Alpha Linolenic Acid, Gamma Linolenic Acid, Linolenic Acid, Sesamin, DHA etc., but its credibility is still under scrutiny for no significant outcomes have been seen so far.
The HCG Diet
To strip off unwanted calories, the gorgeous celeb abided by very restrictive "The HCG Diet." The plan allowed her to consume mere 500 calories in a day. Extremely low calorie diet coupled with HCG hormone injection is capable to shed one to two pounds in a day. Although Jenni successfully melt away weight with the plan but the plan is not recommendable to be followed. Since average calorie consumption of women is 1800 to 2000 calories in a day, 500 calories might cause serious deficiencies in your body. Aside from feeling exhausted, you might suffer from some serious ailments.
Moderation in Diet
After dropping twenty pounds with the plan, the sexy star finally seems to have gotten the significance of healthy and balanced diet. While adhering to moderation in diet, she relishes all her favorite foods such as pizza, bread, cheesecake, chips etc. in moderation. To relinquish her cravings, she treats her with a cheat day once or twice in a week. Now, she aspires including more fiber-laden veggies and fruits in her diet. Aside from incorporating rich sources of lean protein such as fish, chicken, turkey etc., she keeps the consumption of whole grains limited to once in a week.
Her watched and discreet diet indeed signals her soaring concern towards health over skinny figure. However, among wicked foods, she still steers clear from alcoholic beverages. Most people believe that by shrinking the intake of whole grains, they are helping their body to lose weight. While the fact is whole grains are equipped with vital nutrients and minerals, and their consumption renders adequate nourishment to your body which doesn't hinder the weight loss process.
Healthy Tips for Fans
Here are some nutrient-dense foods which you can inculcate in your diet. These foods shall speed up fat burning process and thus help you in getting a slender figure.
Ginger
Credited with essential nutrients, ginger boosts your immune system, combats aging, and provides myriad other benefits. Chew small pieces of ginger in the morning. Since ginger dissuades fat production, you shall see its influence on your weight.
Fibrous Cereals
Study shows that people who eat cereals in their breakfast are thirty percent less prone to grow bulkier. Fiber-laden cereals fire up your metabolism, and keep you satisfied and energized for longer. It also keeps a check on insulin which is mainly responsible for bulking up fat in your body.
Citrus Fruits
Citrus fruits such as lemons, grapefruits, oranges etc. being opulent in vitamin C help your body process fatty foods. Your body's daily requirement of vitamin C is 60 milligrams. However, if you increase its quantity to 500 mg and pair it with cardio workouts, you can scorch calories at thirty-nine percent more speed than you normally do.