Blue-eyed, splendid beauty, Jerry Hall is still as magnificent and elegant, as she used to be in her young days. Famous top model and actress, Jerry is ex-wife of Rolling Stones frontman, Mick Jagger.
Doting mother of four kids left no stone unturned in the upbringing of her kids and incorporating high values in them.
Jerry Hall's Victory over Cellulite
Embarking on a new life with new beginning, post her divorce with Mick Jagger, Jerry took VelaSmooth treatment to mitigate the effect of shabby cellulite, and she successfully got victory over it. She was recently seen in bikini on sea beach and her legs and thighs looked quite buffed and toned.
Long and sexy legs are the most remarkable features of Jerry. However, they were seen covered with cellulite in 2001 when she appeared in single piece swimsuit. Age certainly can be one of the factors responsible for that. But relentless Jerry couldn't bear cellulite spoiling the attractiveness of her legs and she finally succeeded in purging her legs and thighs from stubborn cellulite, which other women of her age generally don't bother.
Jerry Hall Workout Routine
Jerry doesn't hit gyms for workouts. She rather keeps her fit by doing various household activities such as gardening, mopping etc, She contends, if you do mopping and other household activities, they give your body enough of stretching and toning, after that you don't need to go to gym to practice intense workouts.
She says that she has never practiced any stereotyped workout in her life. Yoga is the secret behind the hot and sexy figure of the exquisite beauty. The ravishing beauty has continuously been abiding by yoga for more than 35 years. Among yoga, she practices Ashtanga yoga twice a week.
Yoga improves the posture of your body and enhances its suppleness. A supple body is less vulnerable of being injured and certainly is the symbol of a resilient body.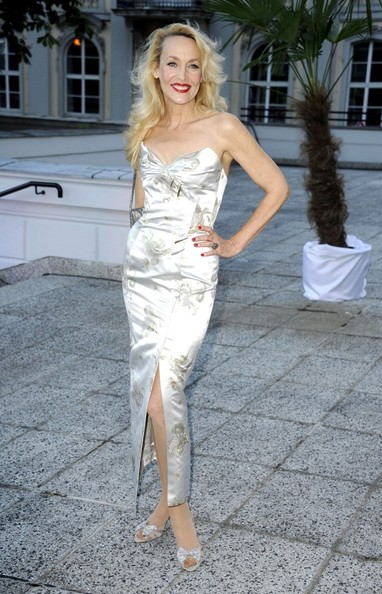 Jerry Hall Diet Plan
Jerry swears by an absolute organic food diet. The glam actress has her own garden at the backyard of her house and has planted diverse fruits and vegetables there. She has made four beds in her garden. She takes immense care of them. Fruits and vegetable are rich in fiber and contain ample minerals, vitamins, calcium, and other vital nutrients. Besides providing you complete nutrition, they also save you from the harmful toxins of animal foods.
Relying on consumption of natural and home grown foods, she has raised four chickens at her home to get fresh eggs. Very discreet about her diet, the star has some vices also, such as smoking and drinking, but she astutely maintains moderation in everything she consumes.
To keep her skin glowing and digestion at par, she consumes enormous water in a day and takes proper sleep. She asserts, water can rid you from numerous health problems, for its benefits are countless.
Jerry Hall Health Tips
Jerry considers drinking ample water and proper sleep as the essence of a healthy life.
Water being rich in numerous minerals rinses your body parts and flushes out all the toxins, which further boosts digestion and leads to radiant skin and hair.
More than 70% of skin and hair problems take root due to stomach related problems. Troubled hair and unhealthy skin are the signs of poor digestion. Keeping the body hydrated can immensely help you in enhancing the aesthetics of your hair and skin.
Since fat reducing hormones are released by body while sleeping, proper rest makes sure that your body gets adequate assistance in dropping weight. Besides that, sleep rejuvenates your mind and eradicates stress.
Jerry Hall Beauty Secrets
Owning a vibrant face with wide and electrifying smile, Jerry was the face of Invisible Zinc along with her daughter, Georgia May Jagger. Simply in love with hot red lipstick, she is very articulate in applying lipstick on her beautiful lips, which dramatically enhances her beauty. She banks on adequately moisturizing her skin to augment its youthful life.
Jerry uses skin cream containing fish collagen and mild make-up remover. Jerry washes her lustrous blonde hair once in a week. She massages and nourishes hair with olive oil and then allows her hair to soak the oil for long hours. Olive oil accentuates the sheen of her hair and strengthens them from their root.