A beautiful, energetic straight forward is the lady Jillian Michaels. She is the best known trainer for her popular television program "The Biggest loser" and "Losing it with Jillian". Also for her appearance in the talk show "The Doctors", she and her co-stars got nominated in the Daytime Emmy Award for Outstanding Talk Show Host and the show was nominated for "outstanding informative talk show".
She is a personal trainer, an entrepreneur, reality show personality and talk show host and holds certifications with the Aerobics and Fitness Association of America (AFAA), the National Exercise and Sports Trainers Association (NESTA).
She is known to be as America's toughest trainer.
JILLIAN MICHAELS WORKOUT ROUTINE
The three major points that are required to achieve the desired results especially for the dieters are –
Exercise: She stays with the same old fashioned mantra i.e. the vigorous the better which means a lot of hard work and sweat.
Diet: The next equation is the diet and involves a complete calorie control. Apart from calorie control the other factor is the body shape which defines what type of food one should have.
Behavioral modification: The only factor here is the will power. The food intake, techniques for exercising and habits are some of the points which helps those who are little shorter in will power. All the techniques are different from person to person as per their emotional state and their relationship with the food.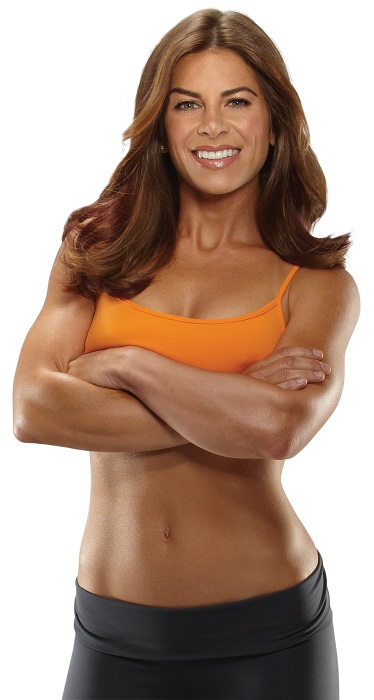 JILLIAN'S 5 FITNESS POINTS
Your body also gets bored of the same exercise routine. Keep changing it after some time to achieve better results.
Eat something before exercising as during your workout you need energy to burn fat.
Exercise plays a major factor in boosting up your self esteem and mood.
Don't hold on while on a treadmill a sit decreases the calorie burn up to 25%.
Always consult your physician first before starting and make it to different levels i.e. first the beginner then intermediate and so on. It's very important that your body gets used to all of it first.
JILLIAN MICHAELS FEW WORKOUT EXERCISES
SINGLE LEG SQUAT WITH CORKSCREW CURL:  Stand with the weight on your left foot and hold dumbbells in both hands with palms facing behind you. As you extend you arms squat on your left leg. Then rise up with palms facing up and curl your weight toward your shoulders. Do this for 30 seconds for each leg and repeat this workout for 2-3 minutes.
DANCING CRAB: Sit on the ground with straightens arms and raised hips and hands on the ground behind you. Lift right leg and left arm and try to touch your right foot with you left arm. Repeat the same with alternate sides for 30 seconds but make sure that hips are raised all the time!
STORK STANCE REVERSE FLY: Bend forward until torso is parallel to the ground and lift your left leg along with it up to the hip height while holding a dumbbell in your both ends with arms extended in front and palms facing each other.
PLANK MOGUL: Lay in a plank position with your body completely straight from head to heels and abs tight. Then bend your knees and jump feet about a foot to the right and then jump back to the stating position and then jump to the left. Repeat for 30 seconds for both sides respectively.
A full series of her workout videos are available. You can either watch some of them on YouTube or buy from Amazon.
JILLIAN MICHAELS DIET PLAN
The basic factor for a great body is to consume less calorie then you use to have before. The tip by Jillian is to balance all your food groups depending if you are a slow oxidizer which requires great amount of carbohydrates or fast oxidizer which requires proteins and fats in the diet to function well.
WHAT JILLIAN NORMALLY HAS IN HER DIET?
Breakfast:  Jillian starts her day by consuming carbohydrates for long lasting energy. She normally eats whole-grain Ezekiel English Muffins with almond butter in her breakfast.
Lunch: Her lunch consists of veggies and fish. The most common recipe for her lunch is Salmon Carpaccio and a vegetable or salad
Snack: for an afternoon perk she chooses to have baked chips and salsa, carrot sticks or an orange or raw almonds or Brazil nuts.
Dinner: In dinner Jillian goes for organic and cuts out her carbohydrate intake in dinner.
Sweet Treat: By surely considering her calorie intake Jillian always tries to get her dark chocolate with 200 calories intake!