Joanna Gaines is more than a TV personality. She is an active woman with a happy family, a TV show, and a bakery to manage.
[toc]
Here, you can have a look at her diet secrets to know how she stays so energized and learn about her fitness lessons to get some inspiration from them. Ready? Just keep scrolling.
Joanna Gaines 2018 Workout and Diet
Diet Secrets
The mother of 5 tries to keep her focus on eating a lot of protein during the day to stay energized. She avoids consuming too many carbs because she knows that she will crash if she does.
Moderation is also a vital element of her life. To keep her protein intake up, she keeps trail mix and protein bars with her whenever she goes out to ensure she doesn't have something unhealthy. Two fruits she always keeps handy are oranges and bananas.
Staying Healthy
The beauty stays healthy by drinking a lot of water, being conscious of what she eats and opts for walking & exercising to keep the stress at bay.
Diet Indulgence
Gaines likes to indulge with sweets and has a special fondness for baking and enjoying cakes often.
Fitness Lessons You Can Learn from Joanna Gaines
If you are inspired by her looks, her energy, and her constant enthusiasm, then here are a few tips you can learn from her lifestyle to stay fit and fine like her.
You should write down the meals you are going to have over the next week in advance and do some meal prep to ensure that you don't end up having unhealthy food when you are too busy to cook.
If you are in a mood to indulge, you should bake your treats like her. It will not only ensure that you put an only limited amount of sugar in the treats, but it will also ensure that you appreciate the hard work put in making a pie and don't eat a lot of them at once.
You can also follow Joanna's lead and grow your own produce (fruits and veggies) to ensure it's fresh and healthy. Gardening will also help you to burn excess calories as it can be a strenuous activity. But, start with the plantation in a container first and then expand over time if you are sure you can do this.
It is also a smart idea to make snacks like power balls at home. As they are loaded with chia seeds, flax seeds, almond butter and taste like cookie dough, you can't go wrong with them.
Trust Nutritious and Tasty Foods
You should make nutritious and tasty foods like summer smoothies made with mango, pineapple, fruit juice, and coconut milk. They are delicious, healthy and an on-the-go breakfast option.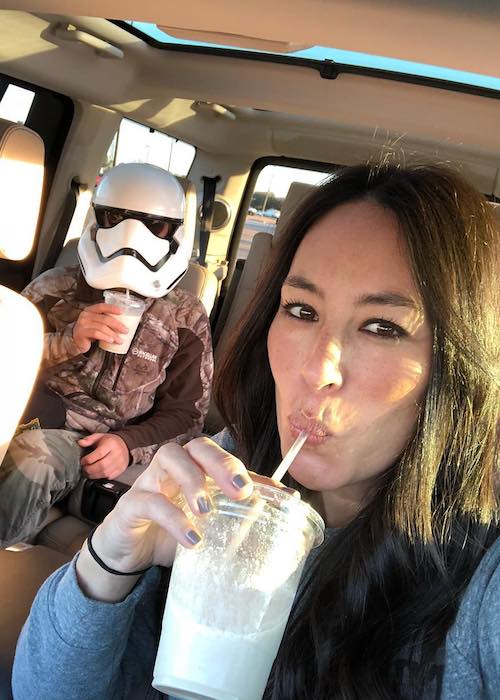 When you have got a knack for having your produce, you should try to grow your herbs too. They not only enhance the taste of dishes but also have many health benefits. They can aid your diet and negate the need to add salt and oil over every food item you prepare.
If you can't be socially acceptable without a cup of coffee in the morning, then you are not doing something wrong. Joanna also starts her days with coffee. This beverage not only boosts your metabolism, but it also burns stubborn fat and reduces the risk of health ailments like Alzheimer's or Type 2 diabetes.
When you want your kids to eat their vegetables, you should learn to roast them by throwing them in a hot oven and olive oil until they become golden and crisp. To enhance the taste, you can add sweet potatoes. In contrast, if you want to make it healthier, make kale chips to accompany the veggies.
Take Up a Health Challenge
If you find it hard to exercise regularly, you should take up a challenge like 21-day New Year resolution exercise challenge where one has to do 20 minutes of exercises each day. Such challenges will keep you on your toes and help you to stay healthy.
If you want to seriously build the leg muscles and have a strong lower body, you should ensure that you do squats. When you master normal squats, you should try other variations like pulse squats, squat jumps, single leg squats, etc.
The lovely woman also incorporates sprinting during the workout sessions to ensure that she burns the maximum number of calories and gets in shape fast.
Rowing is another exercise she likes. This exercise not only burns calories but it also builds upper and lower body muscles and enhances the metabolism.
Believe it or not, Gaines family doesn't own a TV because they don't want their family to stay sedentary by being glued to TV shows. They want themselves and their kids to stay active rather than being a couch potato. Smart idea, isn't it?
The TV star allows herself to go without phone every now and then which is a good idea as scrolling through phone during the daytime can increase the stress levels while scrolling through it at night can impact your sleep pattern drastically.
Last but not the least, you should learn to keep yourself engaged as much as possible and avoid sitting still. The more you move around, the healthier you'll be. Wanna bet?
Featured Image by Joanna Gaines / Instagram