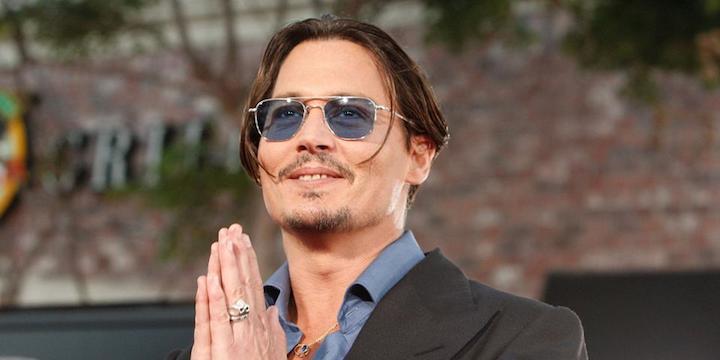 Starred as captain in Pirates of Caribbean series, Johnny Depp is an American actor, producer, and musician. Johnny has appeared in bountiful successful movies such as Alice in Wonderland, Rango, Dark Shadows, The Tourist, and countless others. The multitasking personality Johnny is one of the highest paid celebs of Hollywood. Equipped with enviably lean and toned physique, the actor has been favored with numerous awards and accolades such as, he was voted as Sexiest Man Alive by People's magazine twice in 2003 and 2009, and he has conquered best actor award numerous times.
You won't believe, but the hot actor who is so desirable among female fans has already struck the age fifty. The sex symbol of Hollywood has iconic slender and killer physique every man aspires to have. Anyone can maintain to grow popular in his young age, but it really requires one to have exclusive panache to stay popular at such a ripe age. Not to mention, the handsome dude doesn't fail to draw female audience towards him with his signature style and assassin look. Well, we must say, his workout and diet regime have played critical role in maintaining his youthful skin and body. Let's find out what kind of workouts and diet, Johnny abides by.
Johnny Depp Diet Plan
Johnny is very prudent about his diet and instead of eating everything coming in front of him, he astutely thinks about the nutrient density of food item and based on that only, he makes his choice. He normally swears by very healthy and balanced diet regime. His diet routine generally consists of copious food items such as white fish, lean protein such as chicken breast, cottage cheese, green veggies, wheat pasta, soy products etc.
His diet keeps varying with his fitness objective. When he has to shed surplus pounds from his body, he precisely abides by low calorie food items such as, less sugary fruits, green veggies, whole grains, nuts, seeds etc. The health conscious actor steers clear from sugary and alcoholic beverages and prefers green tea to any other beverage. At times, when he has to torch massive pounds from his body, the heartthrob actor banks on green tea like insane.
Lately, after being inspired by his girlfriend, Amber Heard, Johnny has religiously been following vegan diet plan and is feeling extremely flattered with its rewarding outcomes. He nourishes his body with six small meals in a day. And to magnify the number of lean muscles in his body, he also consumes protein supplements with his meals.
Johnny Depp Workout Routine
The actor has been able to maintain his lean physique with the aid of varied workouts and he doesn't fail to practice them in routine. No matter how hectic schedule he happens to have at work, he doesn't skip hitting gym for practicing workouts for minimum four to five times in a week. His workouts being mainly directed to enhance the suppleness of his body and making it more resilient inculcates workouts such as push ups, squats, dips, dumbbell curls, bicep curls, bench press, plyometric etc. Push ups and bench press caters to his upper body muscles such as shoulders, arms, chest, etc.
Besides that, for getting prepared for his role in Pirates of Caribbean series, wherein he was supposed to show immense strength, agility, and power, he executed grueling sword fighting, which catered to all these qualities. Since very long time, the hot actor persistently has been able to maintain flab free ripped physique only due to workouts. His ingrained love for athletic body keeps him from lifting heavy weights. Hefty weights being promoter of bulging repel him. He practices his session of strength training with dumbbells and also keeps stability ball handy with him to execute diverse workouts.
Healthy Recommendation For Johnny Depp Fans
Here comes one recommendation for all the fans looking up to have thin and toned body like Johnny Depp.
By practicing your workouts in a meticulous way, you certainly can acquire chiseled body like Johnny. And the good news is, instead of practicing your workouts six or seven times, you need to execute them just three or four times in a week. What you need to do is, allocate your workouts into three sections such as upper body, middle body, and lower body workouts.
Allot workouts for ripping your specific body section and choose three to four workouts to tone targeted body parts. Since your workouts are meant to rip different body parts, you will be able to avoid execution of same workouts. Moreover, all the big and small muscle groups in your body will get equal attention and time for recovery. Just make sure that the set of workouts elected by you are entirely different from one another. Not only will the technique condition your muscles, but it will also catalyze hormonal activities in your body, which further will have you get rewarding results.