When you are a professional tennis player, you need to ensure that you have the stamina, endurance, and the strength to play a match with consistency no matter how long it turns out to be.
[toc]
Katie Boulter Workout Routine and Diet Plan for Wimbledon (Grand Slam)
One of the most popular British tennis players, Katie Boulter, revealed her workout routine and diet plan that helps her to stay fit for a grand slam like Wimbledon. She also addressed a bad phase in her life when she was physically ill and how she recovered from it. Have a look at all those details right here.
Diet Plan
Breakfast
The diet plan of the diva includes having an avocado or porridge on toast with a latte. She has the breakfast around 9 am every morning because she likes to lie in and start her day a little later.
Porridge is one of her favorites and she likes it with yogurt and a bit of fruit. When she is in the mood for something basic, avocado and toast is her go-to option. She prefers a latte in the morning as it wakes her up and makes her more sociable.
Morning Snack
Post breakfast, she is usually on the court where she stays hydrated by drinking water and munches on a bar or any such kind of snack.
Lunch
For lunch, she enjoys sweet potato with some chicken and vegetables. She complements it with a salad and has yogurt afterward. She understands that nutrition is vital for an athlete and knows that she is lucky to have a nutritionist who helps her with her nutritional needs. Trying to eat a bit of carbohydrate and protein with loads of vitamins and vegetables is always her focus.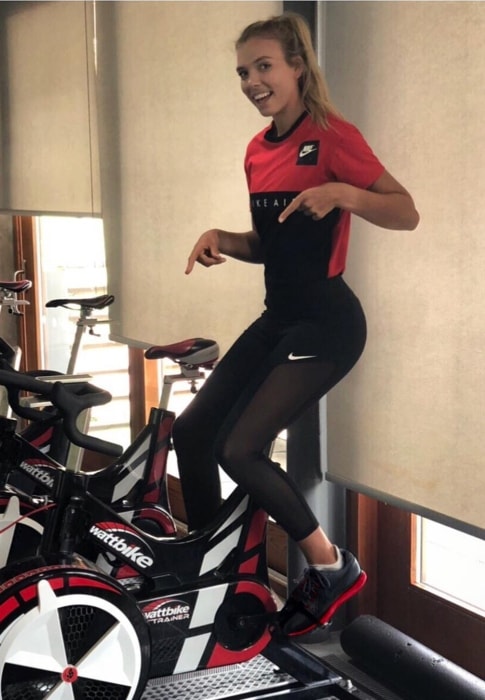 Dinner
At dinnertime, she prefers to have Thai food or Indian food. She varies her food dramatically and prefers to have dinner with her family even when she is on tour. While having dinner, she remembers to eat foods that fuel her for the next day.
Diet Philosophy
The diet philosophy of the athlete is to eat as much as she can burn off to get stronger. She is trying to get more physically active and is working hard towards that goal. In her opinion, you should ensure that you get the right number of calories that come from the right foods. If she has something unhealthy, she knows that it will not work as good as something healthy. She tries to eat as healthy as possible and is trying to be professional about it. But she admits to not having a regimented diet and indulging now and then.
Diet Indulgence
When in a mood to indulge, she likes enjoying chocolate. She says that she is obsessed with it. Whenever she is allowed a treat, she turns to it.
Workout Routine
The workout routine of the sports star begins at 10.30 am at the National Tennis Centre. She warms up for about an hour and then plays tennis for about two hours. Post lunch, she does gym workouts. She never pushes herself too hard during the workouts and considers the recovery to be quite essential. Her focus is on doing the best she can with her body. For the weekends, she goes home to Leicestershire.
The Bad Phase
About two years back [in 2016], Katie was out for a year and didn't play tennis because she was physically ill and fatigued. So, now, she has to be very cautious about her body. Her physical illness phase still prevents her from playing a full schedule. She opts for a long session in the morning and does some specific moves in the afternoon.
These days, she has been able to do some work off the court in the gym which is a first for her. The workouts have helped her to feel stronger, better about herself, and have also improved her game.
Being a Popular Face
The Leicester-born player was selected as Nike's poster girl, and it doesn't bother her. She says that she is not afraid of the limelight and feels no pressure because it's all a part of her plan to become a British No. 1 and a World No. 1 one day.
Relaxation Technique
Boulter relaxes by watching the TV show Love Island (2015-Present) during the evenings.
Featured Image by Katie Boulter / Instagram