Hot and sensational KeKe Palmer has got the good enough body to imprison the eyes of millions of her fans. Credited with great genes, Keke is naturally slender and curvy. However, needless to mention, no matter how pristine figure you have got in treasure; it shall go in vain if you don't take the required steps to hone it. Keke attributes both her discreet diet and workout routine for her flawless figure. Let's have a look at her diet and workout routine, which the stunner abides by to uphold her in flawless shape.
Attitude Towards Foods
The bombshell harbors a very positive and healthy attitude towards foods. She reckons, we have got healthy and fit body in fortune from God, and we shall revere it by feeding wholesome foods to it. She speaks against those people who look at food just as a source of fun. While the primary purpose of foods is to fuel your body, some people eat foods to celebrate their success, to forget their sorrows, to overcome stress, and something of that sort. And when their body begins displaying the influence of surplus calories they fed to it, they don't step away whining about being overweight.
Cut Back Carbs
Keke surely watches what she feeds to her body. However, having gotten the ill impacts of high carb foods, she has recently turned watchful eye towards the consumption of carbs. She has trimmed down the consumption of carb containing foods. Instead, she has swapped them with complex carbs such as green and leafy veggies, grains, nuts, and lean protein etc. Here is one of the samples of typical day diet routine of Keke Palmer.
Breakfast – Protein shake
Lunch – Steak salad with black beans from chipotle
Snacks – Granola bar, pistachios
Dinner – Grilled chicken
Short but Smart Workouts
Instead of spending numerous hours on workouts, Keke favors spending quality time on them. She is not fitness freak but at the same time, she doesn't leave any chance to reap pleasing results from her body. Her ridiculously flat abs and streamlined legs are the testimony of regular workouts the babe performs to tone them. While devoting thirty minutes in a day on workouts, she executes squats, ab workouts, cardio, etc. to sculpt her body.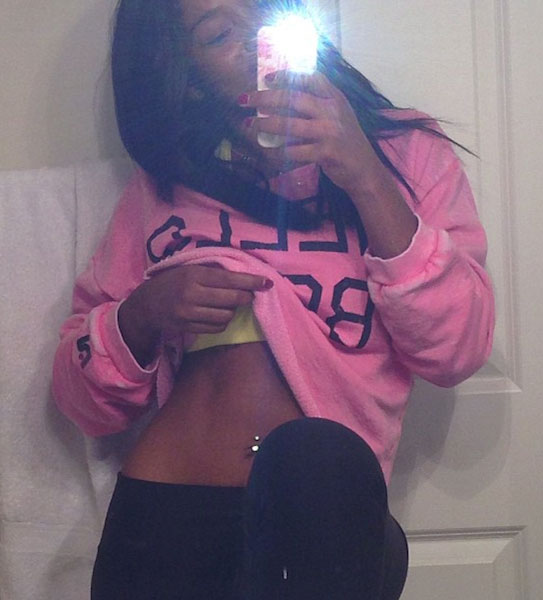 Keke seems prepared to do intense cardio workout such as dance to suit her body for varied roles in the movies. For example, for TV show, True Jackson, she hired Asha Kamali to get thorough knowledge of dance and fitness, which indeed helped her to tone her body.
Develop Self-Love
Most women keep seeking love from others without fulfilling the basic requirement to attract love, which is self love. If you are not in love with yourself, you shall not expect someone else to cover up the hiatus. Always remember that you are the most prized possession of God and no-one has the power to snatch that exclusiveness from you. So, just treat you like a queen and rest of the things will automatically fall into the place. Switch over to workouts and good diet, not because you wish to look like someone, instead embrace them because they are meant for the betterment of your fitness and beauty. Lean and svelte figure bestow you freedom to wear your beloved sexy and skinny clothes. So, if you will perform workouts with right mindset and attitude, you will start experiencing greater confidence in you.
Healthy Tips for Fans
No matter what kind of build you have, if you have honed arms, legs, taut butts, and trimmed waist, you are unlikely to look uncaptivating. There indeed are numerous workouts meant to serve the purpose. Here are two high intensity workouts which will strengthen your core, perk up your posture, and render you eye-catching bikini figure. The workouts being self sufficient will not only have you see rewarding results but will also save your plenty of time. Do the workouts in quick succession. As you develop ease with them, try to perform them in lesser time. Doing so will enhance their outcomes.
Plank Jumping Jacks
Lie down in plank position.
Jump your feet towards sides as you do in jumping jack. However, make sure that your upper body remains straight while doing so.
Switch back to the same position. Make minimum twenty reps in one go.
Cycling Russian Twist
Sit comfortably on the floor. Now, make 45 degree angle between your torso and the floor.
Join both your hands and take them in front of your chest.
Raise your feet in the air, while one leg lying straight in the air, and the other one bent from knee.
Twist your hands towards the direction opposite to straight leg. For example, if you have straightened your left leg, twist your hands towards right and vice versa.
Switch your legs and repeat the same. Complete rotation towards left and right; this will form one rep. You shall make minimum fifteen reps to reap the benefits.