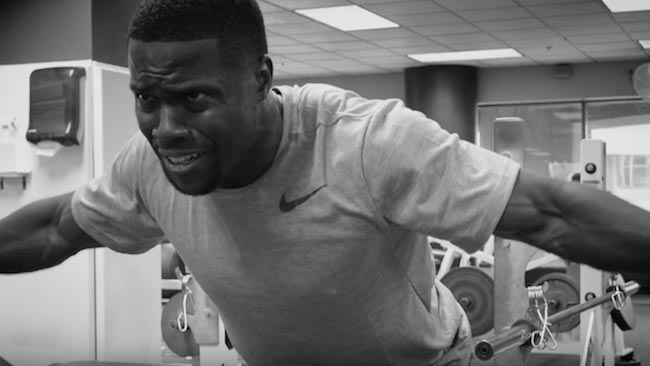 We all know that Kevin Hart is a talented comedian who can make anyone laugh. But his dedication to fitness is no laughing matter. The celebrity is renowned for motivating people to workout when he is on tours and by participating in health events constantly. He even motivates people to get fitter by sharing his own hardcore workouts via his social media accounts. If you are inspired by the ripped body and healthy mentality of Hart, you will be pleased to know all his workout, diet and fitness secrets that are mentioned over here.
On Being Healthy
Being healthy is vital for the American actor because you get only one life. He thinks that you can both be healthy and maximize that lifespan or you can be careless and shorten the lifespan by making bad health choices.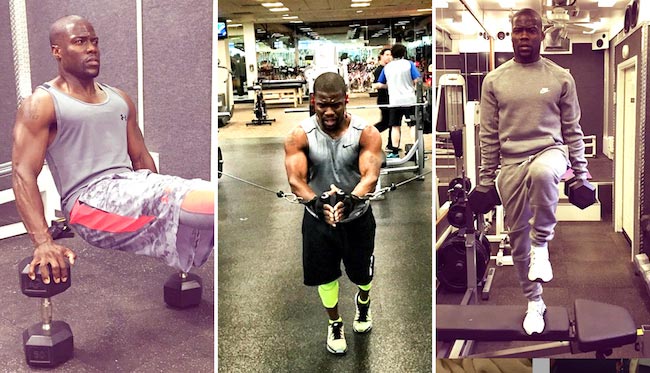 Workout Routine
The Real Husbands of Hollywood (2013-Present) participant works out at least six to seven times every week. He doesn't have any fixed workout regime because his exercises change everyday. For him, getting up in the morning and knowing that he is doing something physical is most vital. Being active helps him to stay committed to a goal he is aiming for and the promise he has made to himself.
The basic workout routine of the celebrity involves hitting the gym, beach workouts, using a treadmill or simply running on the street. He also like hanging from bars along with doing exercises such as clapping pull ups, using his legs to pass a Swiss ball to and from his trainer and eye level flutter kicks.
Personal Trainer
Ron "Boss" Everline is the current personal trainer of Kevin, reports Washington Post. Everline accompanies him on his travels and contrary to his policy of not speaking with his clients, he is often seen talking with him.
Foot out The Door
The North Philadelphia born thinks that you just need to get that foot out the door in order to be healthy. Taking that step in the direction of being productive and active is what's best for you.
His Daily Routine
The daily routine of the writer includes getting up at around 5 or 5:30 in the morning and hitting the gym. After gymming, he either films, attends promotions, travels or remains in the office. He always has a busy day because he does not like to stop.
Workout Gives a Right Start to the Day
Workouts give a correct start to the producer's day. He doesn't feel right until he works out and if he has missed the morning workout, he will find time during midday or even night to hit the gym. Being in a workout daily, makes him feel that he is being productive and sticking to the system he has outlined for himself.
Fitness Motivation
The boyfriend of model Eniko Parrish got into fitness about five years back when he started to see people dropping like flies around him. He then realized that staying healthy will lead to a better life span and being unhealthy will increase the chances of a shorter lifespan. He opted for the healthy side.
Diet Plan
The diet plan of the brown eyed actor is very clean, reports People. His diet includes having meals filled with baked chicken, baked vegetables, brown rice and salads. He is not a foodie, so sticking to a healthy diet is easy for him.
Thoughts on Cheat Days
Cheat days are essential according to the father of two, but he says that when you start eating healthily on a regular basis, the cheat days lose their shine as you don't want to mess up your healthy fitness routine by being careless about what you eat.
Diet Indulgences
The diet indulgence of the Hollywood actor includes fried chicken. He just can't resist it.
A Motivator
The Secret Life of Pets (2016) actor was named as the Fitness Icon by the LA Times. He was reluctant to agree with it. He stated that he doesn't consider himself as a fitness icon. He just wants to motivate people and push them to do things they may have never imagined. He wants people to stay positive at all times.
Healthy Advice for Kevin Hart Fans
The ambassador of Rally Health wants to motivate people to adopt a healthier lifestyle. He advises people not to try to accomplish everything in one day. He wants you to have patience and commitment. Kevin believes that the mental exercises you go through when you are on the path of attaining good health are well worth the results.
The Captain Underpants (2017) actor wants people to understand that you have got one life and you should not ruin it by being vulnerable to health problems. Health issues like a heart ailment or blood pressure can make your life miserable and you can prevent it. So why not do it. His motto is that you should never help death by being vulnerable to health issues which is a result of not living a healthy life.
To the beginners, the versatile actor suggests that they should just go to the gym. Doing little bit of exercises or a lot of exercises is not a big issue in the beginning, but being consistent and hitting the gym is the key. You can also opt for easy exercises like doing some jumping jacks as soon as you get up or doing 50-60 push-ups or sit-ups (it's easy compared to what Hart does – about 700-1,000 sit-ups a day). You must also have the mindset to want more.
The best advice shared by the Scary Movie 3 (2003) actor is that you should laugh a lot. Laughing will help you to get an ab workout and can make your life a little bit happier.
Future Fitness Plans
The Undeclared (2001-2003) star will soon be attending a health fest on July 30, 2016 at New York. This amazing festival is aimed at inspiring people to move more, take better care of health and eat healthily while having fun. This amazing event is free for all and would include activities like spinning, rock climbing and yoga classes. Participants can get prizes just for taking part in the activities and enjoy the kids' area with healthy eats at the event. They are also eligible to participate in a group workout with Kevin's personal trainer, Ron "Boss" Everline, reports EventBrite. If you are in New York, why don't you join him?
You can also follow Kevin on Twitter, Instagram or Facebook.