Best known for starring in E4's reality drama Made In Chelsea, Kimberley Garner is endowed with zero cellulite slender figure. Sculpted from head to toe, the hot chick's flat tummy, buffed legs, and curvaceous figure have become matter of envy for millions of girls. The green eyed model cum swimwear designer, who came up with classy and sultry collection of swimwear in 2013 aims to offer new and glam bikinis to beautiful girls out there. The property heiress attributes both her diet and workouts for her lithe and statuesque figure. Here are some of the diet and exercise secrets of the blonde bombshell.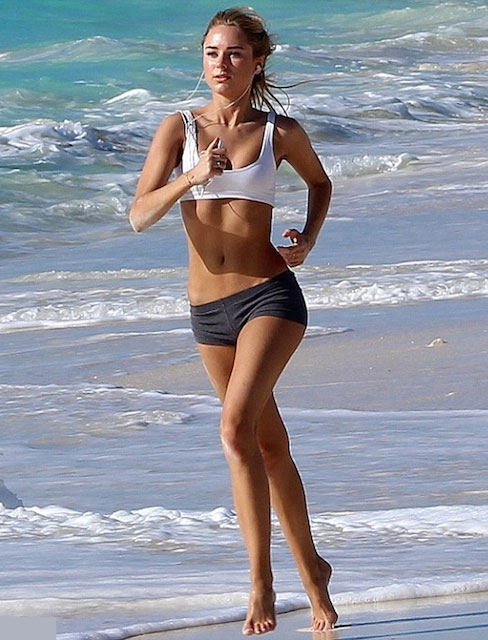 Ballet and Zumba Dance
Her passion for dance has her embrace varied dance forms such as ballet and zumba dance. While being accompanied with her girlfriends, she practices zumba dance minimum once in a week. She alternates ballet with zumba dance and devotes plentiful hours to dancing. Both the dance forms strengthens your core and speed up the flow of adrenaline in your body.
Three Meals in a day
Kimberly consumes three meals in a day. While swearing by the simple principle of diet told to her by her mom, she consumes largest size breakfast, medium size lunch, and small size dinner. Since your metabolism is at peak in the morning, your healthy breakfast keeps you fueled up till lunch. And heavy lunch might make you sleepy in the afternoon, and no matter whether you are at office or home, you are not privileged to sleep because immediate sleep after meals gives you big tummy.
You need to maintain hiatus of minimum thirty minutes between your meals and hitting bed in the afternoon. So the best option you have is to avoid big meals. And dinner being the last meal of the day shall be light. Heavy dinner not only slows down your metabolism, it also hinders your way to sound sleep. Not to mention, retain the gap of two to three hours between your dinner and sleeping hours.
Moderation in Diet
The kickass beauty is mostly in alignment with healthy eating habits; however she too often finds herself pulled by the craving for sweet foods. She gratifies her cravings by eating her craved foods and liberates her mind from them. Kimberley self proclaims that she is not very much into healthy eating habits. She often indulges herself in her favorite foods such as truffles, cheese pasta, coconut ice cream etc. in dinner.
Healthy Swaps
The stunner has figured out some healthy swaps to keep up her health and paragon figure. She has swapped her coffee consumption with green smoothie. Although green smoothie doesn't flatter her taste, but it's after effects doesn't let her shun the amazing nutrient-laden drink. You too can swap your morning tea or coffee with unsweetened green tea. Though all kinds of sugars have detrimental influences on your body, but still if you wish to use it, substitute highly processed white sugar with natural brown sugar or honey.
Workouts with Music
Kimberly loves executing diverse workouts while listening to music. Music does have strings attached to your nervous system which makes you feel wonderful. You must have noticed that your mood alters very rapidly with music. While sad music makes you feel terrific, rock and jovial music cheers your mood and have you focus on the beautiful things.
Workouts on Beach
Outdoor workouts always captivates her more than gym or indoor workouts. She often practices exercises on mild sunny days. Since sun nourishes your body with vitamin D and mostly women suffer from fragile bones, it's very critical for them to expose their skin directly to sun. Besides enhancing your bone density, sunlight also saves you from myriad bacterial and fungal infections.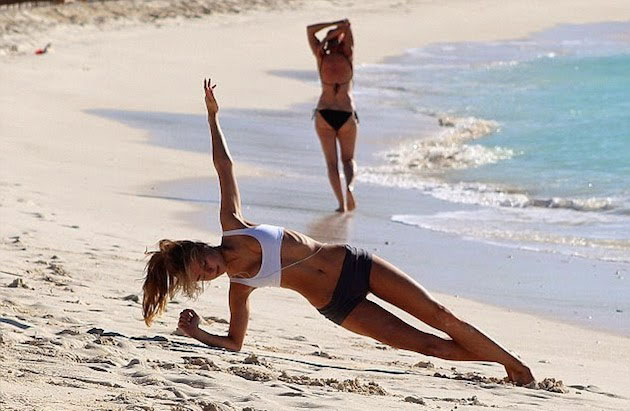 That being said, you don't have to go in scorching heat to enrich your body with vitamin D. Rising and setting sun being rich in amicable and blissful rays can be picked to expose you with sun in summers. In winters, you obviously don't have to stress about the timing of your workouts.
Yoga – For Flexibility
Amazing sylphlike flexibility figure of Kimberly testifies the fact of her yoga postures, she performs on the beach side. These isometric postures of yoga might look too simple but they are very influential in dropping pounds.