Equipped with jaw dropping figure, Larissa Reis is a fitness model, fitness expert, nutritionist, certified PROPTA IFBB instructor, and owner of a healthy restaurant. Needless to say, we are totally stunned to see how one single woman can handle so many qualifications at the same time. Well, the athletic beauty with impeccable panache is actually multitasking. Larissa dishes out the secrets of her fitness and amazingly poised attitude, let's have a look.
High Values
The Brazilian beauty shares that in her childhood itself, her parents inculcated in her the right and high values such as respect for hard work, inner strength, and loyalty. She bestows the entire credit of her ripped figure and positive outlook to her parents who had her focus on fitness and optimum health more than anything else. She contends that the manifestation of our ingrained desires and dreams lie in the efforts we put in them to have them come true. She states that her sculpted figure is totally the outcome of the persistent and relentless endeavors she put in her routine life. While being very disciplined and resolved, Larissa embraced balanced diet and regular workouts. She always kept a strong and watchful eye on her goals and with her patience and perseverance, she attained the most sought after athletic status.
Source of Motivation
Larissa refers to her fans and followers who always look up to her as an idol, as her biggest source of motivation. She adores photography and simply loves being photographed in the sultriest way. Besides that, she doesn't step back from imparting the credit for her success in life to her sponsors namely Nutrex Research, Suits by Amy, and Better Bodies for they provided her the platform to prove herself. Apart from that, the love and support of her friends and family members constantly strengthen her. She deems it extremely important to be surrounded by positive people because when you are blissful, you reach one step closer to your objective. She recommends her fans, no matter what, never ever give up on your dreams because no obstacle, no opposition or whatsoever is bigger than your spark to win.
Five to Six Small Meals
To speed up the formation of lean muscles and to render right fuel to her worked out body; she eats five to six small meals in a day. She incorporates all the three macro nutrients namely complex carbs, lean protein, and healthy fats in proportionate amount in her meals.
Complex Carbs – Asparagus, green beans, broccoli etc.
Lean Protein – Chicken breast, lean turkey, tilapia etc.
Healthy Fats – Almonds, walnuts, fish oil etc.
Watchful Diet
Larissa steers clear from salty and sugary foods. She has nurtured some of the very wholesome habits such as she never adds extra salt in her meals. Also, she keeps her diet clean and renounces the consumption of carb containing foods especially in the evening hours. As for her cravings, she contends that if you make your meals delicious by mixing healthy ingredients, you are unlikely to be tempted by the desire to eat unwholesome foods.
Pre and Post Workout Snacks
Since pre and post workout snacks play imperative role in helping you suit the objective of sleek and curvy figure, Larissa consumes wholesome and nutrient dense snacks. Like every fitness enthusiast, Larissa too is prudent about the intake of supplements. She takes BCAA Drive and Defy as her pre workout supplements which foster muscle recovery process in her body. And supplements namely Hemo Rage Ultra Concentrate / Turbo Shots are used by her to boost her energy to perform workouts. When preparing for tough contests, she eats Lipo 6 UC, which keeps her in good mood and energized for the grueling workout sessions.
Thanks to these pre and post workout snacks such as half cup of roasted almonds, two scoops of muscle infusion, one serving of Creatine Drive with antioxidant Acai etc. that she gets needed boost in her strength, energy, and endurance. In addition to that, she ensures adding right ingredients in her snacks to make them even denser in taste and nutrients.
Involvement in Adventurous Activities
Larissa loves involving her in adventurous and exhilarating activities such as traveling, modeling, photography, surfing etc. These activities keep the spark up to do something great for herself alive in her. Besides that, they are conduit to her through which she strikes balance between her body and mind. It's her inclination to sports since childhood that had her become brown belt in Brazilian Jiu-Jitsu. In addition to that, she practices workouts while playing loud music. Music being equipped with incredible power to invigorate your mind boosts the flow of adrenaline in your body and speeds up the benefits of exercises.
Variety of Workouts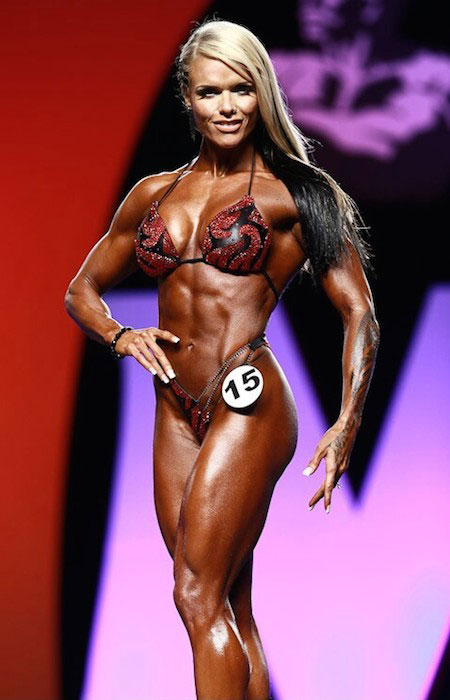 From the cut and high definition muscular figure of Larissa, it's apparent that she executes plentiful of strength training workouts. She begins her exercises with running, jogging etc. which is followed by medium and low intensity workouts. That said, instead of solely relying on strength training, she also executes cardio workouts such as running on elliptical, treadmill, stair master, boxing etc. Cardio workouts rev up the activity of her heart and thus keep it in good health. Among sweaty and detoxifying workouts, the stunner is immensely influenced by hot yoga. The fitness icon indeed performs bountiful of workouts but still squats, glute kickbacks, tricep pushdowns etc. are her most beloved workouts. She works out using varied kinds of gym equipment and before her body reaches into comfort zone with any workout, she turns to higher weight, or advanced level workouts.
Allocated Workout Routine
Larissa works out six days in a week and devotes one complete day to rest. She has allocated her workout routine on the basis of muscle groups. She personally favors low intensity weights with elevated number of reps. That said, she reckons that we all have different bodies, so the outcomes too are likely to differ. You surely need to try and figure out what works out best for you.