Indian tennis star, Leander Paes has been the winner of eight doubles and seven mixed doubles Grand Slam titles. He has been playing tennis for more than 20 years, and yet is still a shining star. His love for the game as well as his passion for winning are the reasons behind his success. He has recently garnered limelight for winning the mixed doubles at the Australian Open, along with Martina Hingis.
Paes is very fit and moves with a lightning speed in the field. His ability to play for hours without a break is indeed commendable. The control that he has over his wrists and his excellent reflexes make him a phenomenal player, who never gives up. If you are health conscious and aspire to have a fitness level equivalent to Paes, then you are at the right place.
We reveal here, the health secrets of Paes that are quite easy to adopt and implement.
Pilates Exercises: The former captain of the Indian Davis Cup team believes in relaxing his muscles by adopting various Pilates exercises. These exercises are quite simple and can be easily done by beginners as well. The time span of these exercises depends on your body's flexibility and stamina. These exercises help improve the muscle coordination of the body, thus giving a leaner look by improving your posture.
Cycling and Running: The oldest man to have won a Grand Slam title, Paes has made cycling or running a routine and this helps him improve his stamina. These cardio exercises also help him add strength to his leg muscles. This aspect is very important in tennis, considering the fact that he has to move his legs quickly on the court to defend the game. If you are impressed by his speed and agility on the tennis field, then don't think much and get started with cycling and running in the morning. This would help you breathe in some good fresh air. If you live near a beach, then running on the beach would do you good.
Yoga: The sports ambassador of Indian state Haryana, believes in adopting yoga to keep his body and mind active. Yoga involves simple exercises that enhance mental health by fighting off stress and anxiety. It also keeps you at bay from medical conditions like heart diseases, blood pressure problems, depression and insomnia. Regular yoga can improve your body's flexibility, range of motion and overall strength.
Breathing Exercises: We all have stressful lives and most of us want to adapt something that can help us keep calm in such testing situations. Paes has to deal with a lot of stress on regular basis, and has to keep it aside to give the game his best, so he has adopted breathing exercises. These help him deal with everyday issues, as well as the tensions of the game, with ease. These exercises are easily available on the web. Just remember not to push yourself too hard. Also, try to do these exercises everyday so as to make them a substantial part of your routine.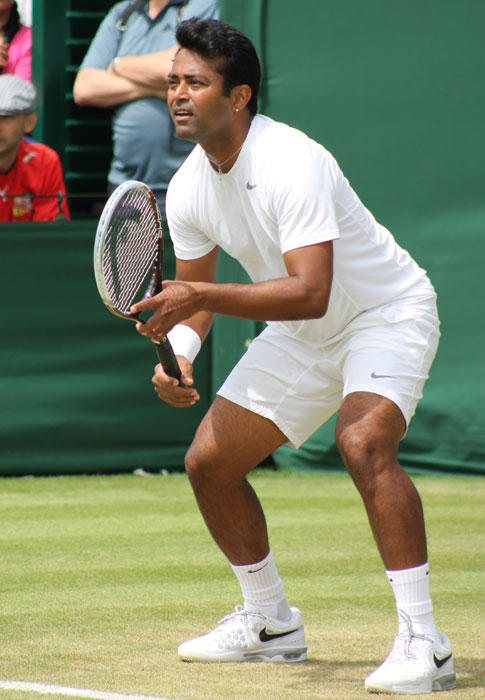 Leander Paes Diet
Learn to Say No: Leander Paes, who is also the winner of the Rajiv Gandhi Khel Ratna award, believes in having complete control over the diet. He opts for a well balanced meal on a daily basis and tries to stay away from unhealthy food items. He has a strict policy against drinking alcohol and smoking, and avoids red meat as he feels that all these can harm a person's body beyond repair. "Even if you want to indulge in these habits, just remember to keep it to the minimum so that you don't have to regret later," says Paes.
Indulge a little: Masala tea is a weakness of this energetic tennis player. It helps him relax and also pampers his taste buds at the same time. So, if you have an indulgence, don't hesitate to adopt it once in a while, but at the same time refrain yourself from getting addicted to it. This is because getting addicted to a particular food item can be harmful and in extreme cases one needs to seek professional help to let go of the addiction before it damages the body irrevocably.
Some Useful Tips
Apart from revealing his fitness habits, this bronze medal winner (Won for India in the 1996 Atlanta Olympic Games) has some amazing tips for all the health conscious people. These are listed below:
Set Goals: The tennis star urges his fans to set health-oriented goals and accordingly bring about changes in their lifestyle. He believes that one should not hesitate to change his or her life to achieve a goal.
Vary Routines: Paes also believes that one should not stick to the same routine. You can go for yoga three days a week and try out core exercises for the next four days. The idea is not to stick to just one form of exercise as you may end up getting bored.
Professional Help: The youth icon also believes that one should not hesitate to seek help of professional dietitians and trainers to stay fit. He believes that they have ample amount of knowledge and experience that one can use.
Stick close to reality: In his opinion, there is no use of setting unrealistic health goals, like eating oats every morning even when you know that you can't stick to this thing in the long run. So, be smart enough to set real goals that can be achieved on a constant basis.
Have a Healthy Mind: The tennis icon believes that physical and mental health are both interrelated. Therefore, one should have goals set for achieving perfection in both areas.