After his return to his beloved Cleveland Cavaliers, LeBron James has reached new heights of success with his team as well as an individual player. He put up some seriously good performances to lead Cavaliers to NBA title in 2016 and end their 52 years of championship drought. His ability and skills were as good as ever but he made changes to his workout routine and diet plan to make sure that the age didn't catch up with him.
For starters, his homecoming wasn't ideal as he struggled with injuries. He was having problems with his left knee and was struggling with lower back strains as well. He was out for two weeks in January 2015, which marked the most number of games he had missed due to an injury in his career. However, his new workout habits and improved dietary intake helped him coast through injuries and carve his special place in the history of Cavaliers.
Early Start
LeBron gets up at 5 AM to kick off his physically grueling and intense day. LeBron developed the habit of getting up that early just a year ago after learning that Kevin Durant has moved to Golden State Warriors. In a bid to retain his crown of being the best offensive player in the game, he even cut his vacations short and returned to the gym early to make sure that he was on best shape before the new season started.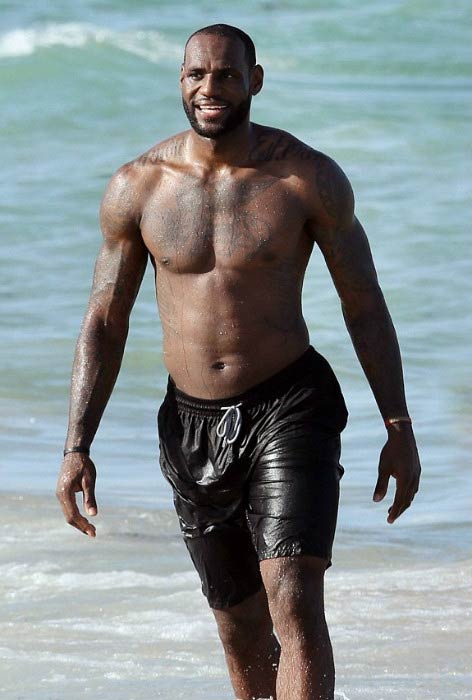 By 6 AM, he is working out in the gym. Depending on his mood, he might opt to work at his home gym or head out for a workout. Apart from the location, the type of his workout and the exercises performed in the morning session also varies according to his goals and needs.
Off-Season Workout
In the off-season, he likes to exercise 5 days a week as he allows his body enough time to recover from the stress and strain of playing basketball at full throttle for months on end. Depending on what stage of off-season he is in, he changes his gym workouts. For example, in the middle of the off-season, he might focus on strengthening his stabilizing muscles, which help prevent injuries in the long run. And, just before the start of the season, he might be focussed on working on his sharpness and game fitness.
He also includes a couple of fitness classes to his off-season fitness regime. He has been doing Pilates, which is a perfect option, considering that it is gentle, which means less stress on fatigued muscles. Pilates also improves flexibility and elongates muscles, which is a plus for a professional athlete crossing 30.
He also attends spinning classes and Versa climber classes during off-seasons. The latter is an indoor gym class which involves the generous use of climbing machine along with a host of bodyweight and cardio exercises. In the spinning classes, the traditional stationary spin cycle is used for the workout. Along with cycling at different tempo, speed and with different resistance, the participants are made to perform bodyweight exercises as well.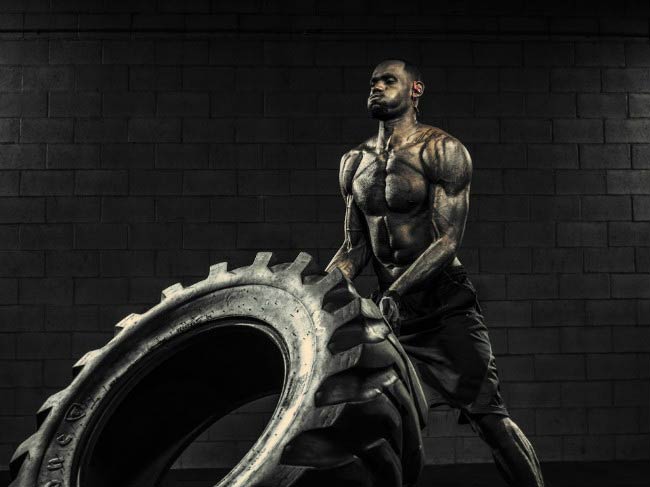 Season Workout
To maintain optimal fitness, he works out 7 days a week when the basketball season is on. To maintain consistency, he prefers to keep a stable and consistent workout. Depending on the schedule of the games, he might opt to make a slight tweak to the intensity of the exercises. However, as he is often traveling and already demanding a lot from his body, he doesn't head for any extra exercise classes during the season.
On some days, he is effectively performing three workouts a day, which along with gym workout includes basketball drills and match practice.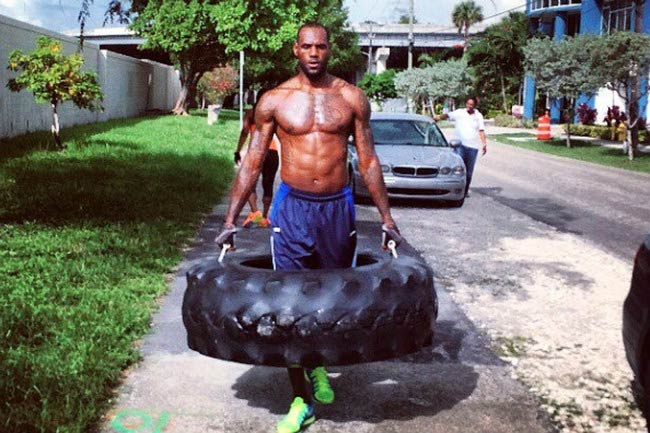 Diet Plan
Before a match, James likes to eat chicken breast and some pasta. He insists that carbs from pasta give him a sustained supply of energy to keep him going throughout the match. It also assists in keeping his stamina up. He is also fine with having a salad loaded with fresh veggies. Sometimes, he also likes to have a protein shake with some fruits thrown in.
However, he is not allowed to eat sandwiches, pizza, fries and pies before a game. But, he can have these food items after the game.