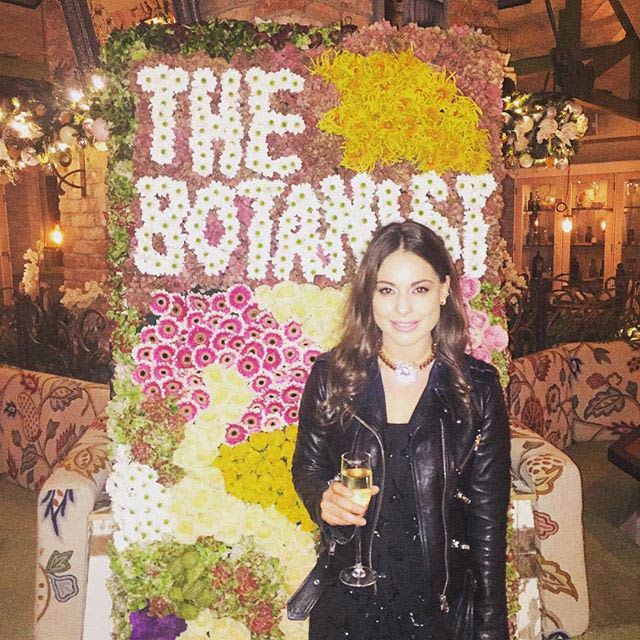 Louise Thompson has a killer body and she knows it. She was seen flaunting her bikini body all summer. Thompson also likes clicking pictures with her boyfriend (also her personal trainer) to show off how gorgeous they look.
[toc]
Here we try to explore her workout routine and diet plan that helps her get such an enviable figure. We also suggest that you take notes when she mentions some workout advice. After all, the results she is showing off are amazing.
Louise Thompson 2017 Workout and Diet
Workout Routine
The girlfriend of Ryan Libbey keeps on changing her workout regime. Earlier, she was a big fan of Pilates. Now, her preferences have changed. She admits to working out at least 3 times a week. Though she never works out more than once a day, she goes in hard the one time.
Her preferred exercise methodology is to stick with weight training and mixing a bit of High-Intensity Interval Training. She has let go of cardio exercises. Mostly, she likes to hang out in the floor part of the gym. She does four sets of eight reps each of exercises like weighted squats or deadlifts. She also does the heavy lifting and makes notes of the weight, she lifts every fortnight so that she can improve in the near future.
Hanging off things is also an activity preferred by her. She likes muscle ups, monkey bars, etc. Basically, she loves doing any movement whilst tensing her muscles.
Diet Changes
The Made in Chelsea star (2011-Present) has lowered down the number of carbs she has. She eats far fewer carbs than she used to because she doesn't really need them with the amount of meat she is having. The meat keeps her full. On weekends, she has bread and potatoes but she does not have them on weekdays.
Advice to a Troubled Fan
Recently, a fan who was struggling with flab post a double mastectomy asked diet advice from the TV personality. She suggested that the woman should keep munching the things she loves while cutting back on things that she just likes.
No Workout Phase
Sam Thompson's sister admits that there was a phase in her life when she fell out of love with exercise. She had a very hectic schedule at that time as she was studying in Edinburgh and filming the show in London. It left her no time to workout or even socialize.
The Easy Approach
The brunette beauty was taking exercise less seriously when she met Ryan. She worked out only when either her mood was not good, or she went through a breakup or faced anything bad in life. It was a temporary addiction and she got back to square one soon. She also did some classes for fun.
The Workout Inspiration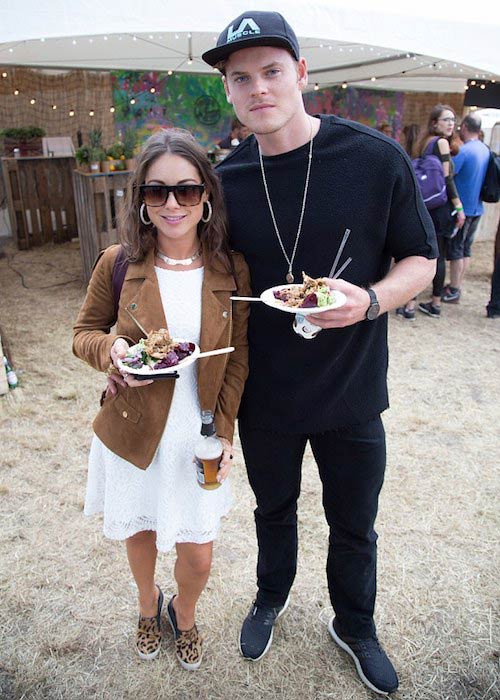 The stunner admits that her personal trainer boyfriend, Ryan Libbey, was a big influence in her fitness journey. He motivates her to exercise regularly. Working out makes her feel really good, thanks to him. He is always complimenting her body too which motivates her to stay in shape. Her body is rather muscular, so she is pleased that he appreciates that look.
Working Out helps the Relationship
Louise thinks that working out with Ryan helps their relationship as they have a lot of fun together in the gym. The pheromones released by working out help them to attach to each other more.
The Secret of the Abs
Tiffany Watson's friend also shared the secret behind those gorgeous abs. She says that they do a 15-minute ab blast for at least a couple of times a week. These include exercises like leg raise, medicine ball Russian twist, flutter kick, weighted sit-ups, etc. All these exercises become easier with time because your abs get stronger.
Post Workout Snack
Post every workout, the fitness enthusiast likes to create a shake and have it within 30 minutes. If she can't make one, she simply chooses a low-calorie shake from the MyProtein female range.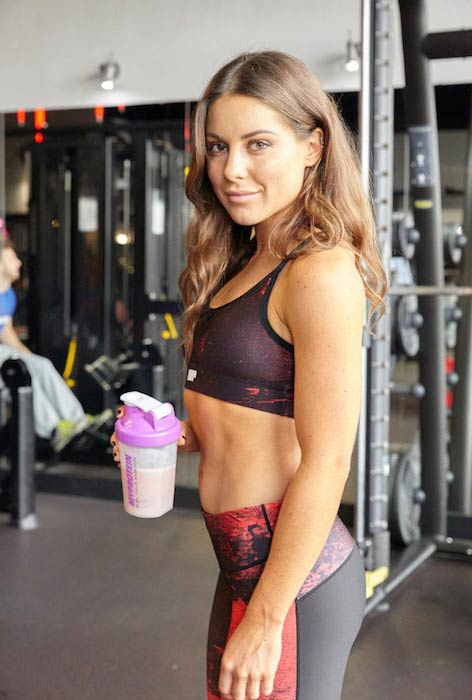 Cheat Days
The celebrity is obsessed with foods. This is the reason that she can never stick to a diet or maintain a permanent diet. She usually has two cheat days in a week. On those days, she indulges in whatever she wants, it can be red wine, cheese, ice cream, pudding, chocolate or lots of roast potatoes and Yorkshire puddings.
Superfood
Thompson loves all healthy foods. She is a big fan of kale, vegan curries, and courgette pasta.
Workout for Fans
If you wish to know what workout you should do to have a killer body, you should follow the workout the sexy woman has shared. Do 10 minutes of sprinting off or on the treadmill as fast as possible and then do 5 minutes of ab bursts. Follow it up with 5 minutes of lunges for your bum. You can take the help of loud music to keep you going.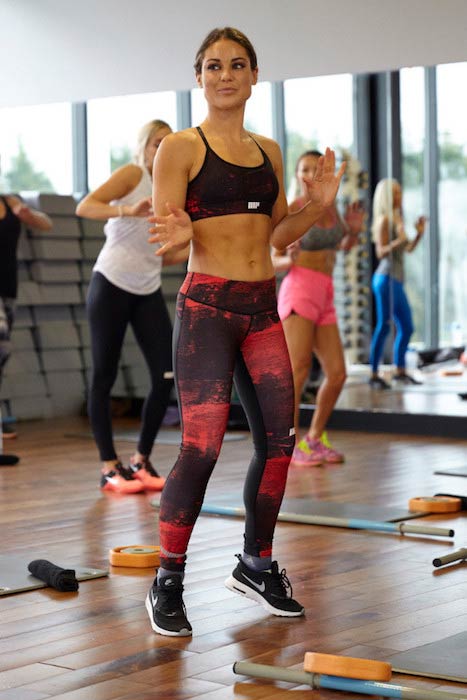 Workout on Holidays
When the London-born is away on a holiday, she follows 3 different circuit plans and repeats those for at least 3 times a week.
Diet Plan
The lovely lady shared her diet plan in March 2016. She rarely has any breakfast as she is not usually hungry in the morning. During lunch, she has some pasta, chorizo or salad. During dinnertime, she likes to have a roast or steak & chips.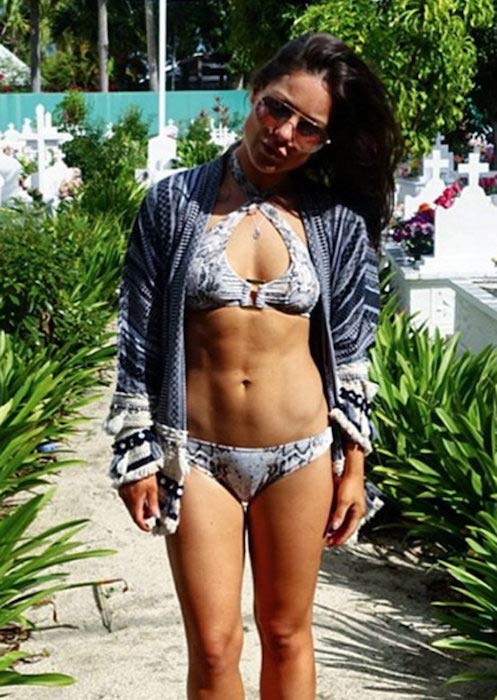 Body Confidence
The daughter of Karen Thompson says that she has a lot of body confidence. She loves being in good shape but it's not her top priority. Whenever she visits Los Angeles, she sees a lot of people around who have amazing bodies and even there are many people on her show who have amazing bodies. But she never feels bad while seeing them. She is happy with her own body.
Favorite Body Part
The English star loves her stomach the best as it's pretty lean. She says that her arms are her weaknesses as they are muscly and pudgy. It is a genetic thing so she tries to avoid wearing sleeveless stuff.
No Weight Fluctuation
She has never dealt with weight fluctuations. Her friends get jealous of her because no matter what she eats, she never fluctuates much. She thinks it's because she is always on her feet and likes to march around rather than sitting in an office.
Louise Thompson Opens Up About Physical and Mental Challenges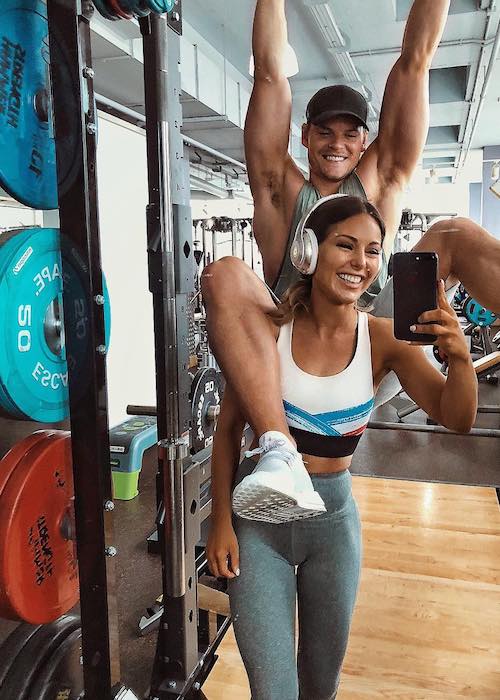 Louise Thompson might come across as a bubbly and cheerful person who has a successful show, Made in Chelsea (2011-Present) to call her own, a supportive boyfriend, a fit body and a good life. But like all of us, her journey of fitness and self-confidence was riddled with many hiccups. She opened up about those hiccups in her book, Live Well with Louise and revealed parts of her that her fans rarely knew. To know some of her life's story and struggles, keep scrolling down.
The Mistakes
The stunner admits that there was a time in her life when she completely neglected her body. She used to smoke, drink and had a lot of pizza. As a result, she was always hungover.
Simple Changes
She opted to change the situation by making a lot of changes to herself. These changes were small but still fundamental and helped her to transform as a person. The changes she made were not only physical, but they were also mental. She has listed all the changes in her book "Live Well with Louise" so that people can learn from her.
No Diets
The beauty says that she has never stuck to a diet because she wants to maintain a balance between healthy eating and indulgence. She also admits that she loves food. In her book, she has shared some recipes that are easy to make and are not very time-consuming.
Change of Perception
Thompson grew up at that time when celebrities were known for their bad behavior instead of healthy living. The celebs were also appreciated for being very skinny. Then things changed, and everyone was pining for a ripped body with a toned tummy and a big bum.
What she appreciates the most about people today is that their perception is changing. People are becoming more open-minded and accept their flaws. They are accepting the body the way it is.
No One's Perfect
According to the TV star, people should aim for maintaining a healthy weight, not being perfect in terms of their bodies.
Age is Just a Number
Though the lovely lady admits that turning 28 has made her realize how many people in the industry are younger than her. At heart, she still feels like she is just 16. Aging doesn't worry her because she admits another year of aging to be the next chapter in her life.
The Bad Phase
The girlfriend of Ryan Libbey admits that when she started with the show, Made in Chelsea, there was a point when she had no control over her emotions. She made a lot of mistakes like dating the wrong people and getting constantly rejected or partying constantly. She felt hurt when she cried on camera, and people became negative about her.
When she realized that she had been compromising her happiness to keep others happy, she decided to take action. She has found several channels to redirect her anxiety, and it has helped her a lot. Her boyfriend, Ryan has also been a provider of constant support for her and has proven to be a life companion for her.
We hope she continues to be physically and mentally healthy in the future as well.