When Lucy Fallon was selected to play the role of Bethany Platt in the long-running show, Coronation Street (1960-Present), people were reluctant to accept her. But with her acting talent and amazing on-screen presence, the actress has carved a special place in the hearts of her fans. She recently opened up about how she tries to remain fit, what kind of diet she prefers and her diet indulgences. Read on to know all of it plus her beauty and style tips.
No Body Confidence
Lucy has recently admitted that she is not body confident because she thinks that the size of the limbs in her leg is a little bit big. She admits that she has been slimmer before and particularly pointed out that her thighs were the problem. She admitted that they are a little bit big in her opinion and she is conscious about them, reports FemaleFirst.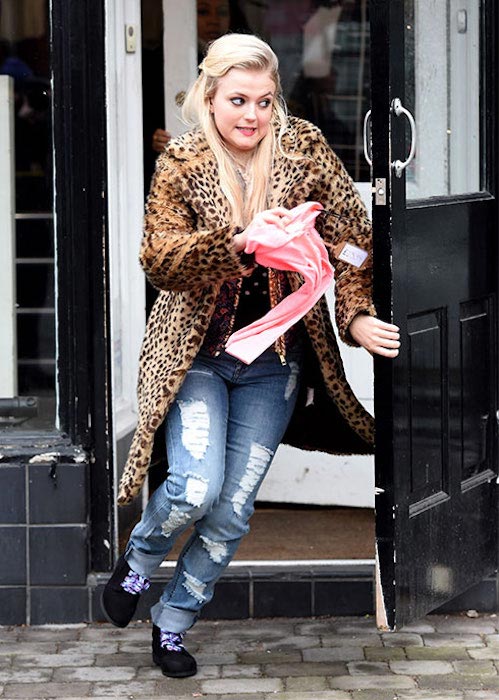 Workout Routine
The English actress has a gym membership but she has not used it since about 4 months. The first reason behind this is that she hasn't got time to hit the gym regularly. The second and the more acceptable reason is that she gets her share of exercise by going on power walks and doing a boot camp on the beach.
Earlier, the celebrity used to workout in the form of dancing. She used to dance every night and still believes that dancing is way better than visiting a gym as it is more fun. Her preferred dance forms include modern, tap, contemporary and ballet.
Regular Boot Camps
The British star regularly does boot camps on Blackpool beach due to the insistence of her uncle. She does it every Tuesday and Thursday. Many members of her family like her cousins and her mom do it regularly. They get the inspiration from her uncle who was 5 stone heavier than he is at the moment and he lost the weight in two years time by doing just power walking.
The Fitness Hope
When asked what the diva would prefer if she was allowed to change one part of her body, her answer was very much similar to what most people wish for these days, a flat toned stomach.
Diet Secrets
The young actress does not have any faith in fad diets and says that they don't work. Her diet secret is to eat less and move more without being obsessive about it. Lucy admits that she used to eat whatever she wanted as she danced a lot, but now if she eats a lot of fast food, she ends up putting on weight. So, the reality star keeps an eye on what she eats these days and ensures that she doesn't visit McDonald's too much.
Diet Indulgences
The Blackpool-born is trying to eat healthily these days but she can't always resist McDonald's chicken nuggets and a packet of salt and vinegar flavored crisps. She terms these foods to be a bad obsession.
Pampering Herself
When the versatile actress has some free time, she pampers herself by going out with friends and using beauty products like Lush Let the Good Times Roll Facial Scrub and bathing with Lush Bath Bombs.
Beauty Advice
The pretty woman has shared a nice beauty advice with her fans. She says that if you have sensitive skin like her, then you should always opt for products that don't irritate the skin.
Best Beauty Tip
According to Lucy, you should always moisturize your face before you put on your makeup as it will not make your foundation look cakey. She suggests that you moisturize again when you are taking off the makeup as it will prevent your skin from getting dry.
Her Views on Bullying
All the fans of ITV soap Coronation Street (1960-Present) know that her character Bethany Platt gets bullied a lot. Speaking on the issue, the capable actress confesses that she has been bullied online too at times but it was never extreme. She has also been called nasty things by girls at school, but she was never bullied like her on-screen character. Lucy tries to get over bullying by not taking the things people say to the heart.
Style Ideas
The style ideas of Fallon are also way different than her character. She likes donning masculine garments in her everyday life and goes for glamorous items only at the star-studded events or on evenings when she has to go out. Lucy accepts that she likes to look like a boy during the day and prefers a more tailored look when she is going out. Describing her style, the TV actress uses words like "quite classic" and "not very girly".
Did you like the workout, diet, beauty and style ideas shared by Lucy Fallon? Wish for more? If so, you can follow her on Twitter.