Mario Lopez is one of the popular actors who take fitness seriously. He has always been a fitness fanatic and with the passage of time, his attitude has not changed. On the contrary, he is becoming more of a fitness freak with time who tries every new fitness trend and does what works for his body the best. He works out almost everyday and controls his diet. What else does he do to look so hot? What fitness tips he's got for his fans like you? Let's have a look.
Workout Routine
The hot celebrity works out almost everyday because he fits in it no matter what time it is, according to LA Times. His workout routine changes as per his schedule. If he is awake till late at night due to his work, he may skip his morning trail workouts that are done at 6 a.m., but he will compensate for it by doing some boxing when his work related tasks are over.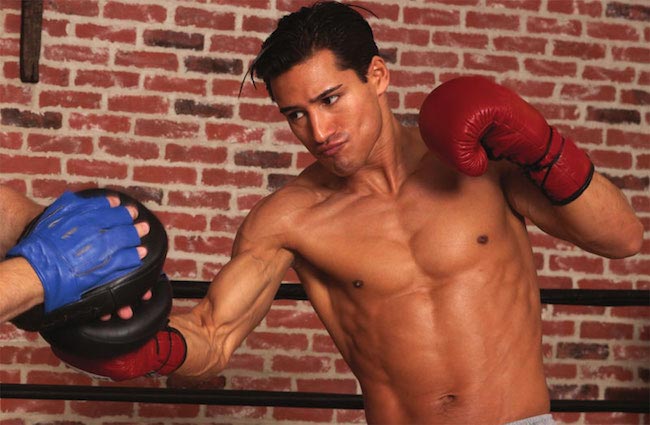 The exercise regime of the TV personality changes with the passing day. He starts his week by sparring on Monday at the Wild Card Gym. He repeats the sparring routine on every Wednesday and Friday too. On Tuesdays and Thursdays, he likes to do circuit training exercises at home only which are followed by hiking up the hills. On the weekends, he does a small variation of exercises like playing some basketball, running, doing strength exercises and pushing the jogging stroller (along with his dog) carrying Lopez's kids.
Workouts for Sanity
The father of two thinks that exercises are necessary for his sanity. He doesn't work out to look great but he works out to stay physically and mentally fit. The exercise routine he follows de-stresses him and works like a therapy.
Favorite Gym
LA Racked recently reported that the actor loves Wild Card Boxing Club in Hollywood.
Workouts on Busy Days
When the TV host has a busy day ahead, he wakes up early and runs. He also uses the furniture in the room as exercise tools and get started whenever he has a few minutes break from work. (That's creative, we must say)
Workout Snacks
The snacks that help the hunk to stay healthy before a workout are some almonds, one banana and an energy drink. He likes to have a protein shake after the workouts.
Fitness Inspiration
Like so many of us, Mario gets fitness Inspiration from The Rock- Dwayne Johnson.
Going Beyond
The Grease: Live (2016) actor likes trying out different fitness crazes because he likes switching up his exercise routine. He thinks that all are fun in one way or the other.
Diet Plan
The California born does not follow any special diet. He just tries to eat everything in moderation. He makes sure that every plate he has, is filled with protein, carbs and fat. Depriving himself of anything or counting calories is not Mario's way. He eats everything from pizza to burgers but makes sure that he doesn't eat a lot. He also believes in eating little throughout the day.
Fitness Tips for Fans
The author advises his fans to set fitness goals and involve their families. If you are setting fitness goals, you will know your progress and will work hard. If you involve your family, like decide to workout with your spouse, you will make fewer excuses to skip workouts as you wouldn't like to let your spouse down. Hence, your accountability towards fitness will increase.
The better half of Courtney Mazza also advises his fans to use good fitness gear that may act as a motivator for you. It will also work against one of your excuses that you don't have fitness gear, so you can't workout. Lopez has followed his own advice and created a small universal gym with cardio equipments in it to motivate himself.
Finally, the American host wants you to find an activity you love (It can be anything from dancing to swimming or from hiking to running). You just have to make sure that you like it so that you do it consistently. For him, those are violent sports like wrestling, boxing and Brazilian jiu-jitsu.
Want more detailed workout and exercise routine of Mario Lopez? Check out this link.