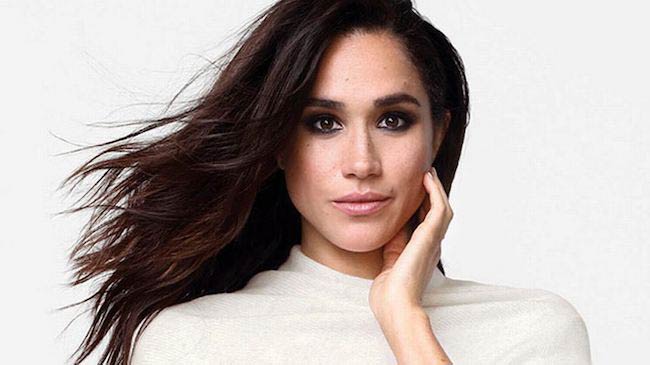 In November 2016, Prince Harry finally put all the rumors and speculation to rest as he confirmed he was dating American actress, Meghan Markle in an official press release and requested the paparazzi to stop harassing her and her family, seeking confirmation for the same.
The couple took their relationship forward as Meghan accompanied Harry to his childhood friend's destination wedding in Jamaica, as his official date. But before she earned global fame for being Prince Harry's girlfriend, Meghan was living a low-key yet very enriching life. We all know her as Rachel Zane in the popular TV series Suits (2011-2017). She presently resides in Toronto, Canada to shoot for Suits, 8 months of the year and flies back and forth between United Kingdom and Canada.
Meghan's introduction to culinary skills
Born to a Caucasian father and African-American mother, she proudly dons her mixed-race descent. Her father was the lighting director on the TV show, Married with Children (1987 -1997) and put her in craft services on the sets. This is the department in charge of serving food to all other departments. Since Meghan played this role for nearly 10 years after school; she developed a genuine appreciation for plating food and became a great cook.
Travel and Yoga – a parallel education
Her mother held multiple jobs as a yoga instructor, clinical therapist and travel agent! Meghan got to travel a lot since very young age and trying out different cuisines has become her preferred way to get acquainted with different cultures. She often plans unusual holiday trips such as biking through Vietnam, or camping in New Zealand or exploring the coastal islands near Croatia.
Her mother made her practice Yoga since she was 7. Though she was too restless as a child to take Yoga seriously, she started practicing it sincerely as soon as she entered college.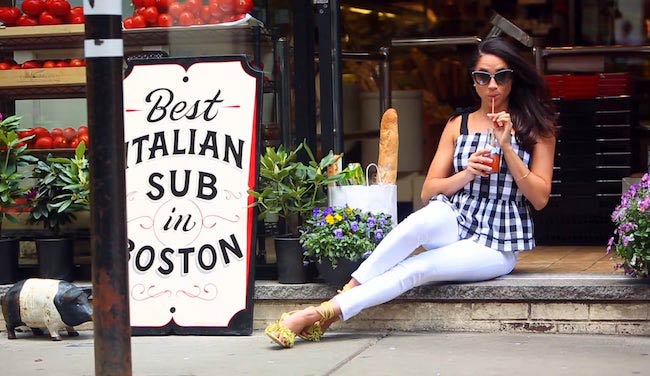 Making a choice between Politics and Acting
Every other Los Angeles born wants to be an actor. Meghan hates being a cliché, so she did a double major in theater and International Relations and found herself an internship at the U.S Embassy in Buenos Aires, Argentina when she was 20.
She nearly made up her mind to pursue a career in Politics full time, until her friend introduced her to an agent in Los Angeles when she went back home for Christmas. The agent found Meghan considerably talented and quickly got her auditions. This made her think that catching a break in Hollywood would be easy. But that is hardly ever the case.
Active as an actress since 2002, she had to go through several uncredited, fleeting appearances in movies and TV shows. She did a pilot episode of a new show every year that failed to take off before she earned a spot on Suits in 2011. Much to Meghan's gratitude, the show has been running successfully ever since its first season.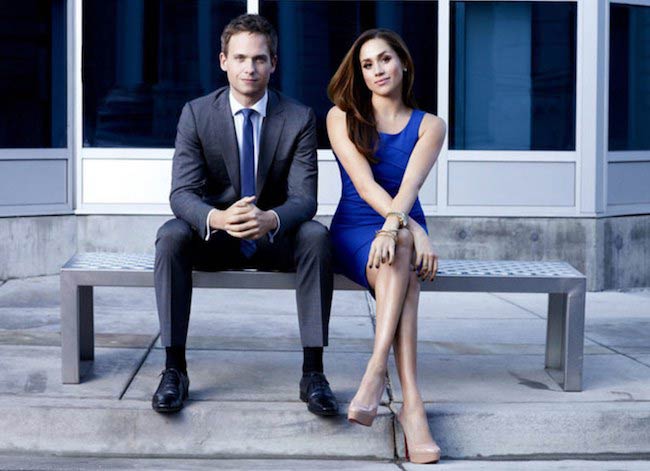 There is more to life than acting and looking pretty
Inspired by celebrity chef, Anthony Bourdain, she holds a fascination for world travel, particularly through the culinary perspective. She is always on the lookout for a new restaurant with their specialty offering and maintains a curiosity for exciting new recipes.
She particularly loves red wine and inspired by the Italian red wine, Tignanello, she launched her own food blog by the name of The Tig, in May 2014. Sharing her numerous experiences gained over the years along with her own preferences in food, travel, fashion, and beauty, Meghan writes the content for the blog by herself.
Meghan Markle Workout Routine
Yoga and running are active modes of meditation
Her favored way to stay active is alternating between Yoga in a candle-lit room and running outdoors when she is not working on any project. Meghan avoids running daily to prevent unnecessary pressure on her knees.
To take her Yoga practice to the next level, Meghan hired Toronto based Yoga instructor, Duncan Parviainen, to learn advanced inversions such as handstands and practice Vinyasa – which entails performing a series of yoga poses in continuous flow without a break co-ordinated with deliberate, regulated breathing and can be extremely challenging.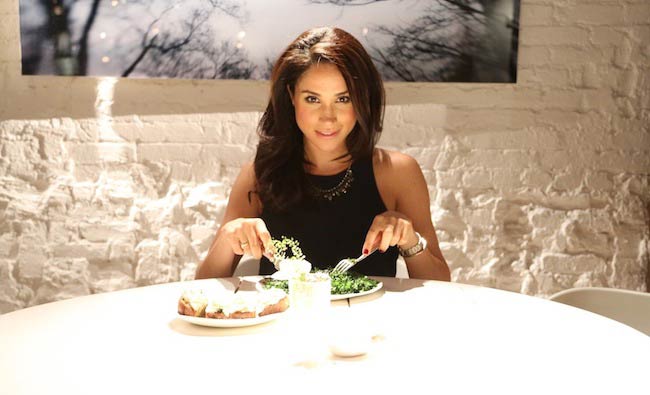 Training in the gym helps to stay lean
Meghan is not averse to the gym and finds herself a personal trainer to guide her with a good exercise routine. While filming for Suits, she trains under the supervision of a personal trainer, Craig McNamee.
When in UK, she joins her friend Millie Macintosh for a group class named Skinny Bitch Collective, created by British celebrity trainer, Russell Bateman. Skinny Bitch classes are exclusive invite-only and have a long wait list of hundreds of women. They are frequented by most female celebrities in the UK and are organized in uniquely choreographed series of intense circuits for full body toning.
Meghan Markle Diet
Weakness: Meghan does not have a sweet tooth, nor is she tempted by the drive through fast food joints. But she claims she will happily skip dessert to compensate for a glass of red wine and feels reluctant to have a meal without it.
She has a preference for Argentinian Malbec, French Cabernet Sauvignon and Pinot Noir made in Oregon, USA. While entertaining her friends, she likes a glass of Rosé to sip from throughout the day.
Energy Boost: Meghan prefers a glass of cold compressed green vegetable juice around late afternoon to stay energetic rather than grab a cup of coffee. Though she does not enjoy its taste, she thinks vegetable juice is a necessary dietary evil that has a healing impact on the body. It becomes a major requirement to feel good as one grows older.
Eating plan while filming: Meghan has frequent meals and completely eliminates gluten from her diet. She insists that doing so makes her skin glow and leaves her feeling more energetic.
Breakfast – Steel cut oats with bananas and agave syrup for sweetness.
Lunch – a salad with lean meat.
Evening Snack – A glass of vegetable juice or apples with almond butter and sea salt.
Dinner – Pasta cooked in Zucchini paste without any butter or oil with a little helping of Parmesan cheese and a glass of red wine.
Eating plan during the off-season: When not worried about looking lean on camera, Meghan eats a lot less but finds herself drinking a lot more wine.
Breakfast – An omelet with toast cooked in herbs and cheese.
Lunch – French fries and seafood.
Dinner– Vegetable soup.
Favorite Ingredients for a Smoothie: Acai berries / Frozen blueberries / Frozen Mango blended in Coconut water or almond milk with chia seeds, cinnamon or turmeric.
Health practice Meghan swears by: She is a firm believer of Acupuncture and Cupping which relieved her from painful bouts of migraine.