The TV presenter, Melanie Sykes arrested our eyes when she flaunted her ridiculously killer abs while doing the lingerie campaign of Ultimo. The stunner is already above forty five and is a doting mother of two kids. However, with her sculpted figure, she can make any girl envy her. Mel shares, she being naturally slender was seldom inclined to workouts. In fact, exercises were alien to her in her twenties. It was in her late thirties when she turned her eyes to workouts. Her objective still was not to trim down her figure. It rather was to acquire optimum health. Not to mention, the hot celeb who is astounding us with captivating lingerie shoots in her forties is growing sexier with aging. Here are some sneak peek secrets of her diet and workout regime, which uphold her in flawless shape.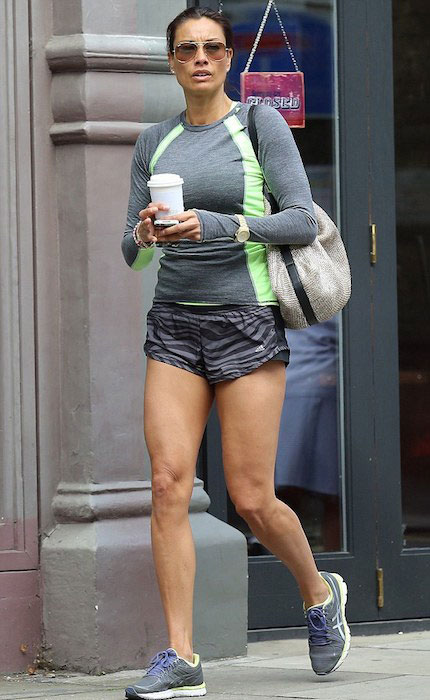 Refined Eating Habits
Mel has always been prudent about her diet. While renouncing the consumption of high carb foods, she eats bountiful low GI foods such as veggies, nuts, seeds etc. She steers clear from high sugar foods, alcohol etc. which certainly keeps her from packing surplus pounds. She eats healthy foods such as oatmeal, cereals, porridge, fish, chicken, vegetables etc. in her meals. The kick ass beauty also indulges herself in her beloved wine once in a while.
Regular Vigorous Workouts
While hitting gym four to five times in a week, the gorgeous celeb abides by vigorous workouts. She works out under the supervision of her fitness instructor, Jermaine ­McCubbine twice in a week. She executes diverse exercises such as cardio, strength training, boxing, core stability exercises, sit-ups, crunches, Russian twists etc. for minimum one hour in a day. She practices workouts first thing in the morning which saves enormous time of her and makes it easy for her to plan the day. Among cardio exercises, walking and swimming are her most reliable buddies. She reserves holidays for recreational activities such as swimming, hiking etc. These activities refreshes her mind and render superb workout to her body on idle days. She contends, one should walk as much as he / she can because it indeed provides an incredible workout to your body.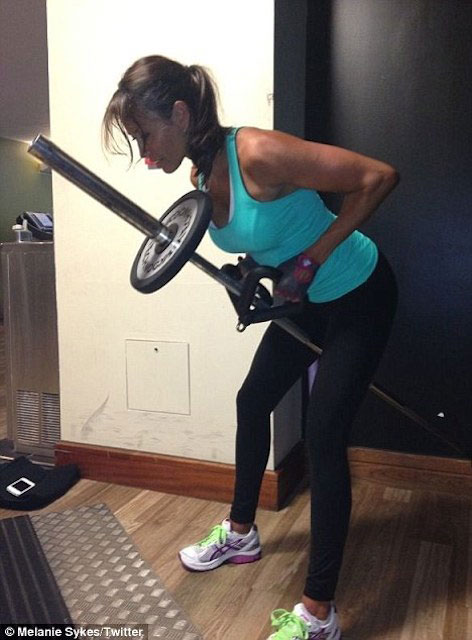 Intake of Vitamins and Supplements
Like most of the women, Mel too didn't have any faith in the consumption of supplements. However, with the incorporation of vitamin supplements, she witnessed dramatic changes taking place in her body. Now, she recommends all her female fans to embrace vitamin supplements to bestow adequate nourishment to their bodies. She takes supplements of iron, vitamin D, fish oil etc. which are vital for every woman. Not only do these supplements fulfill the deficiency of nutrients, they also rev up your metabolism and trigger fat burning process in your body.
Healthy Tips for Fans
No one on the planet feels flattered with an overweight figure. However, most women don't take any step towards shedding pounds because they are unaware of the required steps they shall take to strip off unsolicited pounds. Moreover, since your workout should be in alignment with your body type, you shall judiciously pick your exercises. Here are some tips which shall help you know about the workouts, you should practice in routine.
Pick Workouts According to your Body Fat
You seldom might have heard about the connection between workouts and body fat. Well, there lies direct link between both of them. If you are not bulky and your body fat falls in the range of fifteen to twenty percent, it implies that your curves shall not be influenced with your reduction in weight because they are contributed primarily by muscles. You can execute simple weight training or cardio workouts to keep up your curves. Contrarily if you have fat percentage more than twenty percent, your curves are very likely to be influenced with your weight loss. So, don't panic if you lose portion of your curves while dropping weight.
What Exercises Should You Do?
You certainly would not like to compromise with your feminine curves to look and feel attractive. Well, you can begin with 20-30 minutes of cardiovascular exercises. Besides triggering fat burning process, cardio also ensure your optimum well being. Aside from that, develop cordial relationship with interval training if you don't wish to lose your curvy figure. Since short yet intense fat burning workouts are the crux of interval training, they shall rid you from the fat, shielding your muscles and thus render you honed look.
Aside from engaging you in conventional ways of workouts, give yourself means to invigorate your body and mind. Consistent workouts unsupported with any rejuvenating activity in the meanwhile might take away your interest from workouts forever. So, allow yourself to relish fun exercises such as running, swimming, hiking, cycling, dancing, skiing etc. at least once in a week. You can also opt to do the same activities while competing with your friends.