5 ft 5 in, Fast and Furious star, Michelle Rodriguez is one of the toughest girls of Hollywood with superb athletic body. The sultry actress shares, she seldom played sports in her childhood. No workouts coupled with mindless consumption of unhealthy and junk foods packed up numerous calories on her body. Resultantly, she grew hefty size-16 girl. However, having seen her pitiable body, she resolved to make some radical changes in her diet and workouts. She embraced balanced diet and regular workouts and shed all the unsolicited pounds within a year and since then she has been retaining her lean and curvy figure. Let's have a look at some of her exercise and diet secrets which keep up her body in top shape.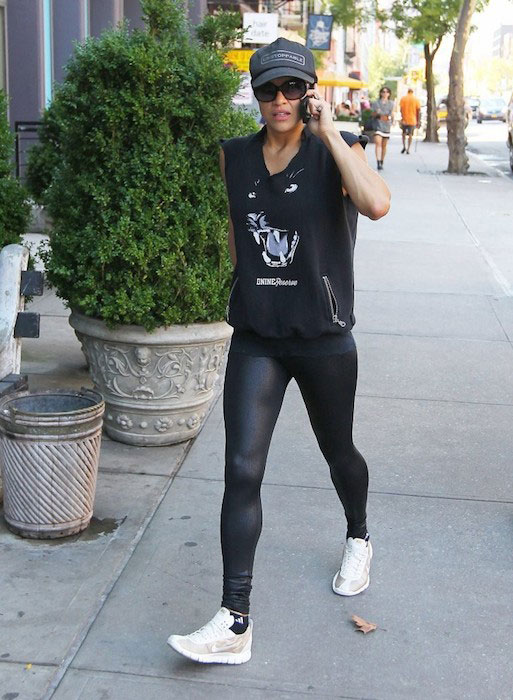 Outdoor and Adventurous Workouts
Rodriguez feels herself immensely drawn towards outdoor and adventurous activities over indoor workouts. Audacious tasks exhilarate her and cut back her chances of being bored. The action star being avid fan of biking, dancing, rollerblading, surfing etc. has incredible speed and endurance. Apart from that, yoga is her most trusted partner to perk up her flexibility and to render relaxation to her mind.
Vigorous Workouts in Gym
To groom herself for action roles, Rodriguez swears by really grueling workout sessions. The daring girl even seems prepared to take new challenges to hone her body for varied roles in movies. For example, to condition her muscles, she embarked on intense boxing training which she had seldom practiced in her life. Her training sessions which lasted for four and a half months consisted of 2.5 miles of daily running, lifting weights, half an hour skipping, and drinking protein. Aside from that, she also performed forty push-ups, 100 sit-ups, jogging, and boxing with real boxers. Not to mention, her high intensity workouts were monitored by her personal trainer. He also kept guiding her about the correct technique and methods.
No Faith in Detox Diet
While most of the celebs find themselves captivated to detox diet to de-stress their body and mind, the stunner renounces detox diet plans. She rather abides by other cleansing patterns such as she drinks enormous amounts of water in a day. Not only does water hydrates her body, it also keeps a check on her consumption of unwholesome snacks. Since water makes you feel fuller, you don't feel tempted to eat trash foods such as fast foods, fatty foods etc.
Clean Diet
Having dwelled on unwholesome foods for a long time, Rodriguez comprehends their disastrous influences on body. While steering clear from processed, sugary, and high carb foods, the hottie inculcates high protein foods and bountiful veggies in her diet. It's the impact of high protein foods supported with weight training that she could gain twenty-five pounds of muscles. Aside from that, despite being non-vegan, Rodriguez acknowledges the consumption of vegan foods and refers herself eco-vegan girl. She feels guilty after indulging herself in non-vegetarian foods such as meat, chicken etc. which are hard for her to purge.
Moderation in Eating Habits
Rodriguez doesn't believe in eliminating all her beloved yet sinister foods completely from her diet. She rather shrinks their consumption. For example, instead of entirely removing alcohol from her diet, she relishes it in small quantities. She shares, after drinking small portion size of alcohol in club parties, she gets so charged up that she keeps dancing the entire night. If you too incorporate moderation in your eating habits, you surely can save yourself from bulking up.
Healthy Tips for Fans
Several times, we have to look superb for special occasions about which we don't know in advance. Here are some healthy and quick tips which will help you look sleek and toned for such unanticipated events.
Purge Sodium
When you have to look smashing hot for some event, consider sodium as your foe. Since mostly processed foods are opulent in sodium, forbid their consumption. In beverages like lemon juice, prefer drinking it plain without adding sugar or salt.
Forbid White Carbs
Cut back the consumption of white carbs because they might have you look bloated. You can eat brown carbs such as brown rice, quinoa, oats, whole grains etc. These foods being fiber-laden shall keep you immune from bloating.
Raw Foods
To look hot and charming, embrace raw foods. Raw fruits and veggies being opulent in stomach flattening fiber and water shall gratify your appetite and thus shall weed out your possibilities to consume unhealthy snacks.
Pick Fun Activity
When you are in rush to drop weight and look slim, hasty gym workouts are unlikely to render you desired results. Pick some fun activity such as zumba dance, sports activity, running, swimming, stair climbing, and rope jumping etc. to fire up your metabolism. These workouts shall escalate your heart rate and scorch calories faster.
Intake of Arnica                                                 
Plant based supplement namely ibuprofen is credited with anti-inflammatory property. Intake of the supplement shall free you from puffiness and bloating. Oral consumption of the supplement shall make you look slender and curvy in short time.