With signature curls, famed freckles, Minnie Driver is one of the ageless celebs of Hollywood. The stunner in her mid forties looks half of her age. The Goddess of svelte figure reckons that she is in the best shape of her life and that probably is the reason which bestowed her nerve to give n*de shoots for Allure's May 2014 issue. Minnie dishes out some of her diet and workout secrets which are responsible for her fit and slender body.
Low Carb Diet
For a very long time, the elegant beauty had been sticking to Atkins diet. However, now the stunner has switched to low carb diet which to a great extent is similar to Atkins diet. Aside from the variation of restrictive two weeks induction period, the diet plans are alike to great extent. While consuming nutrient laden and high protein foods such as cheese, meats, fats, certain green veggies, Minnie keeps the consumption of carbs restrained in her diet. She renounces the consumption of sugar, starchy foods, flour etc. which undoubtedly are accountable for bulking up unsolicited pounds in you.
Bizarre Eating Habit
Aside from low carb diet, Minnie also has one bizarre eating habit. Although she is not vegan but she forbids the consumption of animals, she loves. She shares, she had a pig when she would go to farm school, so she cannot eat it. Likewise, she adores lambs, so they too come in her forbidden list of foods. However, she does not like turkey, so she incorporates it in her diet.
Combat With Eating Disorder
Like most of the Hollywood celebs, the sensational star too had become victim of eating disorder in her twenties. However, unlike most of the celebs, she didn't resort to drugs or any other thing like that. She rather consumed enormous coffee, smoked cigarettes, became emotional, avoided meals, and cried a lot. With her heedless eating habits, she remained only ninety-eight pounds which was like a wake-up call to her. She was later redeemed from the curse with the aid of her sister, Kate Driver.
Workouts With Personal Trainer
From the curvy and flawless figure of Minnie, it's apparent that she is a fitness freak who loves to hone her body with regular workouts. The gorgeous actress abides by workouts while being guided by her personal trainers namely Rich and Helen Guzman. She performs workouts five days in a week and devotes around two hours in a day to them.
Minnie is fond of yoga and Pilates and she considers them incredible workouts which not only strengthen her core and provide her full body workout, they also relax her mind. Among cardio workouts, she is big fan of surfing, ballet dancing, and hiking.
Post Baby Weight Loss
While sharing her experience about post baby weight loss, Minnie expresses that she didn't have to do much of struggle to shed pounds post pregnancy because she seldom stopped practicing workouts even when she was pregnant. The mom of one has also made a movie, Motherhood in which she has shown post pregnancy weight struggle of women which generally is targeted to get rid of flabby stomach and huge breasts.
Healthy Tips for Fans
If you really wish to acquire lean figure and optimum health, you shall incorporate exercises meant to strengthen your core. If your core muscles are well-exercised and well-maintained, not only will you look great but your chances to become victim of varied ailments too shall diminish. Here are two easy workouts which you can include in your daily exercise regime.
Mini – Band Walk Forward
The workout shall be executed while placing resistance band around your legs. Resistance provided by the band shall strengthen your glutes and leg muscles.
Process – Stand while keeping your feet, shoulder-width apart. Place a resistance band around your legs above knee area. Make sure that your knees are bent and in alignment with your toes. Keep your hands in front of you. Take small step in the right direction while keeping your back straight and making forty-five degree angle with your legs. In the same manner, repeat the workout with left leg and perform minimum ten reps of the workout in one set.
Mini – Band Walk Sideways
The workout shall tighten and strengthen your upper thighs and pelvis. While most of the workouts fail to tone your inner thighs, the exercise with resistance band will give great toning workout to your thighs and will have you witness the results within couple of weeks.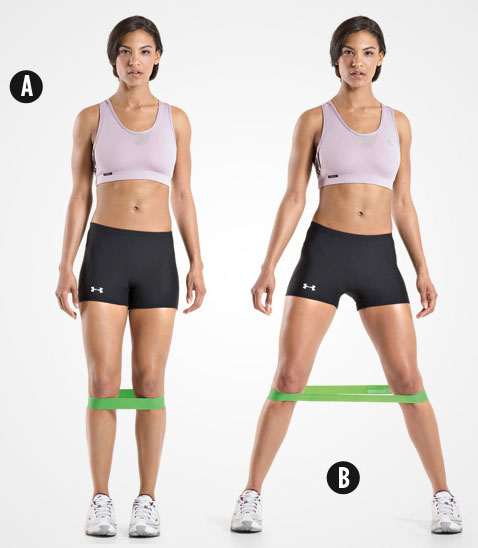 Process – Place a resistance band around your legs and extend your legs towards the sides. After making ten reps, place the resistance band above your knees and make the same sideways position. As an influence of resistance band, you will feel burn in your thigh muscles. However, make sure that your upper body remains still while doing the workout. Start with twenty reps and enhance the number of reps as per your comfort.