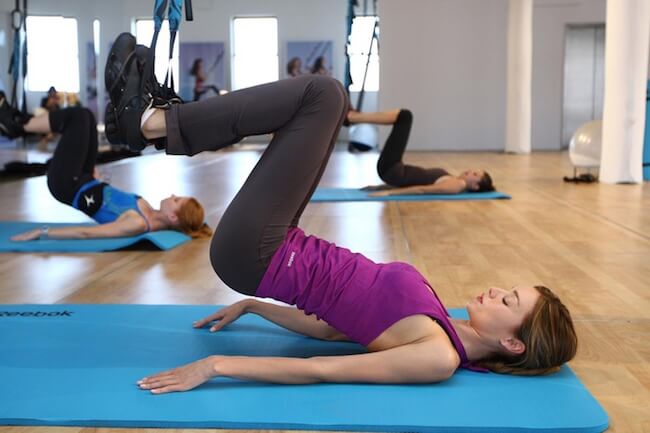 She is hot. And, she has been attracting attention due to her gorgeous face and perfect figure since the year 2007 when she became popular as one of the sexiest Victoria's Secret Angels. We are talking about none other than Miranda Kerr who has been flaunting her amazing body since years and has made millions of men drool over it. Many women also envy her body and some take inspiration to stay fit from her. (We do both!!)
The supermodel has finally spilled beans on her current workout routine and diet secrets that will come in handy to those of you who want a body like Miranda Kerr. Apart from a strict workout and diet routine, the mother of a baby boy also credited her son for keeping her fit. What else did she say? Let's find out.
Workout Routine
The hot Australian works out on a regular basis. She does some exercises like Yoga on a daily basis and adds in Pilates, strength training, as well as resistance band exercises to her workout routine to mix it up. EOnline reported that she likes using resistance bands as they help her to tone and elongate her muscles. And, she has a fondness for Yoga because she has been doing it regularly since last 12 years.
Importance of a Workout
The sexy model also revealed that she likes working out because it helps her to concentrate better and gives her a lot of energy. The former performer on "How I Met Your Mother" also added that exercising has been an important part of her lifestyle and she likes increasing her heart rate. Whenever she is unable to take time for exercising, she doesn't feels her best, so she tries to exercise as often as she can.
Always Remember the Stretching
The beautiful brunette advised her fans to always remember to stretch after exercising. She also suggests that one should regularly consult his or her healthcare professional before trying a new workout routine so that they know it will suit to their bodies and not harm it in any way.
Take Rest
The former judge of Project Runway: All Stars also believes that a person should always take a 30 second break between each exercise. It will give your body the time to relax a bit and the risk of injuries would reduce considerably.
Love for Gymnastics
Kerr also admitted that she loves doing gymnastics and it helps her to build her core strength and keep her body flexible.
A Mom's Workout Problem
Earlier, the  Daily Mail had reported that one of the sexiest women in the world has said that being a mom can hinder one's workout routine. She had acknowledged that due to her busy schedule as a model and as a mom, she often found that her days were too busy to fit in a long workout routine into them.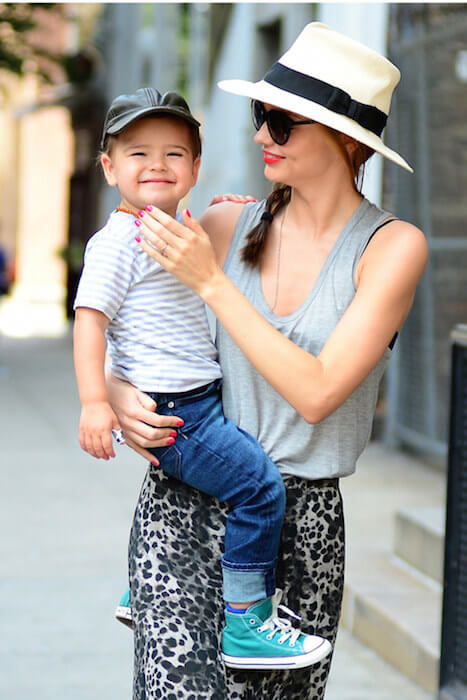 But in the recent interview, she opined that being a mom helps keep her stay fit. She is currently exploring the New York City with her son, Flynn Christopher Blanchard Copeland Bloom. They go to the parks, playgrounds, farmers' market, hiking and bike rides. The stunner also confessed that she likes seeing the world through her son's eyes as it makes her see wonders in everything and she learns something new every day.
15 Minute Workout Routine
When Miranda found out that a lot of women often skip their workout due to their routine as an active mom, she devised a 15-minute workout routine. She performs this workout herself when she has less time, works for long hours and has to travel. This workout routine doesn't involve any equipment and so, it can be done inside any room, be it a bedroom or a hotel room. The workout also targets all areas of a person's body and makes a person feel energized.
Diet Secrets
The lady who graced the February 2015 issue of American Harper's Bazaar also declared that she likes to stick to a healthy diet. She starts off her day with some freshly prepared juice. She follows it by having some avocado, oatmeal and egg whites. The famous model also follows an alkaline-based diet which includes having to drink at least two to three liters of alkaline water on a daily basis.
Snacking Habits
The former guest judge of Project Runway Australia also keeps her snacking habits healthy. She only has healthy snacks such as nuts, fruits and seeds.
Little Indulgence
The owner of KORA Organics also divulged that she eats carelessly sometimes and doesn't frets over it. According to her, a person has to eat whatever is on the menu sometimes, even when he or she knows that it's not so healthy. When she does so, she does it without regrets. So, it's okay to cheat sometimes. If the bombshell can do it, so can you.
After seeing the efforts put in by the author of "Treasure Yourself" in keeping fit, we can only say that her efforts seem to be paying off well enough as she is getting sexier day by day, and no one can dare to call her old. All of us should learn from her fitness regime and try to be our fittest.
Hungry for more on Workout Routine and Diet Plan of Miranda Kerr? Do check out this useful link where we had explored her workout and diet as well as added details of some useful exercises, Miranda probably does even now.