Over the past decade, the female athletes have started getting widespread coverage. No longer, their contributions and achievements are dismissed with a wave of hand. The feminist movement has ensured that they get the honor and acclaim, they deserve for their hard work. And, this change has started to show in the increased involvement of female athletes in marketing and endorsement campaigns.
The repucom.net has compiled one such list which ranks the leading female athletes according to their marketing potential. To compile the list, the website has used Celebrity David Brown Index (DBI), which is a tool that sports marketers, often used to analyze perceptions of over 7,000 personalities representing the views of over 1.5 billion people. This process assists in getting a clear picture of how audiences across different demographics including age and income group perceive a personality or athlete. These perceptions are measured against eight attributes that are combined together to get an overview of individual's marketability.
The DBI is measured on scale of 0 to 100 points, with 100 points being the highest points to achieve. So, here is the list of most marketable female athletes compiled according to the DBI score.
Marta – Football, DBI score – 90.21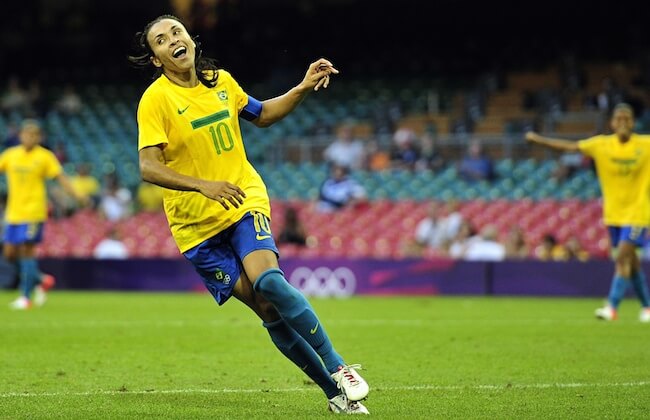 Marta Vieira da Silva, widely known by her first name, is one of the most talented and popular female football players, who has won several accolades and awards in the female football. Marta, who is known as 'Pele in skirt' with 15 goals, holds the record for most goals scored at FIFA Women's World Cup tournaments. She surpassed Birgit Prinz's previous record of 14 with a goal against South Korea in Brazil's first match of the 2015 edition in Canada. She has been named FIFA World Player of the Year five consecutive times between 2006 and 2010. Her other personal accolades include Golden Ball award as the best player and the Golden Boot award as the top scorer in the 2007 Women's World Cup, Women's Professional Soccer MVP (twice) and Women's Professional Soccer Golden Boot (thrice).
Almost 97 percent people know Marta in her home country. In fact, she was one of the six Ambassadors of the 2014 FIFA World Cup in Brazil, alongside football legends Amarildo, Bebeto, Carlos Alberto Torres, Ronaldo, and Mario Zagallo. She has been featured in Puma's "Forever Faster" campaign with Usain Bolt and Mario Balotelli.
Lorena Ochoa – Golf, DBI score – 86.26
Lorena Ochoa, being the first Mexican golfer of either gender, is considered as the best golfer that the Central American nation has ever produced. She was the top ranked female golfer in the world for three years, from April 2007 until her retirement in May 2010. She is also the first golfer since Annika Sörenstam to win three consecutive events, the feat which she achieved by winning Women's British Open, the CN Canadian Women's Open and the Safeway Classic. In 2007, she also became the first woman ever to earn more than US$ four million in a single season. She surpassed Sörenstam's previous record of US$ 2,863,904. Her immense achievements in the game and her popularity in her nation, has made Ochoa one of the most marketable female athletes. Throughout her illustrious career, she had sponsorship deals with Banamex, Lacoste, Rolex, PING, Grand Coral and E pura, some of which she still retains.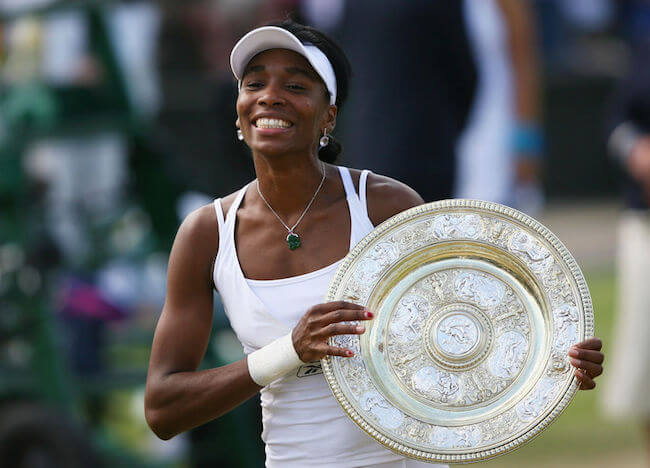 Though, she is less successful than her younger sister, still she is more popular than Serena and is recognized by more than 90 percent of Americans. Her popularity is partly due to the fact that she was the first African-American women's world tennis number one, the feat which she achieved in February 2012. She is credited for ushering the women tennis into a new and modern era of power and athleticism. With 43 singles titles, 19 doubles titles, seven grand slams and four Olympic gold medals, Venus is one of the all-time greats of women's tennis. She is also credited for single handedly changing the pay structure of major tennis events. It was after her fierce campaign that leading tours such as Wimbledon and French open decided to pay women tennis players as much as men. She is also a successful entrepreneur and is often seen wearing her own brand "Eleven by Venus" at tournaments.
Laure Manaudou – Swimming, DBI score- 83.32
Laure Manaudou, the French swimming sensation made a stunning debut at the 2004 Athens Olympic game by winning three medals including a gold medal in the women's 400-metre freestyle, which was France's first gold medal in the history of women's swimming. During her successful career, she has won World and European championships, and has held the world record in freestyle events between 200 and 1500 meter. In 2008, the 28 year old took a brief retirement from the sport to welcome her daughter, Manon. However, her comeback at the 2012 summer Olympics was less than ideal as she failed to advance from the first round heats in the three events – 100 m backstroke, 200 m backstroke, and the 4 x 100 m medley relay. However, that hasn't affected her popularity as she enjoys colossal 96.6 per cent of awareness in France. She has sponsorship deals with Reebok and local French sponsors such as Mondial Piscine, Envido and Topsec.
Luciana Aymar – Field Hockey, DBI score – 87.67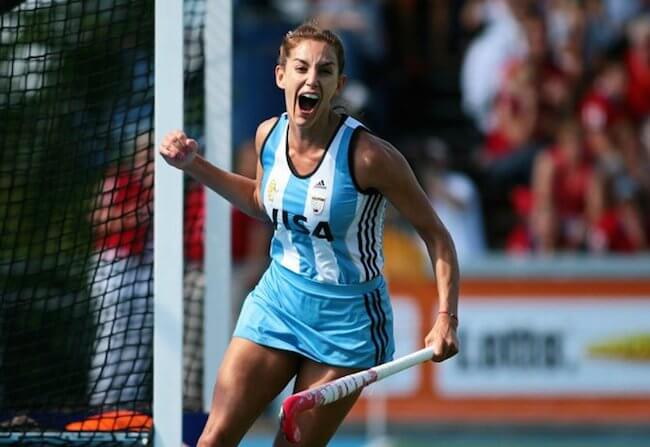 Luciana Aymar is considered as the best female hockey player in the history of the sport. In fact, she is the only player to have won the prestigious FIH Player of the Year Award eight times. After leading Argentina to a silver medal in 2012 London Olympics, she became the second Argentine to win four Olympic medals. She is known for her ability to beat opposing players using her pace and dribbling skills, due to which she has been often compared with the legendary footballer Diego Maradona. Her nicknames include "El Diego," "La Maradona del hockey" and "La Maga" (The Magician). She retired on December 7, 2014 after winning the champions trophy in her home country, in order to start her own family and to spend more time with family and friends.
Despite, retiring from the game 16 years ago, Steffi Graf, who is regarded by many as the greatest women's tennis player of all time is still the most marketable star in Germany. With 22 singles titles, she holds the record for most Major wins by a tennis player (male or female) since the introduction of the Open Era in 1968. In 1988, she became the first and only tennis player (male or female) to achieve the Calendar Year Golden Slam by winning all four Grand Slam singles titles and the Olympic gold medal in the same calendar year. Her other notable achievement is that she was ranked World No. 1 by the Women's Tennis Association (WTA) for a record 377 total weeks, which is the longest period at the top of the WTA and the Association of Tennis Professionals rankings for any player, male or female. The 46 year old enjoys enormous 98.41 percent recognition in Germany, and has major endorsement deals with brands including Adidas, Longines, Mrs Sporty, Nintendo and Teekanne.
Carolina Kostner's flawless beauty and brilliant skills in the figure skating arena has made her one of the most popular female athletes in Italy. Kostner is the 2014 Olympic bronze medalist, the 2012 World champion, a five-time European champion (2007, 2008, 2010, 2012, 2013), and the 2011 Grand Prix Final champion. She has won national championship seven times. Unfortunately, the multi-lingual skater, who started skating at the age of four, is serving a 16 month ban for her role in the doping case involving her ex-boyfriend and Olympic gold medalist Alex Schwazer. However, that hasn't affected her popularity in Italy, where she enjoys around 96 percent of awareness. She has endorsement deals with OVS Active Sport Training, Pompadour, Acqua Norda, Grissin Bon and Südtirol – Alto Adige.
Yelena Isinbayeva – Pole Vaulting, DBI score- 86.76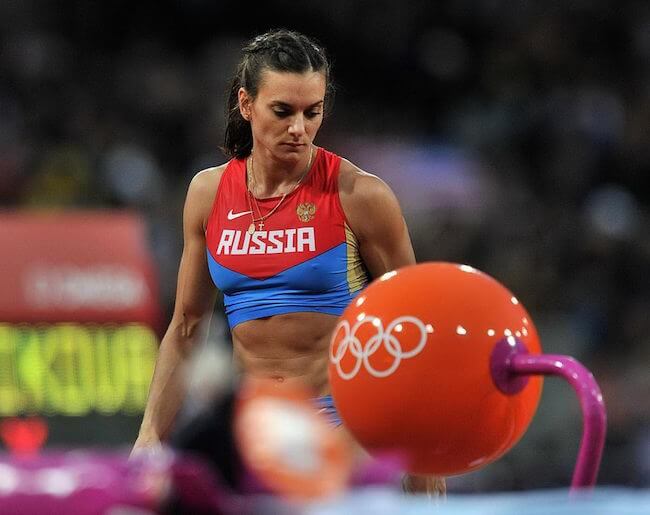 Yelena Isinbayeva is arguably the most popular female athlete in Russia. Until 15 years of age, she had trained as a gymnast, but she had to switch discipline as she was considered too tall to attain success in gymnastics. And, just six months later, she won her first major victory at the age of 16 during the 1998 World Youth Games in Moscow, Russia with a height of 4.00 m. Since then, she has achieved enough in the sport to be considered as the greatest female pole-vaulter of all time. In her illustrious career, she has set 17 world records and 13 indoor world records. In terms of medals, she is two-time Olympic gold medalist (2004 and 2008), a three-time World Champion (2005, 2007 and 2013) and was the first women to cross the five meter barrier. In Russia, Yelena enjoys 95.67 per cent of recognition and is one of the most marketable stars.
Maria Sharapova stormed into popularity by winning the 2005 Wimbledon at the age of 17 years. The current world number four has been ranked world No. 1 in singles by the WTA on five separate occasions, for a total of 21 weeks. She is the only Russian tennis player to hold the career Grand Slam and is an Olympic medalist, having earned silver for Russia in women's singles at the 2012 Summer Olympics in London. With 35 singles titles and five Grand Slam titles including two French Open and one Australian Open, Wimbledon and the US Open, she is third ranked player in terms of titles behind Venus Williams and Serena Williams. Sharapova enjoys 76.2 awareness in Russia and is one of the highest earning women tennis players. Her 2010 contract with Nike was worth $70 million, which was significantly bigger than the previous record endorsement deal for sportswomen, which was Venus Williams's $43 million deal with Reebok.
Serena Williams – Tennis, DBI score – 81.93
Though, she might have lost in terms of popularity to her older sister, still Serena Williams is the best player in the court, due to which she has been hailed by the media as "Queen of the Court." Williams has won most number of major singles, doubles, and mixed doubles titles combined amongst active players, male or female. Her 35 Grand Slam titles puts her seventh on the all-time list, she has 20 in singles, 13 in women's doubles, and two in mixed doubles. Whereas, her total of 20 Grand Slam singles titles put her third on the all-time list behind Margaret Court (24) and Steffi Graf (22 titles). The American is currently in the form of her life and is reigning Australian Open, French Open, US Open, WTA Tour Championships and Olympic women's singles champion. Though, she didn't enjoy as much popularity in US, but is the most marketable in Australia with 94.65 per cent of people recognizing her achievements in the game. Serena is reported to earn US$ 10 to 15 million in endorsement deals per season.